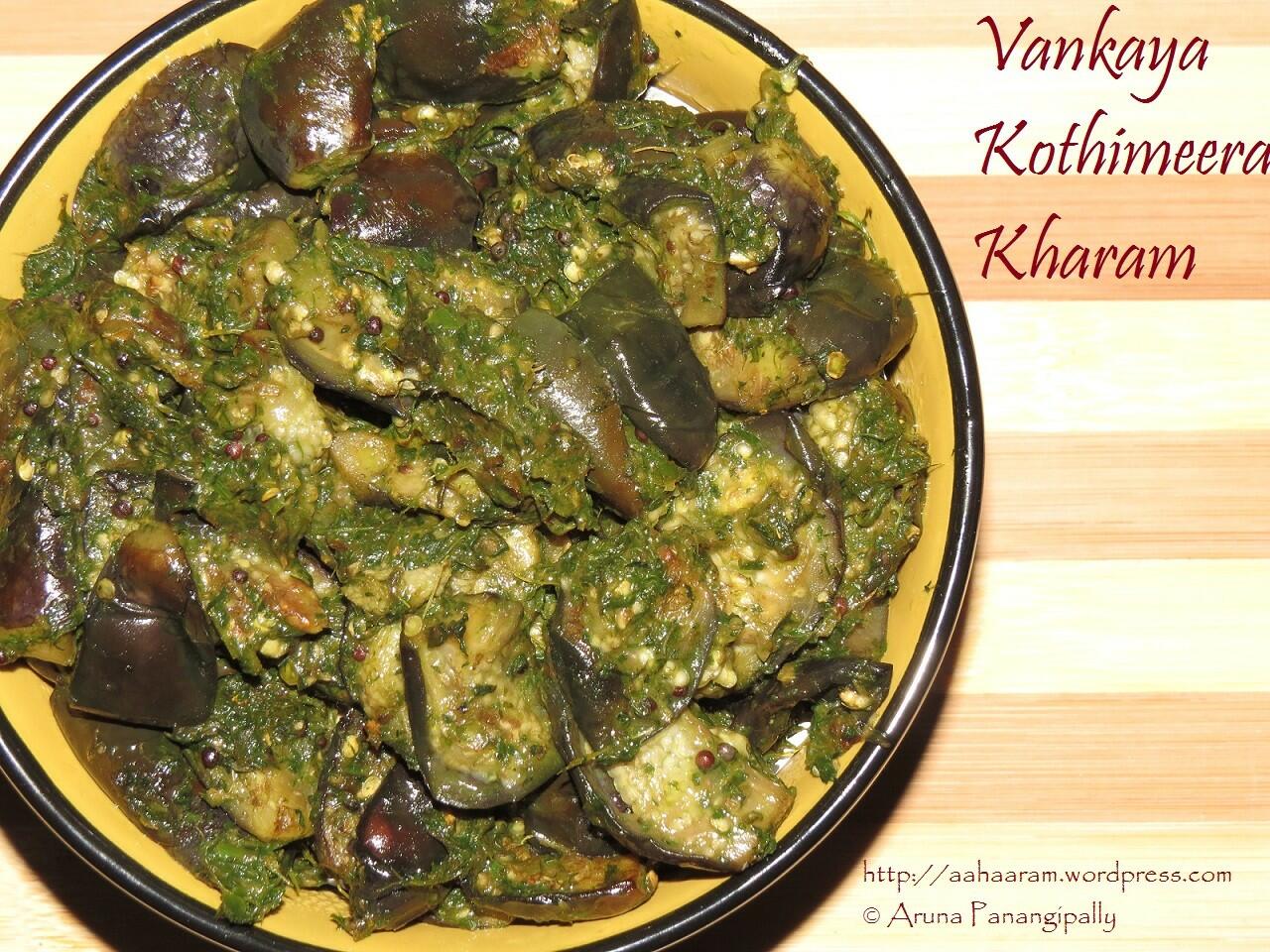 Regulars readers of this blog know that Brinjals (aka aubergines or eggplant) is amongst my favourite vegetables. Amongst the various types of brinjals, I hold baby brinjals dear. Yesterday, in the market, I not only found fresh baby brinjals but also fresh coriander. They were just calling out to me to make Vankaya Kothimeera Kharam.
This dish was a particular favourite of my late mother. So I dedicate this post to her.
Serves: 4
Time: 30 Mins
Ingredients
Baby Brinjals – 400 gms
Grated Ginger – 2 tbsp
Fresh Coriander Leaves – 1 Packed Cup
Green Chillies – 3 to 5
Mustard Seeds – 1 tsp
Turmeric – 1/4 tsp
Oil – 2 tbsp
Salt to Taste
Method
Fill a large vessel with about a litre of water.
Chop the baby brinjals in quarters along the length.
Put the brinjal pieces in the water. If you do not put the brinjal pieces in water, they will turn black. 
Just before you are ready to cook, drain the water from the brinjal pieces.
In a wok or kadhai, heat the oil.
Add mustard seeds and wait till they splutter.
Add the brinjal pieces to the oil.
Over medium-high heat, sauté the brinjal pieces till they soften.
In the meantime, grind the fresh coriander leaves along with ginger, green chillies and turmeric.
When the brinjal pieces are cooked, add salt and mix well.
Add the coriander paste and sauté for 3 to 5 minutes.
Turn off the heat and serve warm with rice or rotis.
Tips
Be sure to drain all the water from the brinjal, otherwise you will have a mushy vegetable on your hands.
You could also cut the brinjal pieces and keep adding them to the oil. If you do this (as I do), then keep mixing every time you add new pieces of brinjal.
To test if the brinjal pieces are cooked, try to cut through them with the ladle. If the ladle goes through, the pieces are cooked.
You can get the pieces to cook faster, if you cover the wok with a plate and add some water to the top of the plate.
#recipes #aubergine #indianfood