A few weeks ago, I posted the recipe for Dahiwale Achari Baingan and it proved to be a hit with many of my fellow bloggers, not to mention my family. This time I decided to try this recipe with Paneer and it turned out just as super delicious. As a bonus, it is also very light on the stomach, having almost no heavy spices (despite its name) as well as using paneer as is.
Serves: 4
Time: 30 Minutes
Ingredients
Fresh Paneer – 250 gms
Onion – 1 Large
Dahi, Curd or Yogurt – 1 Cup
Chilli Powder – 1 tsp
Turmeric – 1/2 tsp
Saunf or Fennel Seeds – 1 tsp
Jeera or Cumin Seeds – 1/2 tsp
Kalonji or Nigella Seeds – 1 tsp
Rai or Mustard Seeds – 1/2 tsp
Methi or Fenugreek Seeds – 5 or 6
Hing or Asafoetida – A Large Pinch
Oil – 2 tbsp + 1 tsp
Salt to Taste
Method
Cut the paneer into 1/2″ cubes.
In a wok or kadhai, heat 1 tbsp oil.
Add mustard, fennel, nigella, cumin, and fenugreek seeds.
Stir-fry for a minute or till the seeds start to pop.
Add the sliced onions.
Stir-fry till the onions are transparent.
Add the paneer cubes and turmeric powder.
Stir-fry for a 5 minutes.
Turn off the heat.
Add red chilli powder.
Mix well.
Beat the yogurt to a smooth paste.
Add the yogurt and salt to the fried onions and paneer.
With a gentle hand, mix well.
Serve with hot rotis.
I am taking this recipe to: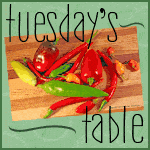 Pin
Pin