Truth be told this post is long long overdue. Sreela Karlapalem, my first cousin who loves cooking as much as I do, shared this recipe with me many months ago, but I just came around to trying it. I am glad to have tried this recipe because I generally don't like tomatoes but this Tomato Pachadi (Andhra Style Tomato Chutney also known as Tomato Thakkali in Tamil Nadu) really hit the spot. I think what did the trick was the fenugreek and mustard powders (Ava Podi and Menthi Podi) that Sreela added to this pachadi. Of course, cooking the tomatoes through and through till they stewed also imparted a nice flavour to this pachadi.
Sreela, kudos to you for converting me to a liker of tomatoes (at least in one form). 😀
The best part about this pachadi recipe was that it was super easy to make and involved no grinding at all.
Here is looking forward to more recipes from Sreela (your Potato Rice, next?).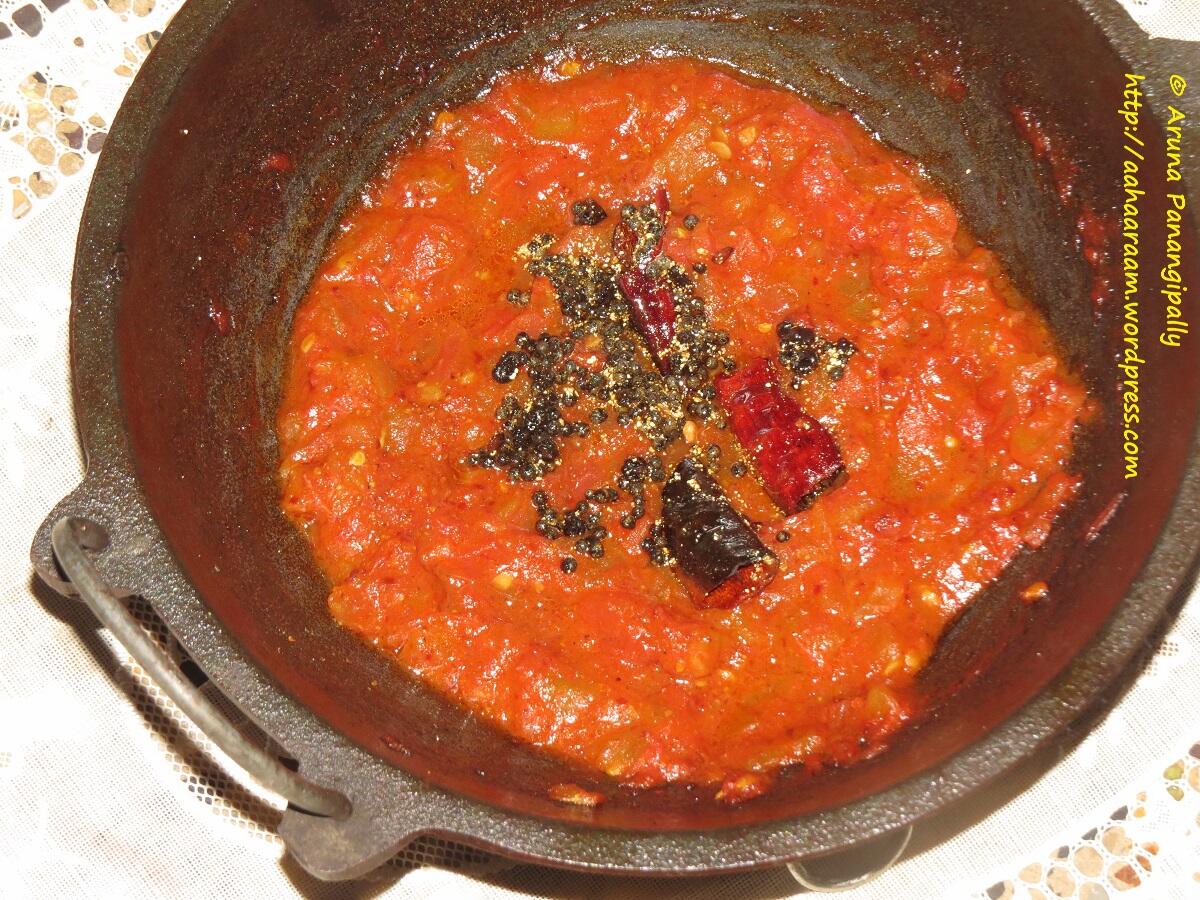 Pin
How to Make Andhra Style Tomato Pachadi | Tomato Thakkali | Tomato Chutney
Makes: 1 Cup
Time: 30 Minutes
Ingredients
Tomatoes – 1/2 Kg
Menthulu, Methi Seeds, or Fenugreek Seeds – 1/2 tsp
Avalu, Rai or Mustard Seeds – 1/2 tsp + 1/2 tsp
Tamarind Paste – 1 tsp
Red Chilli Powder – 3/4 tsp
Red Chillies – 1 or 2
Turmeric Powder – 1/4 tsp
Asafoetida – A Large Pinch
Oil – 1 tbsp + 1 tsp
Method to Make Tomato Pachadi or Tomato Thakkali
Getting Ready

Dry roast 1/2 tsp of methi or fenugreek seeds till they change colour.
Grind to the roasted methi and 1/2 tsp Rai or Mustard Seeds to a fine powder and set aside.
Chop the tomatoes into 1/2″ pieces.

Making the Pachadi

Heat 1 tbsp oil.
Add the tomato pieces and stir-fry till they are well-stewed and mushy.
Add the tamarind pulp and stir-fry for 2-3 minutes.
Add the turmeric powder, chilli powder, salt, and fenugreek + mustard powder.
Mix well.
Turn off the heat.

Adding the Popu, Tempering or Tadka

In a ladle, heat 1 tsp of oil.
Add  the mustard seeds and wait till they splutter.
Add 1/4 tsp of methi or fenugreek seeds and wait till they start to change colour.
Add the asafoetida and split red chillies.
Stir-fry for 5-7 seconds.
Turn off the heat.
Add the tempering to the pachadi or chutney.
Mix well.

Savouring the Andhra Style Tomato Pachadi or Tomato Thakkali

Mix a generous dollop of the pachadi in hot rice and sesame oil. Savour each mouthful. 🙂
Serve the pachadi as an accompaniment to sada dosa or even idli.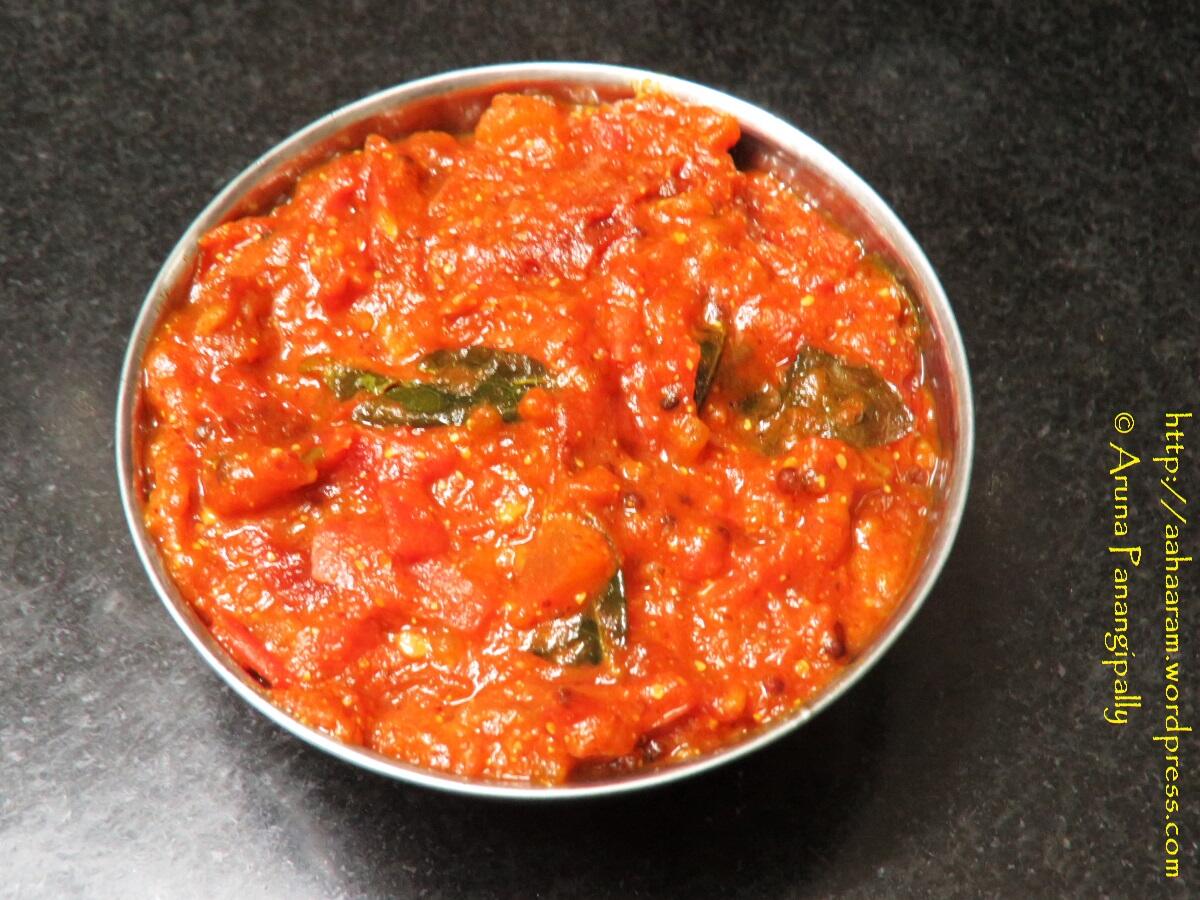 Pin