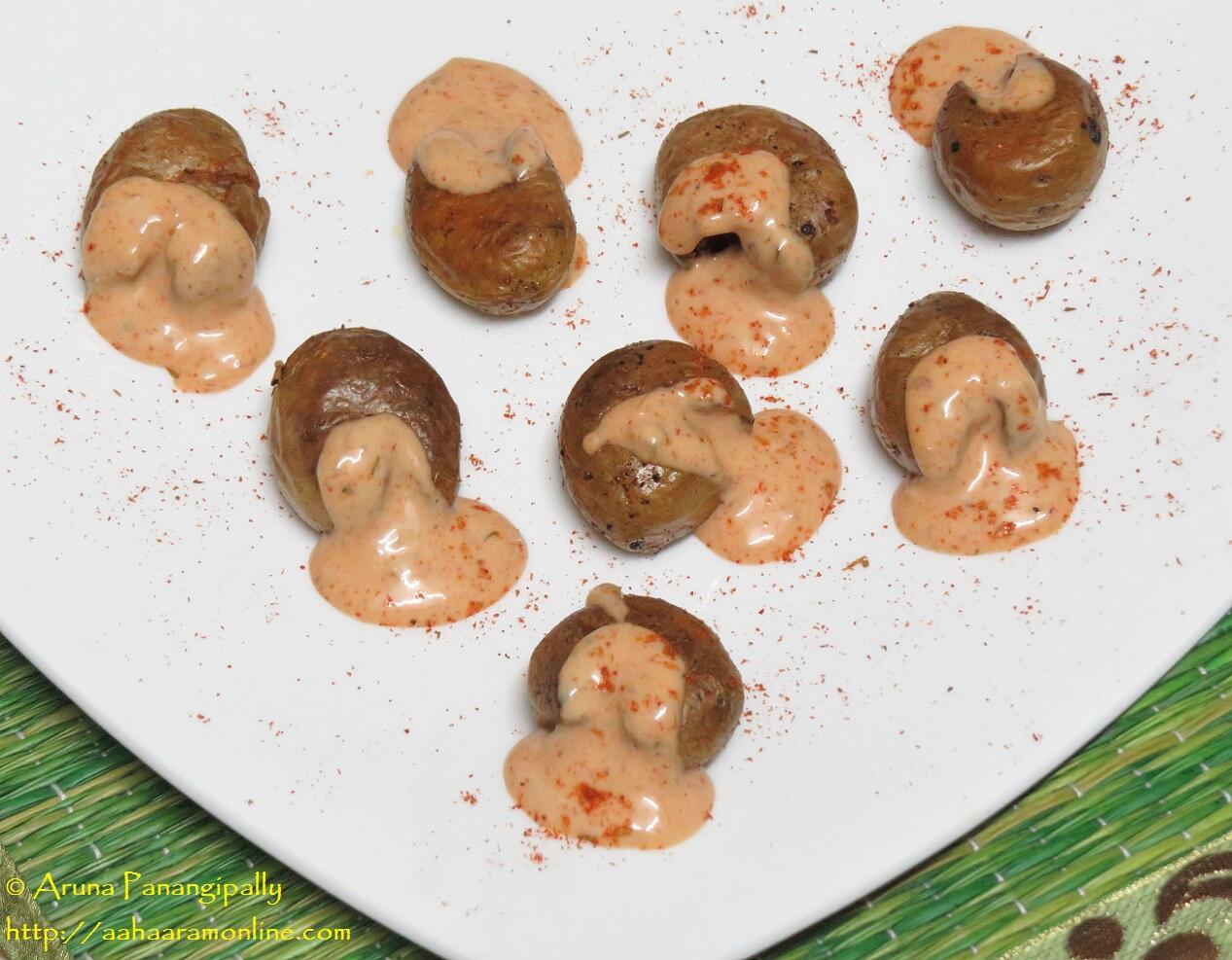 Pin
I had heard quite a bit about Barbeque Nation's Cajun Potatoes. I finally got a chance to taste them in December last year. Ever since then this dish has been on my mind.
I made Cajun Potatoes this week using Jofy Abraham's recipe. The taste was exactly the same as that of Barbeque Nation (why would I ever doubt Jofy? :)). I also have this on authority from me team mates at work who went ga-ga over it. The sad part was that they got just one potato each. I will make it up to them by making another batch.
What I loved about this recipe was that it was super simple, especially because I used readymade Thousand Island Dressing and Cajun Spice mix. As a result, it took me barely abut 30 minutes to make this delicious starter.
I look forward to making Cajun Potatoes more often now.
Before I forget, do visit Jofy's blog Foodie Adam Cookie Eve (I just love the name!) for more delicious recipes. Her Thattukada Mutta Biriyani is next on my list.
How to Make Barbeque Nation Cajun Potatoes Recipe
Barbeque Nation Style Cajun Potatoes
Barbeque Nation's Cajun Potatoes are quite a rage in India. Here is a super simple recipe to make this delicious starter.
Ingredients
1/2

Kg

Baby Potatoes

1

Cup

Thousand Island Dressing

1

tbsp

Cajun Spice Mix

1/2

tsp

Red Chilli Powder

1

Pinch

Pepper Powder

Salt to Taste

Oil for Frying
Instructions
Making the Dip for the Cajun Potatoes
Mix together the Thousand Island Dressing, Cajun Spice Mix, Pepper, and Salt.

Set aside.
Preparing the Potatoes
Scrub the baby potatoes to get rid of any dirt.

Boil or pressure cook the baby potatoes (with skin) till just tender.

Let the potatoes cool.

Using a heavy spoon, squash each baby potato till the skin just splits.

In a shallow pan, heat about 1/4 cup oil.

Over medium heat, shallow fry the baby potatoes.

Take out of the oil with a slotted spoon.

Drain all excess oil.

Lay the fried potatoes in a plate.You can either drizzle generous amount of sauce on each potato.
Or
Serve the dip separately.