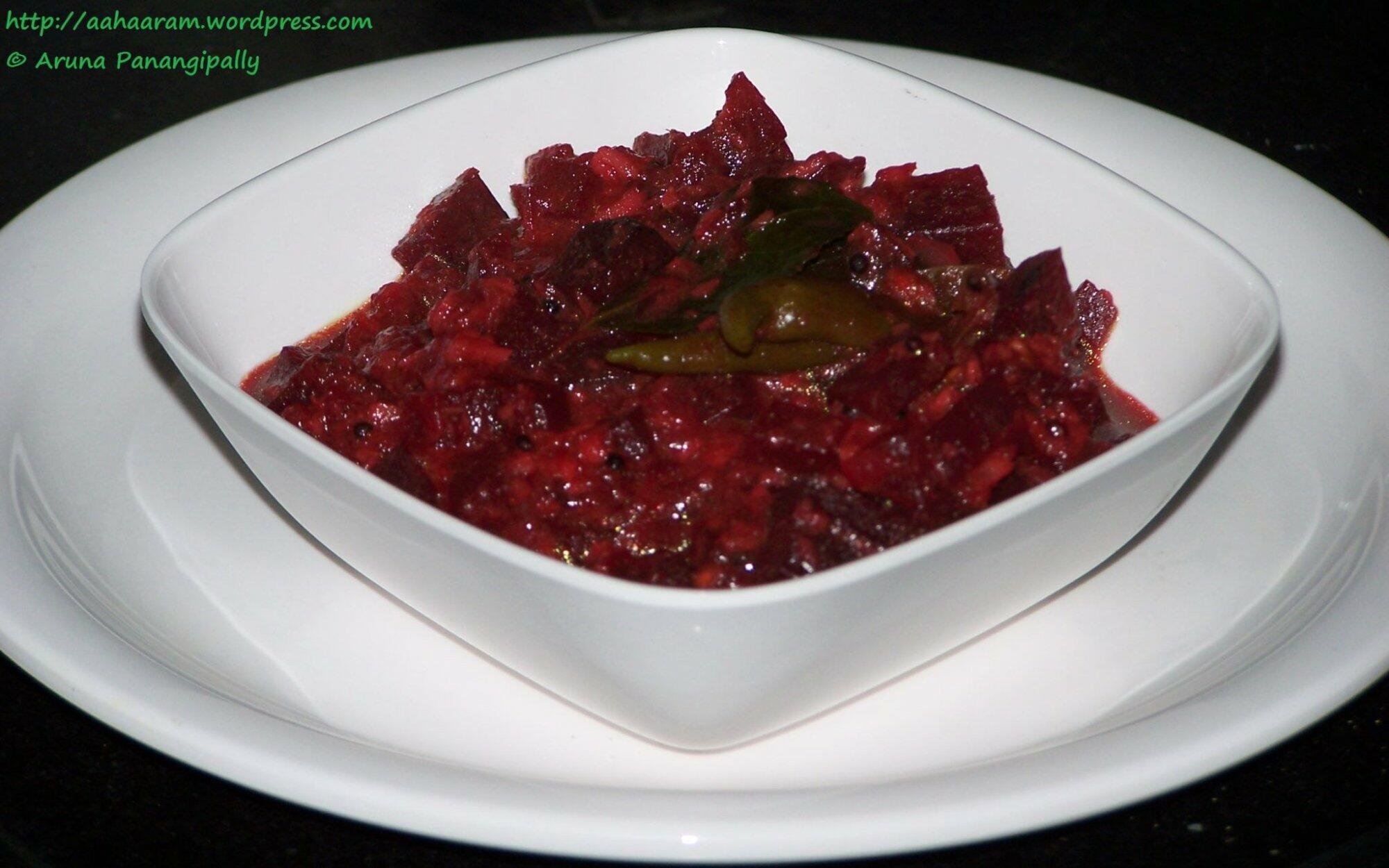 Pin
Here is an easy to make beetroot curry, where the garlic and chillies offset the sweet taste of the beetroot. It tastes awesome with hot rotis or just by itself. 🙂
Ingredients
Beetroot – 1/4 Kg
Onion – 1
Garlic Cloves – 3
Grated Coconut – 3 tbsp
Rice Flour – 1/2 tsp
Turmeric – 1 pinch
Green Chillies – 2 or 3
Mustard Seeds – 1/2 tsp
Oil – 3 tsp
Curry Leaves – A Few
Salt to Taste
Method
Peel and dice the beetroot into 1/2″ cubes.
Chop the onion finely.
In a kadai/wok, heat the oil.
Add the mustard seeds and wait till they splutter.
Add the slit green chillies and fry for 3-5 seconds.
Add the curry leaves and fry for 3-5 seconds.
Add the onion and fry till it turns translucent.
Add the beetroot pieces and saute for 5 minutes.
Add 1/2 cup water.
Cover and let the beetroot cook.
Stir at regular intervals and add more water, if required.
Grind the coconut, rice flour and garlic together to a smooth paste.
After the beetroot is cooked, add the turmeric and coconut-garlic paste.
Mix well and cook for 2-3 minutes.
Turn off the heat.
Serve hot with rotis.
Tips
Ensure that all water added to cook the beetroot evaporates.
The beetroot is cooked if you can cut the pieces with a spoon. Ensure that the beetroot is not overcooked.
The rice flour is there to soak up any water that might be there in the koora.