When I made Dharwad Peda last year, I had written about how that sweet and Belgavi Kunda are dear to me from my childhood. Both these sweets were a once-in-a-year treat when Dixit Uncle (Amma's colleague and a dear family friend) went on his annual vacation to Belgaum.
We do get a version of Dharwad Peda called Mathura Peda here in Mumbai, but Belgavi Kunda is scarce. I try to make do with Milk Cake or Therattipal but it is just not the same thing.
I have seen many recipes and posts for Belgavi Kunda but none motivated me to try them. Last week, Swapneel Prabhu posted "I made a no-bake Kunda tart with a marzipan-like mildly sweetened roasted nuts base and filled it with fresh homemade Kunda. I served the tart slice with some honey and sea salt Kulfi, again homemade."  The accompanying photo was what made me try this recipe almost immediately.
Swapneel's Kunda turned out just the way I remembered it. Grainy, caramel-y, and above all super delicious. So I am in heaven. Also this post comes at the perfect time with Gokulashtami being round the corner. 🙂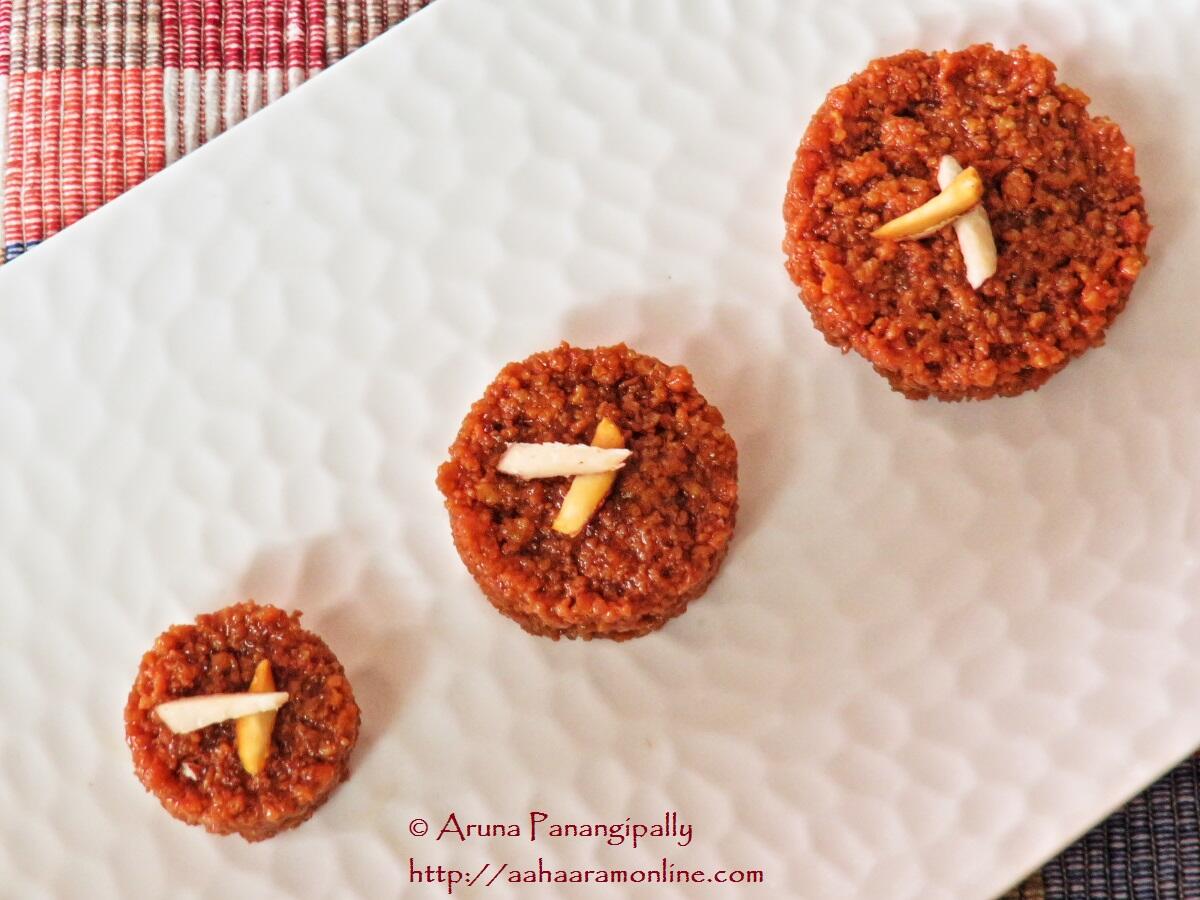 Pin
Before I get on to the recipe a few words about Swapneel. He is considered the resident Master Chef on a foodie group we are all members of. (After reading about his Kunda tart in his own words do you have any doubts?). He comes up with so many innovative variations of traditional dishes and such wonderful plating that I am forever drooling over his food pics.
Here are a couple of dishes from Swapneel that are a testament to his passion for food and his level of skill.
Consider this Malabar Fish dish that Swapneel describes as:"Malabar Fish (Kingfish/Surmai) Tikka, Moilee Beurre Blanc, Madras Shallot Ash, Tapioca and Walnut Crumb, Tomato Chutney, Apple, Orange, Pickled Swiss Chard and Celery.Phew!I wanted to try doing three different styles of plating.

That meant there were certain variations in components and also in the way they were handled."

Pin

How about this wonderful salad, which in Swapneel describes as "A

vegan salad

of oven-roasted yam, wild greens (sea purslane and what is locally known as 'Koral' leaves), tender coconut, star fruit, tied together with a mango-mustard dressing, finished with a sprinkle of toasted sesame seeds."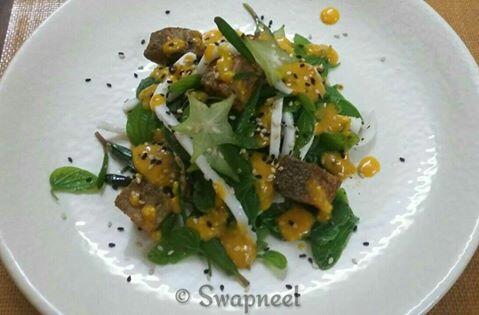 Pin
Can you see why I was so excited when Swapneel posted the Belgavi Kunda recipe? 🙂
How to Make Belgavi Kunda
Belgavi Kunda - Recipe by Swapneel Prabhu
Belgavi Kunda can have people in raptures. In essence it is a simple dessert. Just boil milk down till it is almost solid and add caramel to it. However, it takes time. This recipe for Belgavi Kunda saves us all the time by giving us a shortcut with no compromise on the taste.
Ingredients
tbsp

Ghee - 2

tbsp

Curd - 2

tbsp

Semolina - 2

Rava/Sooji

tbsp

Dink Powder - 2

Gond/Edible gum

Milk - 1 litre

Full fat

cup

Sugar - 1

tsp

Green Cardamom powder - 1

optional

Crushed nuts - For garnish
Instructions
Take an 8 to 10" plate with edges.

Coat it with about 1 tsp ghee.

Set aside.

Heat the ghee in a pan.

Add the edible gum powder and fry on a low flame till it puffs up.

Add the Rava and toast till brown and fragrant.

Add the milk, stir and bring to a boil.

After the milk boils, take off the heat.

Stir in the curd.

Keep aside.

Add sugar to a non-stick pan.

Over medium heat, melt the sugar till it turns into caramel (brown thick liquid).

Add the milk mixture to the caramel. Be careful while doing this as you have a danger of being splashed a bit.

Now cook the mixture on a low flame while stirring regularly.

Cook till the liquid is evapourated and you have a thick, slightly liquid milk solid mix. A little loose than a Barfi mix.

Add the cardamom powder. Nutmeg powder may also be used.

Mix well.

Garnish with slivered nuts.

Let it rest for a few minutes.

You can serve the Belgavi Kunda both warm or cold.

Enjoy!
Notes
Belgavi Kunda does not set into a firm block. It is not supposed to. Traditionally, it is just served in a cup like Halwa.
Eat in small quantities as it is very heavy.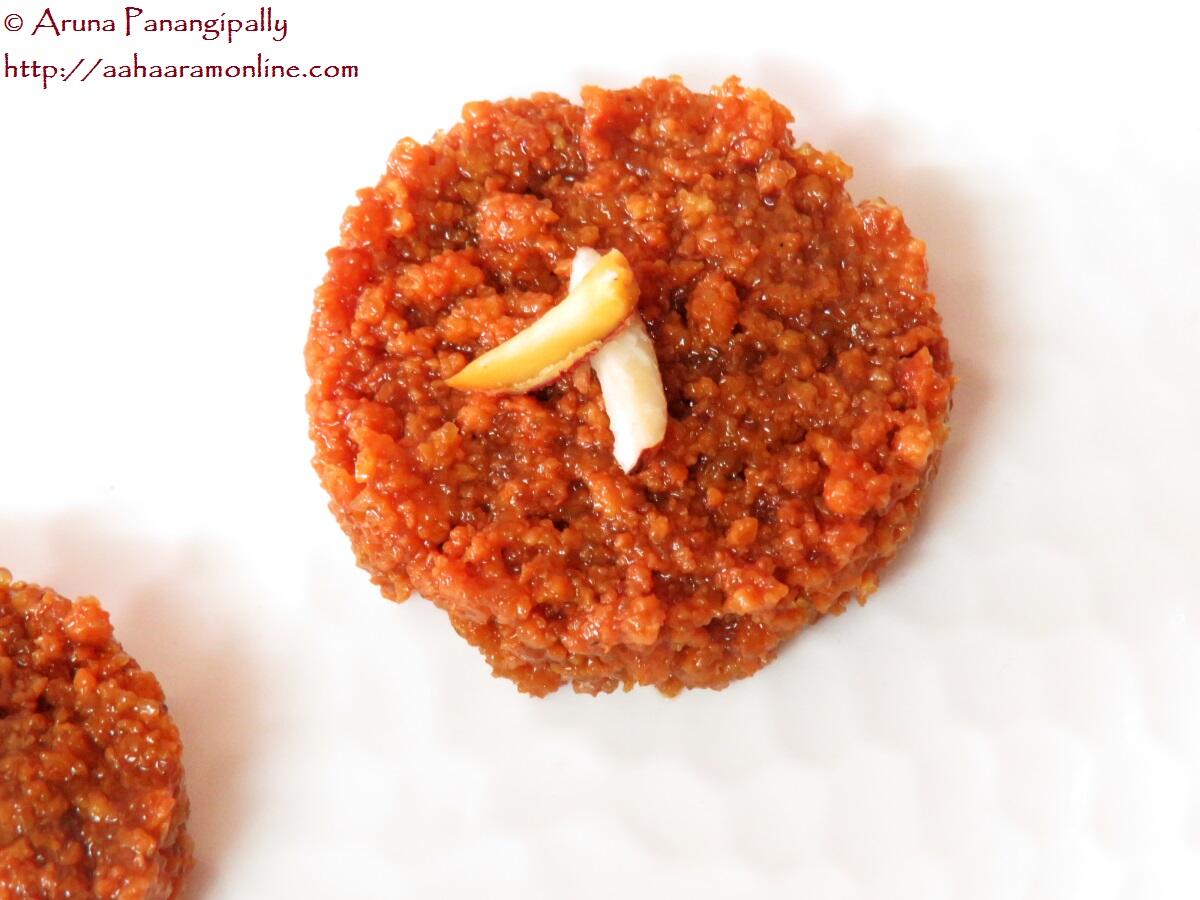 Pin