One of the most waited festivals in Shravana Masam is the one that celebrates the birth of Sree Krishna. Known variously as Gokulashtami, Sri Krishnashtami, Sri Krishna Jayanti, and Sri Krishna Janmashtami (or simply Janmashtami), it is a festival celebrated throughout India.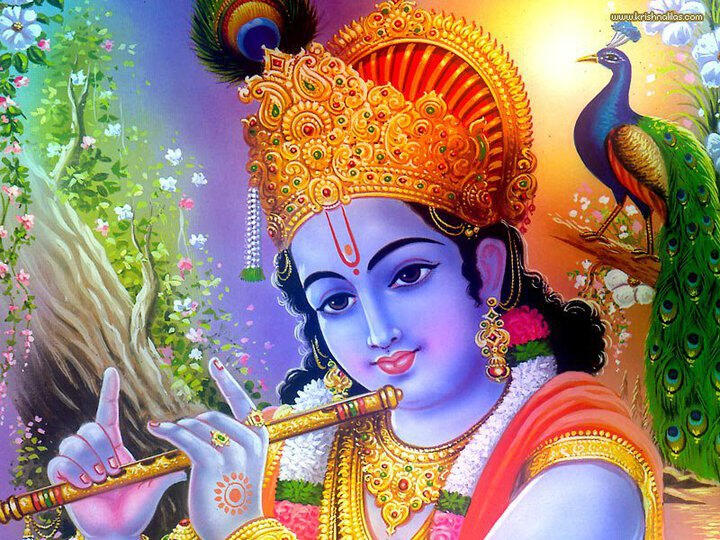 Pin
Today I am writing about Bellam Atukulu or Vella Aval, a traitional naivedyam for Krishna Jayanthi (aka Gokulashtami or Krishna Jayanti).
Naivedyam for Lord Krishna is dominated by milk products (Curds, Butter, and Milk) and by dishes made with Atukulu (Poha, Aval, Avalakki, or Beaten Rice); both of which are among Krishna's favourite foods.
The reason why Atukulu is among Krishna's favourite foods is one of those childhood stories that almost every Hindu child hears. At early stages of life, the story illustrates the true nature of friendship, but as the child grows it is also a testimony to the power of faith and devotion.
Krishna and Sudama (also known as Kuchela in South India) studied together under Guru Sandipani and became close friends. After they completed their studies, Krishna went on to fulfill his destiny as the King of Dwaraka, while  Sudama went on to fulfill his as a Brahmin.
As time passed, Sudama's family grew to encompass a wife and two children. However, because of Sudama's austere lifestyle as a Brahmin, the family fell on hard times.  Sudama's wife urges him to visit Krishna, who could help him. Sudama agrees to meet Krishna but resolves not to ask him for anything.
Not wanting to meet Krishna empty-handed, Sudama searches his home for an gift for Krishna and all he finds is some Atukulu. Sudama knows that Krishna loves Atukulu and takes them with him.
Krishna welcomes Sudama warmly and treats him just as one would a dear old friend. The friends spend many an hour reminiscing about their childhood. However, Sudama is overwhelmed by Krishna's wealth and hesitates to offer him the gift of Atukulu. Krishna spies the bundle and asks Sudama for it. Opening the bundle, Krishna relishes the Atukulu as if it were the tastiest dish in the world.
Sudama spends a couple of days with Krishna but is unable to bring himself to ask him for anything. On the third day, Sudama sets off for home wondering what he would tell his wife on why he came home empty-handed?
Just as reaches his home, Sudama sees that his humble hut has been replaced by a palatial home, and his family well-fed and clothed in finery!
Ever since, it is said, that all devotees offer Atukulu to Krishna. 🙂
Having told a much-loved tale, let me get down to the recipe for Bellam Atukulu or Vella Aval, one of the many Atukulu-based dishes made on Krishna Janmashtami. This is a sweet dish made with just jaggery and Atukulu, and it gets done in a jiffy!
You can find more recipe at Gokulashtami, Krishnashtami Or Sri Krishna Jayanti Naivedyam Recipes.
How to Make Bellam Atukulu or Vella Aval
Ingredients
Thick Atukulu, Aval, Avalakki, Pohe, or Beaten Rice – 1 Cup
Grated Bellam, Jaggery, or Gur – 2/3 Cup
Neyyi, Clarified Butter, or Ghee – 1 tbsp
Cashew Nuts – 4 or 5
Green Cardamom – 2
Method
Wash the  Atukulu under running water for a 2-3 minutes till they absorb the water.
Let the Atukulu drain in a colander for about 1 hour.
Peel the cardamom and crush the seeds to a coarse powder.
In a heavy-bottomed vessel, heat the ghee.
Split the cashews in half and add to the hot ghee.
Fry till golden brown.
Turn the heat to medium-low and add the grated jaggery.
Stir continously and let the jaggery melt to form a thick syrup.
Add the cardamom powder and mix well.
Turn off the heat.
Add the soaked and drained Atukulu to the jaggery syrup.
Mix well with a light hand.
Offer the Bellam Atukulu or Vella Aval to Sree Krishna as Naivedyam and have as prasadam!
Tips
Ensure that the Atukulu are just damp but not dry before starting to make the jaggery syrup.
If the Atukulu are wet, you will have a lumpy mess on your hands.
The jaggery syrup should just start to foam before you add the Atukulu.
After adding the Atukulu mix with a light hand, else the Atukulu will disintegrate and you will have a mash on your hands.