I have been meaning to make Bellam Garelu—also known as Pakam Garelu—for a while now but have been putting it off for a variety of reasons. This month I had to cook with a star ingredient whose name began with J and I used this opportunity to make these delicious Vada in Jaggery Syrup.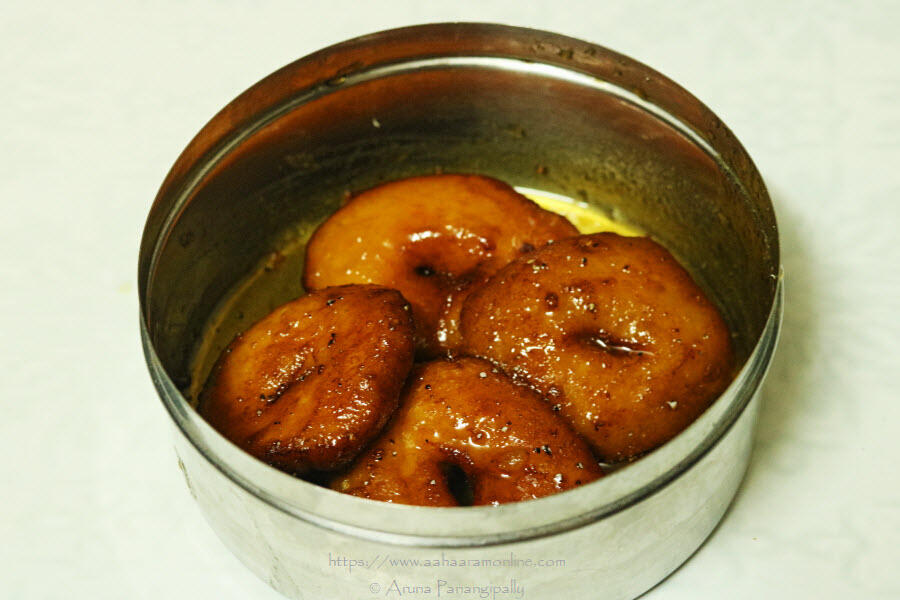 This month in the A to Z Challenge we have to cook a dish that celebrates an ingredient whose English name begins with J, and I chose to use Jaggery. Known as Gur in Hindi and Bellam in Telugu, Jaggery is a sweetner that is made from Sugar Cane juice. It is rich in iron and magnesium, and is the preferred sweetener for traditional sweets/.
Read more about Jaggery and its benefits.
This traditional recipe for Bellam Garelu or Pakam Garelu is from Andhra Pradesh and Telangana. Most Andhra poojas require us to make Minapa Garelu (aka Medu Vada) for naivedyam and making is sweet vada just needs us to melt some jaggery. So normally, I make the trio of Garelu, Aavadalu | Perugu Garelu | Andhra Style Dahi Vada, and these Vadas in Jaggery Syrup.
This post is a work in progress. I have step-by-step pictures and detailed instructions that I will update this post with by December 7, 2019. The delay is because I have a deadline to meet with this post and I am unavailable from tomorrow till the end of the month. 🙂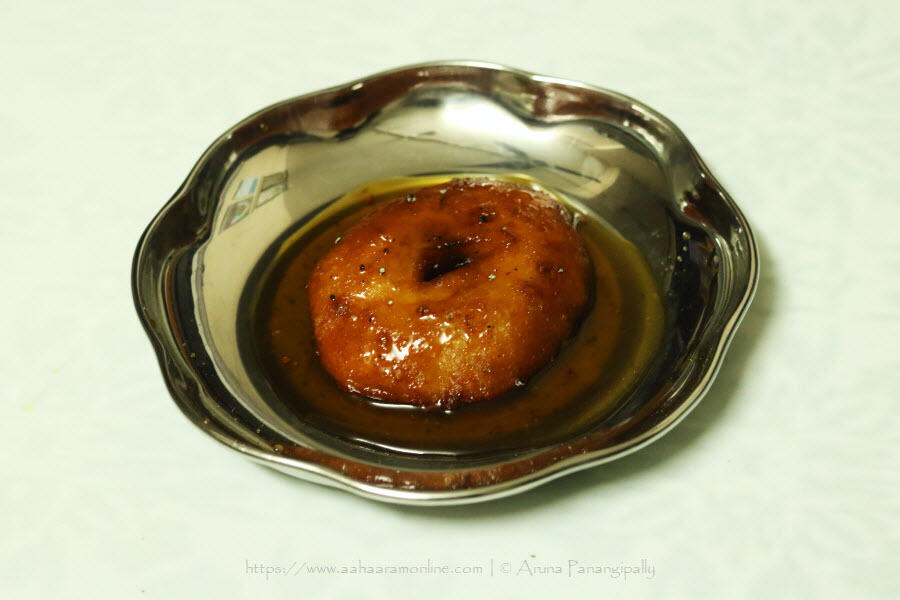 Did you know that we sometime add Ash Gourd to vadas? Do try my recipe for Budida Gummidikaya Pacchi Vadiyalu; I am sure you will love them. Also a delicious coconut and rice flour vada called Kobbari Garelu.
Recipe for Bellam Garelu | Pakam Garelu | Vadas in Jaggery Syrup
Bellam Garelu | Pakam Garelu from Andhra Pradesh
Bellam Garelu or Pakam Garelu are Medu Vadas in Jaggery Syrup. This is a traditional recipe from Andhra Pradesh and Telangana, and is made often as a part of naivedyam for poojas.


Ingredients
1/2

Cup

Udad Dal

(~110 gms)

1/2

Cup

Jaggery

(~125 gms)

1/2

tsp

Cardamom or Pepper Powder

3

tbsp

Water

1

Cup

Oil

(I used Peanut oil)

Salt to Taste
Instructions
Making the Batter
Wash the udad dal well, and soak in 1 cup water for 4 hours.

Grind to a thick paste. Avoid adding any water, if possible. Grind in small batches.

Add a little salt and mix well.
Making the Jaggery Syrup (Do this when the first batch of the vadas are frying)
In a heavy-bottomed vessel, mix together the grated jaggery, cardamom or pepper powder, and water.

On low heat, melt the jaggery.
Making the Bellam Garelu | Pakam Garelu
In a deep kadai, over medium flame, heat the oil. To test the heat of the oil, drop a tiny pinch of the batter into it. The batter should slowly rise to the surface in a few seconds and sizzle.

Wet a plastic sheet or banana leaf.

Dip your fingers in a bowl of water and scoop up a small portion of the batter.

Place the batter on the wet plastic sheet and pat into a circle.

Wet your index finger and make a hole in the centre.

Gently flip the vada onto your fingers and peel off the plastic sheet.

Slide the vada into the hot oil.

Let the vada fry for a minute or so and then flip over.

Let the vada fry till it is golden brown. Flip at regular intervals to ensure the vadas fry evenly.

Using a slotted ladle, remove the vadas from the oil and let the oil drain away a bit.

Add the hot vadas to the jaggery syrup.

Let the vadas soak in the syrup for 5 minutes or while the next batch is frying.

Remove the vadas from the syrup and transfer them to another container.

Repeat till all the Bellam Garelu | Pakam Garelu are made.

Pour any leftover syrup onto the vadas.
Notes
Use as little water as possible (none is the best) while grinding the udad dal batter.
Use either cardamom powder or pepper powder in the jaggery syrup. I personally like the kick of the pepper powder. 🙂
Making vadas needs some practice so don't worry if the shape is not perfect.
I am taking this Andhra favourite to the collective at the A to Z Challenge.