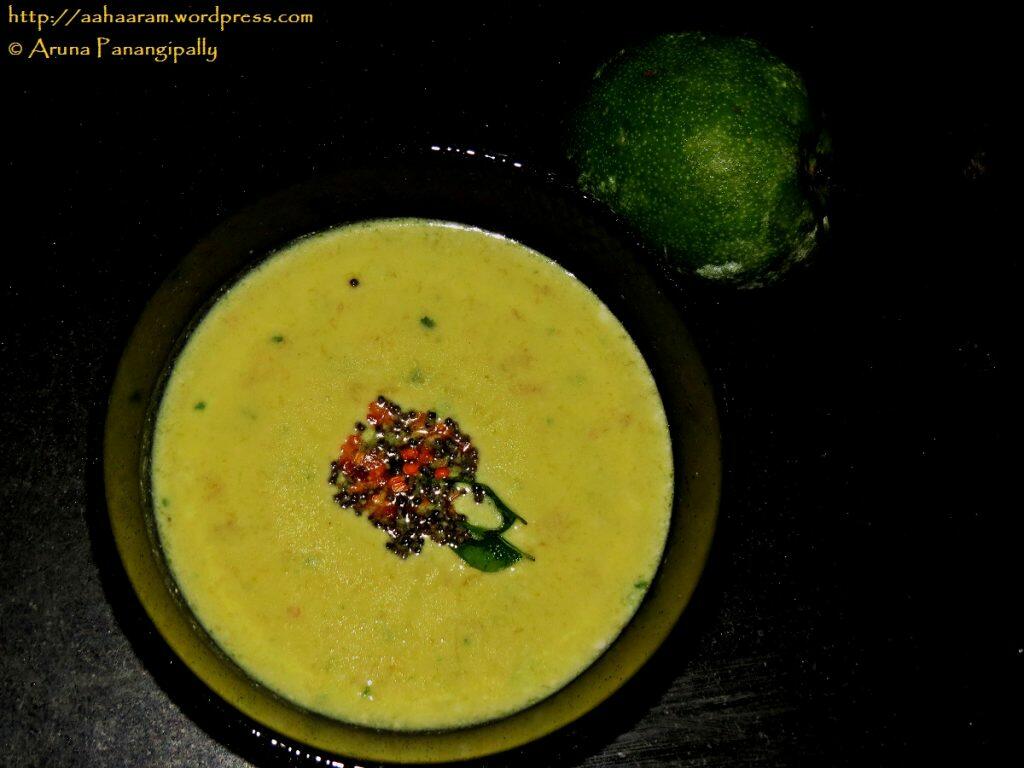 Pin
Beyisida Maavinakai Gojju is a dish I learnt from an Udupi friend of mine. This tangy raw mango and yogurt stew has become quite a staple in my home. I tried this recipe quite by accident. 🙂
My extended family is a shining beacon of national integration. (Indians would get what that is. :-)). While we are Andhra Brahmins, the my cousins, nieces, and nephews are married to people from Bengal, UP, Coorg, Orissa, and and and…. The result is that every time you visit someone, you get to learn new culture and customs.
Of course, food is very important in all Indian get-togethers. It is in this context that I first tasted awesome food from Kodagu (more popularly called Coorg). While Coorgi Cuisine is famous for its non-vegetarian food, it has an equally beguiling vegetarian cuisine. One of the yummiest Kodagu vegetarian dishes I have tasted is the Coorgi Raw Mango Stew. It is sweet, sour, tangy and spicy.
My cousin's MIL is a fantastic cook and ever since she realised that I am a foodie, she plies me with wonderful things at her place. 🙂 It is quite an incentive to visit Bengaluru often.
I was actually trying to source raw wild mangoes for the raw mango stew. Alas! I could not find any. So I settled for making another classic dish from Karnataka which uses regular raw mangoes. Beyisida Maavinakai Gojju comes from the region of Udupi, which is famous for its cuisine and its Sri Krishna Temple.
As a child, my mother told me the story of Kanakadasa and Kanakanna Kindi many times, and here is how it goes. Kanakadasa was a famous bard and a great devotee of Sri Krishna. However, he was refused entrance into the Sri Krishna Temple as he was not a Brahmin.

It is said that the Sri Krishna was so upset with Kanakadasa being refused entrance that he turned his back to the main door and caused an earthquake that created a crack in the back wall of the shrine. It is through this crack that Kanakadasa was able to see the Lord. This crack was later converted into a window and is called Kanakanna Kindi (Kanakanna's window). Till date, all devotees get darshan only through this window.
Udupi is also close to my heart because Krishna Nee Begane Baro is one of the earliest kritis I learnt as a child and one of my favourites.
Listen to Bombay Jayshree sing this beautiful kriti:

[youtube https://www.youtube.com/watch?v=XLwcrrVrOjw&w=560&h=315]
I am quite familiar with Udupi cuisine as one of my closest friends is from this region. Religious occasions at her home are divine for more than just the pooja. Anyway, getting back to food, do try this delicious recipe.
How to Beyisida Maavinakai Gojju
Time: 20 Minutes
Serves: 4
Ingredients
Raw Mango – 1 (Large)
Yogurt or Curd – 1 Cup
Green Chillies – 2
Mustard Seeds – 1/2 tsp
Udad Dal – 1 tsp
Oil – 1 tsp
Turmeric – 1/4 tsp
Jaggery – A Large Pinch
Curry Leaves – A Few
Salt to Taste
Method
Pressure cook the whole raw mango with 2-3 cups of water.
Discard the water and let the mango cool.
Peel the raw mango and extract all the pulp.
Blend the yogurt with 1 cup of water and salt.
In a heavy bottomed vessel, heat the oil.
Add mustard seeds and wait till they splutter.
Add the udad dal and fry till it is golden brown.
Add the slit green chillies and curry leaves.
Stir-fry for 1 minute.
Add the turmeric and jaggery.
Stir-fry for 1 minute.
Add the mango pulp and mix well.
Turn off the heat.
Add the yogurt and mix well.
Serve Beyisida Maavinakai Gojju with hot rice.
Tips
Ensure that the raw mango is sour; otherwise you will have a bland Beyisida Maavinakai Gojju on your hands.