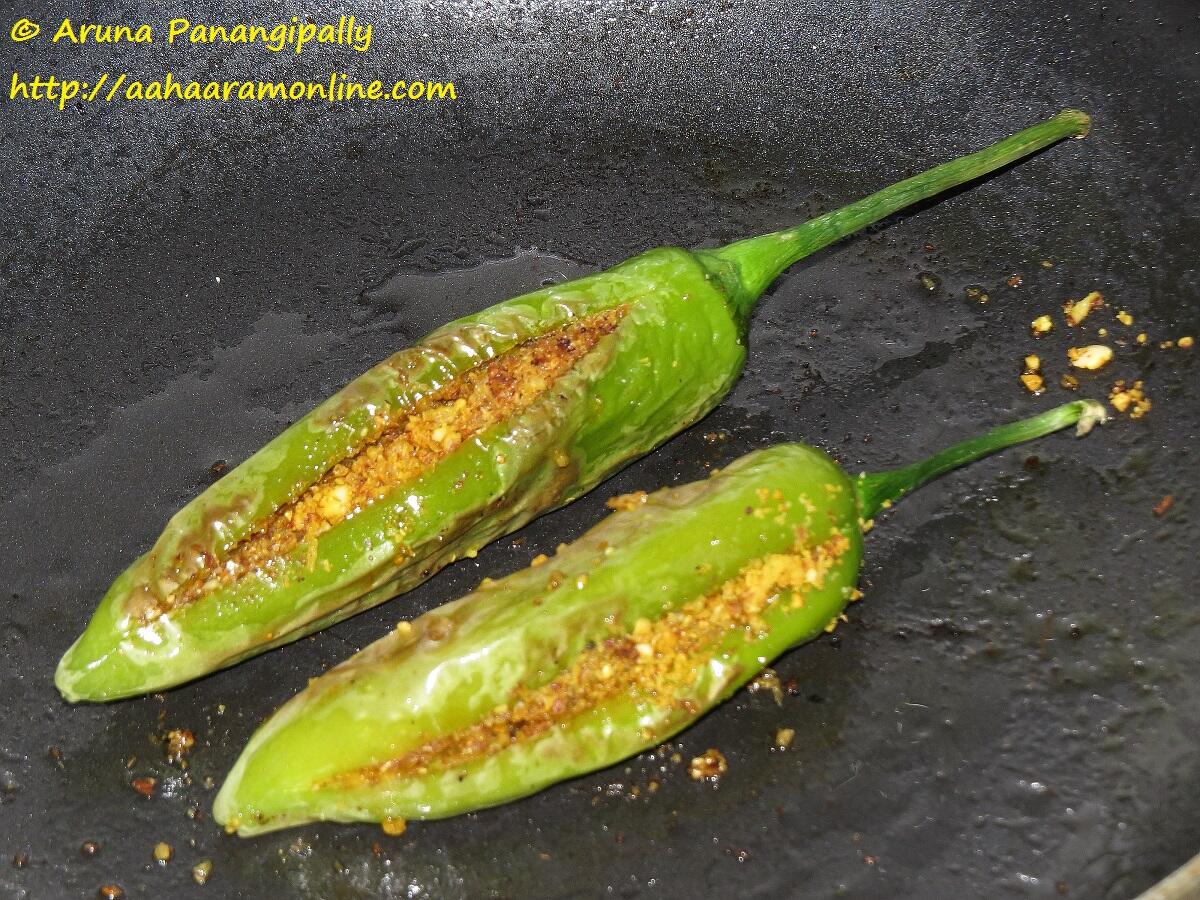 Pin
It is raining green chillies in my home and this is my second post in succession involving green chillies after Green Chilli Pickle. I have two other posts but I will save them for another day.
I love spicy food as you might have realised from my posts on pickles and pachadis. So when I spotted the large variety of fresh green chillies in the market, I wanted to make stuffed chillies right away. I have already posted the recipe for Green Chillies Stuffed with Hummus earlier and that dish is by far one of my favourites and I make it often. This time I made Bharli Mirchi or Maharashtrian Style Stuffed Green Chillies.
I used a stuffing made with coconut and peanut powder spiced with amchur. The result was a tangy and spicy Bharli Mirchi that was a delight as a side-dish for Varan Bhaat (Maharashtrian Style Dal Rice).
The green chillies you want for this dish are the large light green ones which are not too spicy. The ones I bought also did not have too many seeds so I did not bother to deseed them.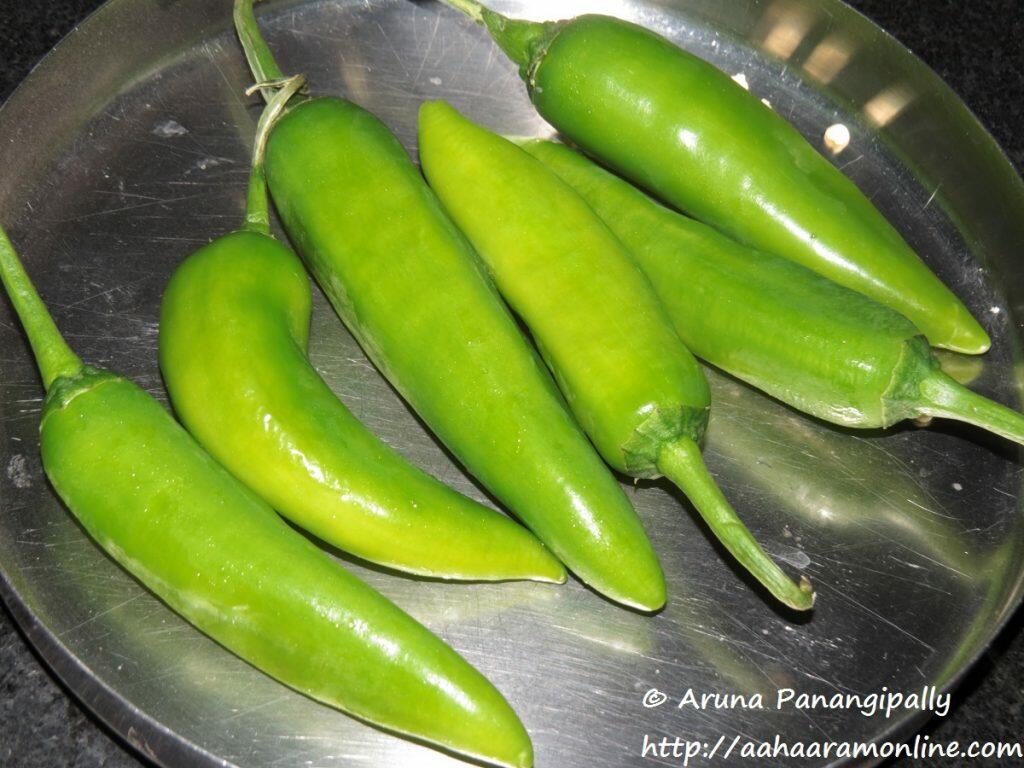 Pin
Also you have to be careful about making a slit in these green chillies so that you have enough leeway to stuff them but keep them whole without breaking them.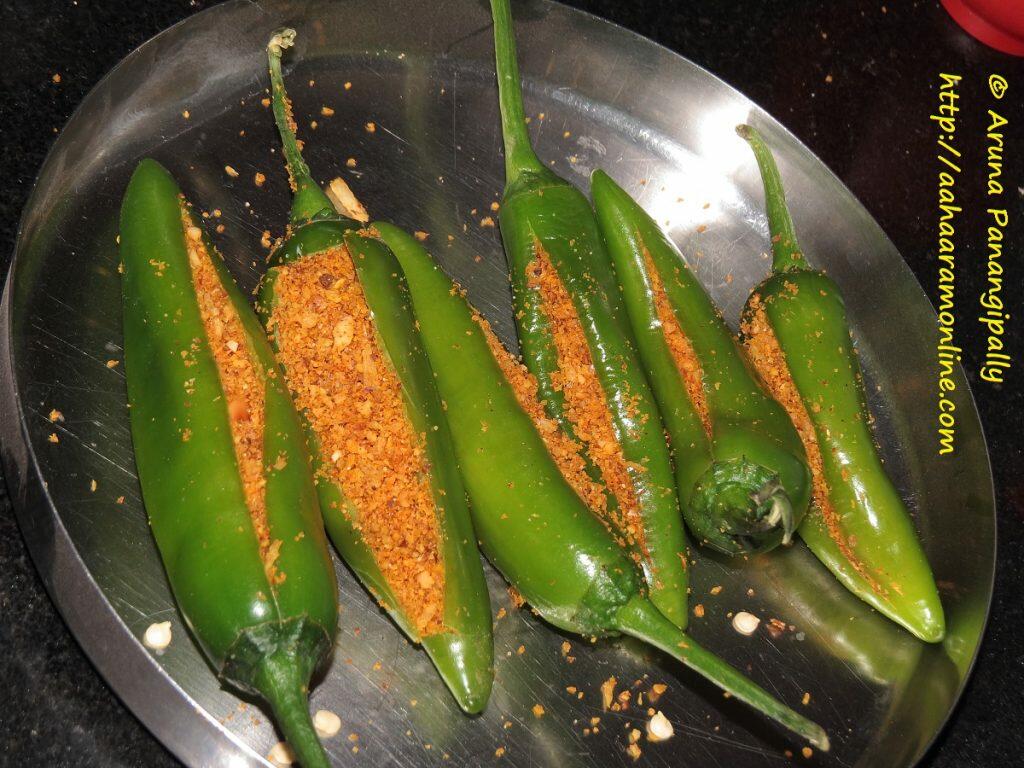 Pin
Bharli Mirchi - Stuffed Green Chillies Maharashtrian Style
Bharli Mirchi is Maharashtrian Style Stuffed Green Chillies. In this recipe, I have used grated coconut, roasted peanut powder and amchur as the stuffing. The result was a tangy, spicy stuffed green chilly that can be eaten with dal-rice (varan-bhaat) or roti.
Ingredients
6

Large Green Chillies

1/3

Cup

Grated Coconut

2

tbsp

Roasted Peanut Powder

1

tsp

Amchur Powder

1/4

tsp

Roasted Cumin Powder

1/2

tsp

Coriander Powder

1/2

tsp

Red Chilli Powder

1/2

tsp

Sugar

2

Large Pinches

Turmeric

1/4

tsp

Asafoetida

1/2

tsp

Mustard Seeds

2 to 3

tbsp

Oil

Salt to Taste
Instructions
Method to Make the Stuffing for Bharli Mirchi
Heat 1 tbsp oil.

Add the mustard seeds and wait till they splutter.

Add the asafoetida.

Add grated coconut. Ensure you do not dry it out.

Stir-fry for a few seconds.

Add the roasted peanut powder, coriander powder, cumin powder, red chilli powder, turmeric, amchur, and salt.

Stir-fry for a minute.

Take off the heat.

Spread in a plate to cool.

If the mix is very dry, sprinkle a few drops of water, oil, or even lemon juice. Be careful about using lemon juice as it can make the stuffing very sour.
Method to Stuff the Green Chillies
Wash and dry the green chillies.

Using a sharp knife, make a slit in each chilli.

If the green chilly has a lot of seeds, carefully deseed the chilly.

Carefully stuff each green chilli till it is full.

Set aside.
Method to fry Bharli Mirchi
Heat a pan or a tava till it is just hot.

Spread 1-2 tbsp of oil.

Place the green chillies on the pan.

Cook covered for a minute.

Open and roll over the green chillies to cook the other side.

Repeat till the skin of the green chilli looks wrinkled and cooked.

Serve with

Varan

Bhaat or Rotis.
Notes
You can bake these green chillies as well.
Preheat an oven to 100C.
Brush the green chillies with oil.
Place the chillies the stuffed-side down on a baking sheet.
Bake at 100C till the green chillies are cooked.