Carrot Payasam (Gajar ki Kheer) is a concept alien in my home. However, it seems to be very popular in many a South Indian home and so I decided to give it  shot. It was quite easy to make and my first thought was that it was a drinkable version of Gajar ka Halwa.
The the orange colour of this Carrot Payasam also seemed to appeal to the kids at home and in the neighborhood. As a result, the Gajar ki Kheer was greatly relished by the kiddos and I will soon be making another batch on demand from a neighbour. 🙂
This Payasam also get done very quickly and so can be a great dessert for unexpected guests or serve as one of the naivedyam items for Poojs that involve a lot of cooking.
Do try this payasam which is slightly off the traditional path and you will find many a fan.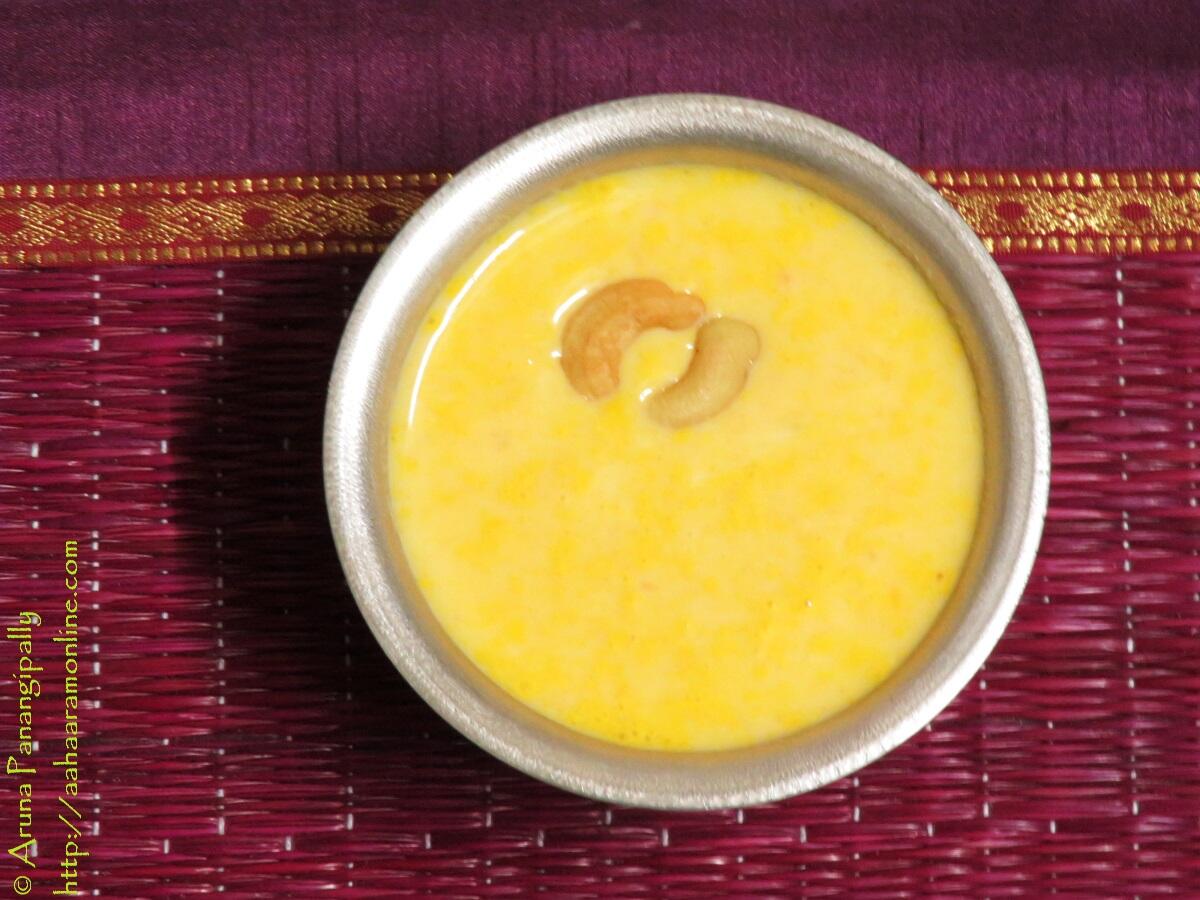 Pin
How to Make Carrot Payasam or Gajar ki Kheer
Carrot Payasam | Gajar ki Kheer
Think of this Gajar ki Kheer or Carrot Payasam as a drinkable version of Gajar Ka Halwa. Its orange colour also appeals greatly to kids and is quite a hit with them.
Ingredients
Cup

Grated Carrot - 1

Cups

Milk - 3

Cups

Sugar - 2/3

Green Cardamom - 6

Cashews - 12

tbsp

Ghee - 1
Instructions
Peel the green cardamom and crush the seeds to a fine powder. You will find it easier to grind/crush the seeds to a powder if you add about 1 tbsp sugar to it.

Split the cashew nuts.

In a pan, heat the ghee.

Add the cashew and fry till light golden brown.

Remove from the ghee and set aside.

To the same ghee, add the carrot and saute for 5 to 7 minutes till the carrot loses its raw taste.

Add about 1/2 cup milk and let the carrot cook a bit till soft.

Let the cooked carrot cool.

Grind the carrot to a fine paste.

Return the ground carrot to the pan and cook for 3 to 5 minutes.

Add the remaining milk and cardamom powder.

Simmer the Carrot Payasam for about 5 to 7 minutes.

Add the sugar and mix well.

Turn off the heat.

Add the cashews and mix well.

Serve the Carrot Payasam (Gajar ki Kheer) warm or cold.