Whenever I get absolutely fresh and tender Parwal (called Potol in Bengali and Oriya; and Pointed Gourd in English), I make this Crisp Parwal Fry. Believe you me when I say that this Potol Fry and simple dal rice is all you need to make a complete meal.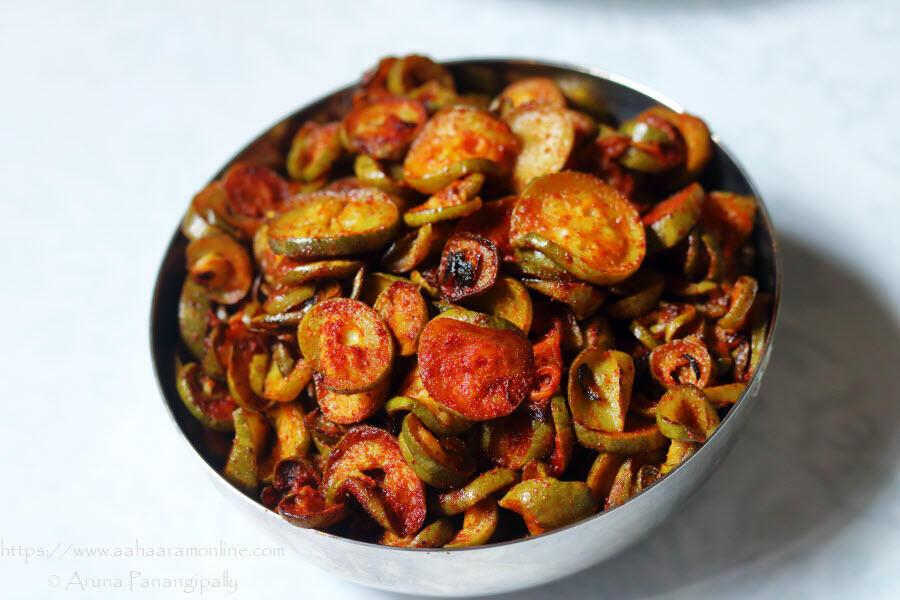 In these early days of the COVID19 lockdown, we are still getting fresh vegetables and I bought some parwal to stir-fry for a Sunday meal. We had Andhra Mango Dal | Mammidikaya Pappu, Mammidikaya Turumu Nilava Pachadi and this crisply fried parwal for lunch, and were a happy lot when we headed for a siesta.
Isolation or quarantine can sometimes get to one. Our family is playing board games, using the Internet to learn new skills that they always wanted to but had no time for, and then of course, making good delicious food that is also nutritious.
Tips for achieving the perfect crisp parwal fry:
Patience is the key. You have to stand over the wok and stir-fry. No pain, no gain. 🙂
Stir-fry over medium heat. low heat will make the discs soggy eventually, while high heat will char them but not cook them.
Do not add salt while frying as this may release any moisture in the vegetable.
Do not cover while cooking or then immediately after while the vegetable is still hot because then you will not have a Crisp Parwal Fry to enjoy.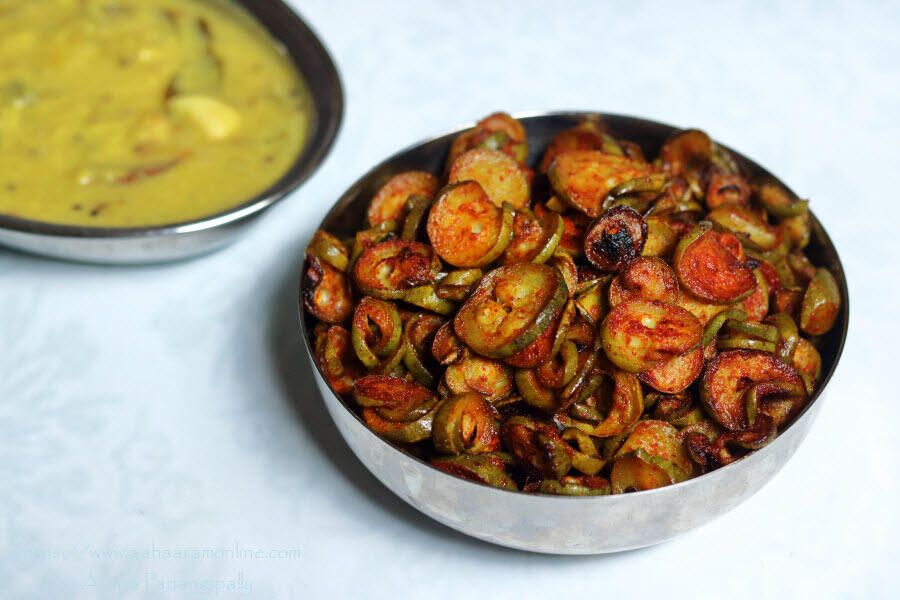 I had posted this recipe first in July 2015 and have now updated it with new photos and a recipe card.
Recipe for Crisp Parwal Fry | Potol Fry
Crisp Parwal Fry | Potol Fry
This Crisp Parwal Fry is just what you need as an accompaniment for dal-rice. The key to getting the perfect crisp potol fry is patience and stir-frying over a medium flame.
Ingredients
1/2

kg

Parwal, Potol, Pointed Gourd

4

tbsp

Oil

1

tsp

Chilli Powder

1/2

tsp

Turmeric

Salt to Taste
Instructions
Chop the ends off the parwal.

Cut the vegetable into discs about 1/8" thick.

In a heavy-bottomed wok or kadhai, over medium flame, heat the oil.

Add the parwal discs and stir-fry.

Stir-fry the parwal till the edges start to curl and brown a bit.

Add salt, turmeric and chilli powder; and mix well.

Serve immediately with dal and rice.
Notes
Do not cook covered or add salt as the vegetable is frying. This will cause the parwal to soften a bit and you will not get a crisp stir-fry.
Stir-frying is important; otherwise the parwal discs will not fry evenly.
Even after frying keep the vegetable uncovered to prevent any condensation from softening the vegetable.