Today I present Custard Powder Halwa by Vidya Srinivasan of Traditionally Modern Food. As the name of the blog suggests, Vidya's blog is replete with recipes that are traditional yet have a contemporary twist. Take today's recipe. Halwa is a such a traditional Indian dessert that Vidya has made with Custard Powder.
What I also like about Vidya's recipes is that they are easy to make with no compromise in taste. Again look at today's recipe. Gets done quickly and easily, while being delicious. 🙂
Vidya also experiments with traditional recipes to give them different forms. Take the recipe for Whole Moong Bean Paniyaram she posted recently. It is Pesarattu in a different form. For all her experimenting, Vidya is also a traditionalist at heart and has some wonderful South Indian recipes on her blog.
I could go on and on but the proof of the pudding (or halwa, in this case) as they say lies in its eating  and so over to Vidya!
Want to read more of Vidya's recipes? Visit her social network at:
---
I am excited to be featured in Aruna's space. Before getting into the recipe a small intro about my blog.
I am Vidya, author of "Traditionally Modern Food" blog. I enjoy various Cuisines, and started trying my hand in preparing the food I loved. You can find a mix of vegetarian Indian and International recipes in my space. I have a Little one, so I prefer spending less time in kitchen, and most of my recipes reflect that. Snacks are something I cherish, but I get conscious of the calorie factor, so I also try to make traditional Indian snacks with minimal oil (Baking).
I am bringing Custard Powder Halwa for Aahaaram readers.
Preparation time: 3 mins | Cooking time: 20 mins
Ingredients:
Custard powder – 1 cup (I used Vanilla Flavor)
Sugar – 2 cups + ½ cup (I used brown sugar, white sugar can also be used. Adjust sugar according to your sweetness)
Water – 4 cups
Butter/Ghee – 3 tbsp (I used butter)
Cashew Nuts and Raisins – for taste
Salt – a pinch
Cardamom powder – 1/8 tsp
Method:
Grease a pan with melted butter/ghee and keep aside.
In a mixing bowl add custard powder, water, sugar, salt and cardamom powder; mix well without any lumps.

Add a tbsp of butter to pan and when it melts and becomes hot, add cashew nut and sauté till they are golden brown. Switch off and add raisin; keep aside.
Take a heavy bottomed pan (I used non-stick) and transfer the mixture to the pan. Keep the pan on the stove and start cooking in high flame.
The mixture will come to boil and start to thicken, Keep stirring till it became glossy and jelly like texture.

Notes:
Food color can be added.
Halwa stays good for a week in fridge.
Any nuts of choice can be added.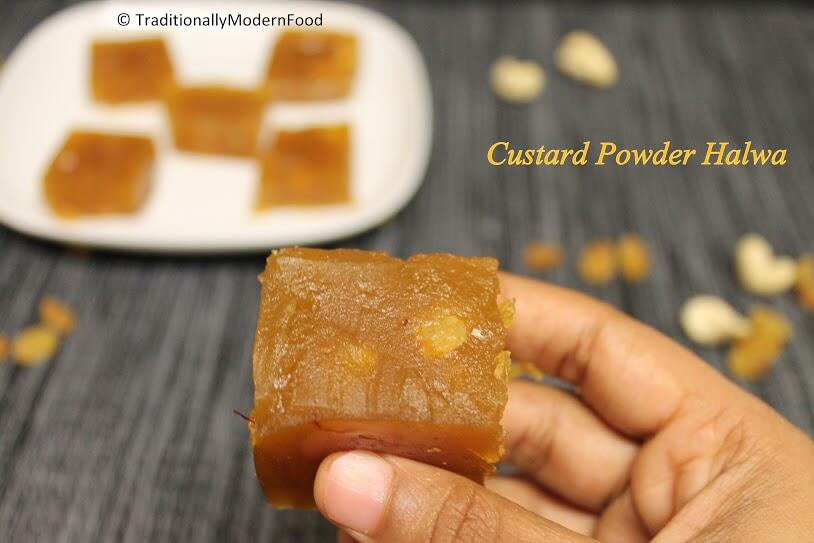 Pin