If there is a super fan of this blog, it is Kiran Jalan. She has been an evangelist for this blog like no other. And yes, it thrills me to bits to hear from Kiran. 🙂 That is enough about this blog; let me introduce Kiran.
Kiran is one of most unassuming people you will ever meet. Quiet and always smiling, she is a powerhouse of talent; something you will discover as you get to know her better. Want a glimpse of Kiran's talent? Take a look at just a few of her Ikebana creations.
Kiran is also a great cook (according to her it is all due to her foodie husband Anup :-)). I have had South Indian food, Mumbai Street Food, Sandesh, and of course, Marwari food made by her. Each and every dish of hers without exception has been finger-licking good. The last time I visited her home, Kiran fed me some wonderful traditional Marwari food. The best part was she whipped it all up in front of me; Dahi Wale Aloo, Tikkadiya, and Gatte ka Saag were just a few of the dishes. She also made some Sandesh is a jiffy.
What I loved about Kiran's cooking style was that it was all "no fuss". I hope to recreate all these delicious dishes that I learnt from her on this blog (currently, I am practicing the  flick of the wrist with which Kiran made the Tikkadiya; she made it seem so easy!).  Oh yes, we have resolved to meet often and so you can expect many more posts under her name!
Dahi Wale Aloo or Vrat ke Alu (Potatoes in Yogurt Gravy) is the first of Kiran's recipes that I am writing about and it is perfect for the season. Ever since I have learnt this from Kiran, I have made this dish often and have grown quite fond of it!
Thank you, Kiran, for being you!
Serves: 4
Time: 30 Minutes
Ingredients
Baby Potatoes – 16 to 20
or
Regular Potatoes – 4 Medium Sized
Dahi, Yogurt or Curd – 3/4 Cup
Turmeric Powder – 1/4 tsp
Red Chilli Powder – 1 tsp
Jeera – 1 tsp
Green Chillies – 2
Curry Leaves – A Few
Ghee – 1 tsp
Salt to Taste
Method to Make Dahi Wale Aloo
Blend 3/4 cup dahi with 1/2 cup water.
Add salt, turmeric, and red chilli powder.
Mix well.
Boil and peel the potatoes.
If you are using regular potatoes, cut them into 1″ cubes.
Take a 2-3 potatoes pieces and mash them.
In a wok, heat the ghee.
Add cumin seeds, slit green chillies, and curry leaves.
Stir-fry for a few seconds.
Add the pototoes pieces and the mashed potato.
Stir-fry for a few seconds.
Turn the heat down to low.
Add about 1/3 cup water to cool down the potatoes.
Now add the blended dahi.
Cook over low flame for 5 to 7 minutes. Be very careful and cook on a low flame; if you turn the flame to high, the yogurt will split.
Turn off.
Serve warm with rotis or Tikkadiya.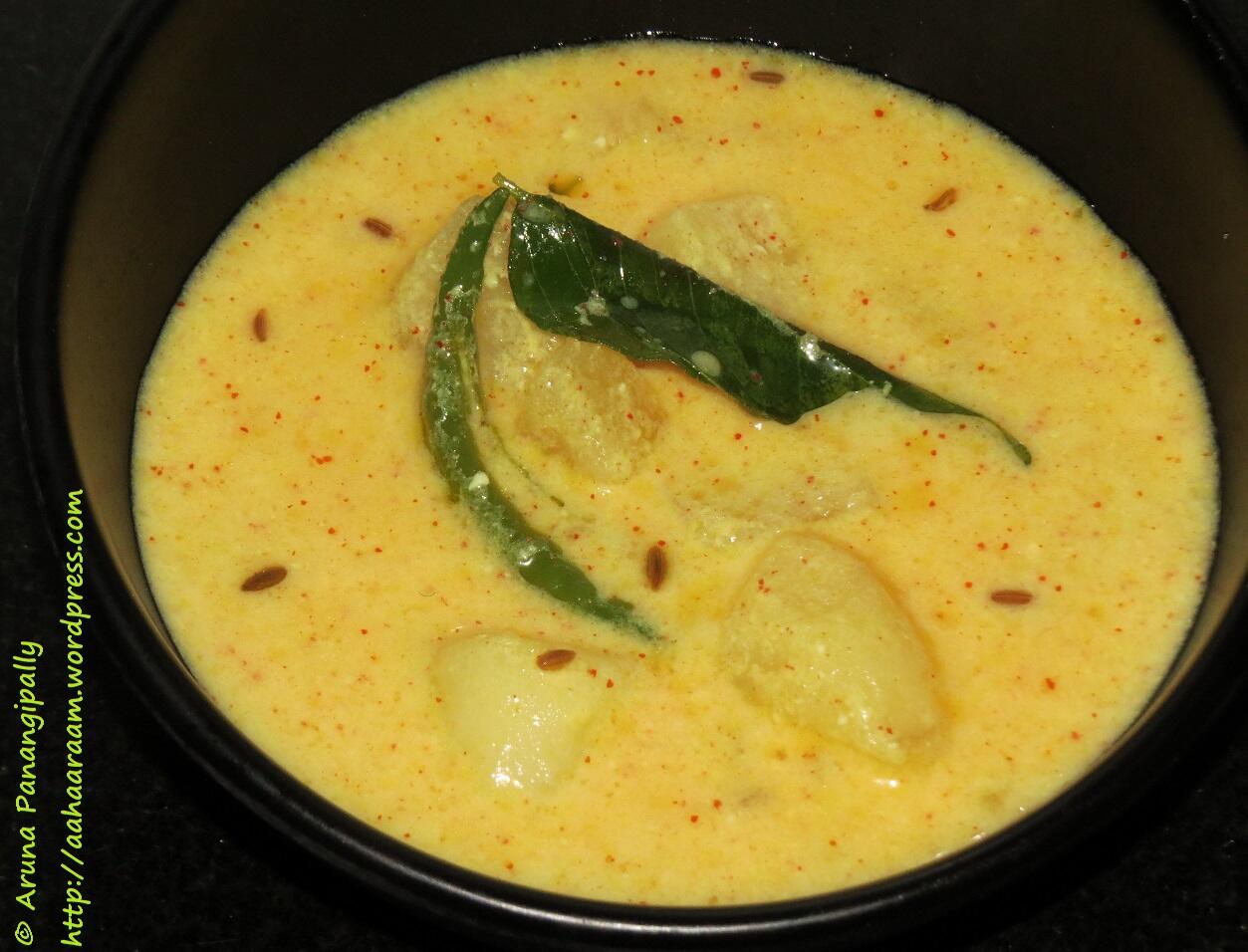 Pin