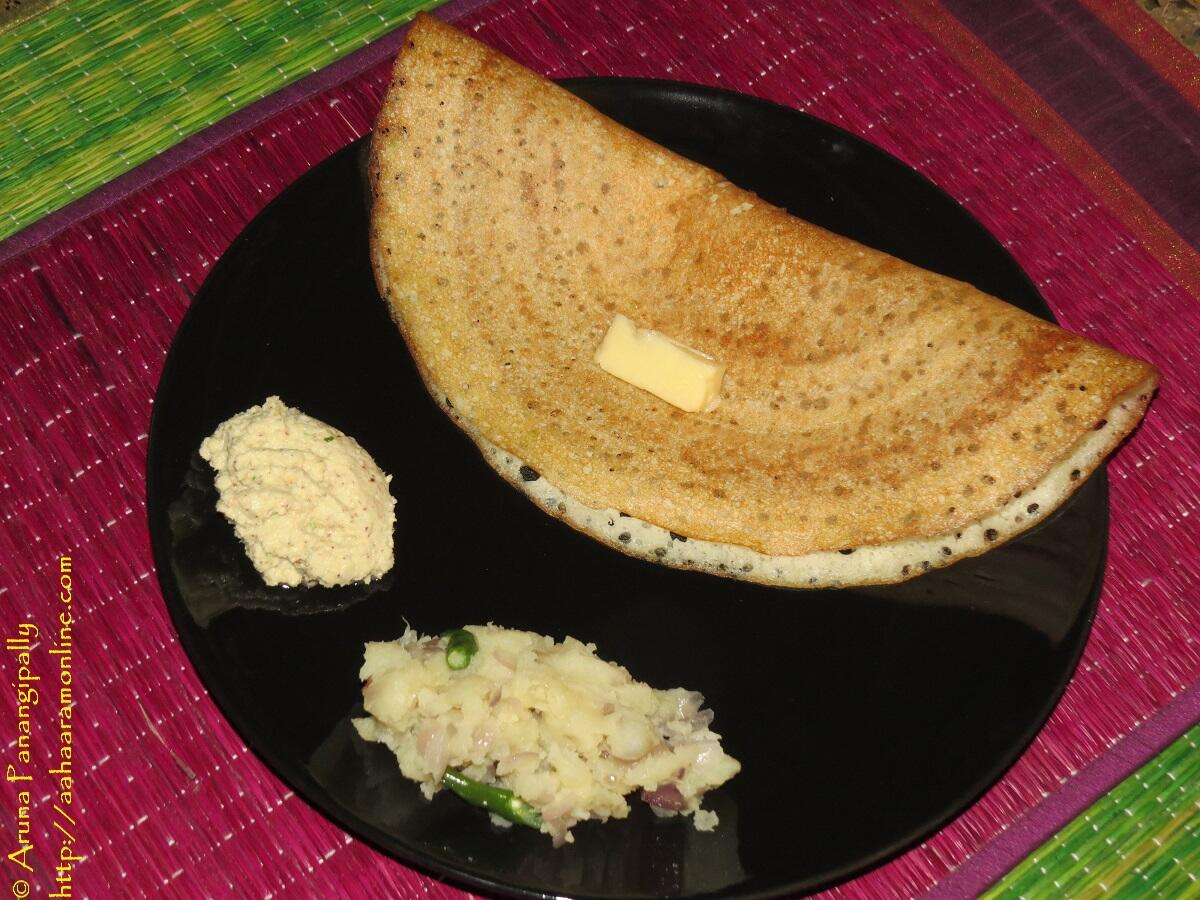 Pin
I was quite eager to do a guest post for Vidhya of Vidhya's Vegetarian Kitchen. A few months ago, Vidhya did this wonderful guest post that was about one of my "favouritest" things on earth; Javvarisi Vadagam / Javakki Sandige / Saggubiyyam Vadiyalu or Sabudana Papad. I can eat Vadiyalu or Vadagam all day long. In fact, when I want a snack, I occasionally do fry some up. 🙂
Back to Vidhya and her wonderful blog. What I like about Vidhya's wonderful blog is the range of cuisines she tries. Also, all her recipes are easy to make without any compromise on taste.  Take her post on the Eggless Tutti Frutti and Nut Cake or then her Baked Coconut Milk Murukku(this one I have bookmarked for trying).  Did I mention that she tries to make each recipe healthy? Now you see why I follow her blog.
You can follow Vidhya's wonderful work on:

Twitter at 

https://mobile.twitter.com/SrividhyaM
I sent Vidhya a list of recipes I could try for her and she chose Davangere Benne Dosa. As the name suggests, this is a dosa from the town of Davangere in Karnataka, India and is very buttery (Benne = Butter in Kannada). It is a dosa that is somewhere midway between a Sada Dosa and an Aval or Poha Dosa. It is thicker and fluffier than a Sada Dosa but is thinner than an Aval Dosa. To live up to its name, it is cooked in butter AND served with a pat of butter on the side. (That gladdens my butter-loving heart) This makes it quite a favourite with kids and I hope Vidhya's child would love it as well.
The Davangere Benne Dosa is traditionally served with some Coconut Chutney and a Spicy Potato Mash. I have included the recipes for both these dishes as well.
Recipe for Davangere Benne Dosa with Potato Palya and Coconut Chutney
Makes: 12 to 14 Dosas
Soaking Time: 6 to 8 Hours
Fermenting Time: 8 to 12 Hours
Cooking Time: 5 to 7 Minutes Per Dosa
Ingredients for Davangere Benne Dosa Batter
Udad Dal or Husked Black Gram – 1 Cup
Boiled Rice – 2 Cups
Plain Rice – 2 Cups
Poha or Beaten Rice – 1 Cup
Murmura or Puffed Rice – 1 Cup
Methi Seeds or Fenugreek Seeds – 1.5 tsp
Green Chillies – 3 or 4
Salt to Taste
Additional Ingredients for Davangere Benne Dosa Batter
Maida – 3 tbsp
Baking Soda – 1/4 tsp
Sugar – 1 tsp
Water – 1/4 cup
Other Ingredients
Butter, ghee or oil to make the dosas
Butter to serve with the dosa
Method to Make Davangere Benne Dosa Batter
Soak the rice, udad dal, and fenugreek seeds in 6 cups of water for about 6 to 8 hours.
Soak the poha and murmura for about 10 minutes.
Drain all the water from the dals and rice. Save about 2/3 cup of the water.
Squeeze the water out of the poha and murmura.
Using about 1/4 to 1/3 cup of the reserved water, grind the soaked dals + rice + fenugreek seeds along with the green chillies into a smooth thick paste. Add a little more of the saved water, if required.
Let the batter ferment for 8 to 10 hours.
Add salt and mix well.
Just before making the dosas:

Dissolve about 1 tsp of sugar in 1/4 cup of water.
Add Maida to the sugar water and mix till there are no lumps.
Add 1/4 tsp baking soda and mix well.
Add to the batter and mix well.
Method to Make the Davangere Benne Dosa
Keep a bowl of water nearby.
Over medium flame, heat a griddle or tava.
Grease the surface of the tava with some oil.
Ensure that the tava is not too hot. If it is:

Reduce the flame.
Sprinkle some cold water on the surface.

Pour a ladle of batter in the centre of the tava.
Using the back of a heavy ladle, spread the batter to form a slightly thick dosa.
Over a medium flame, cook for a minute.
Add a few small balls of butter/ghee along the edges of the dosa.
Spread a little butter/ghee on the surface of the dosa.
Let the dosa cook till the surface dries a bit and the side touching the tava turns golden.
Loosen the edges with a sharp spatula.
Fold the dosa in half.
Serve the Davanagere Benne Dosa hot with a generous Pat of Butter, White Potato Palya and Coconut Chutney.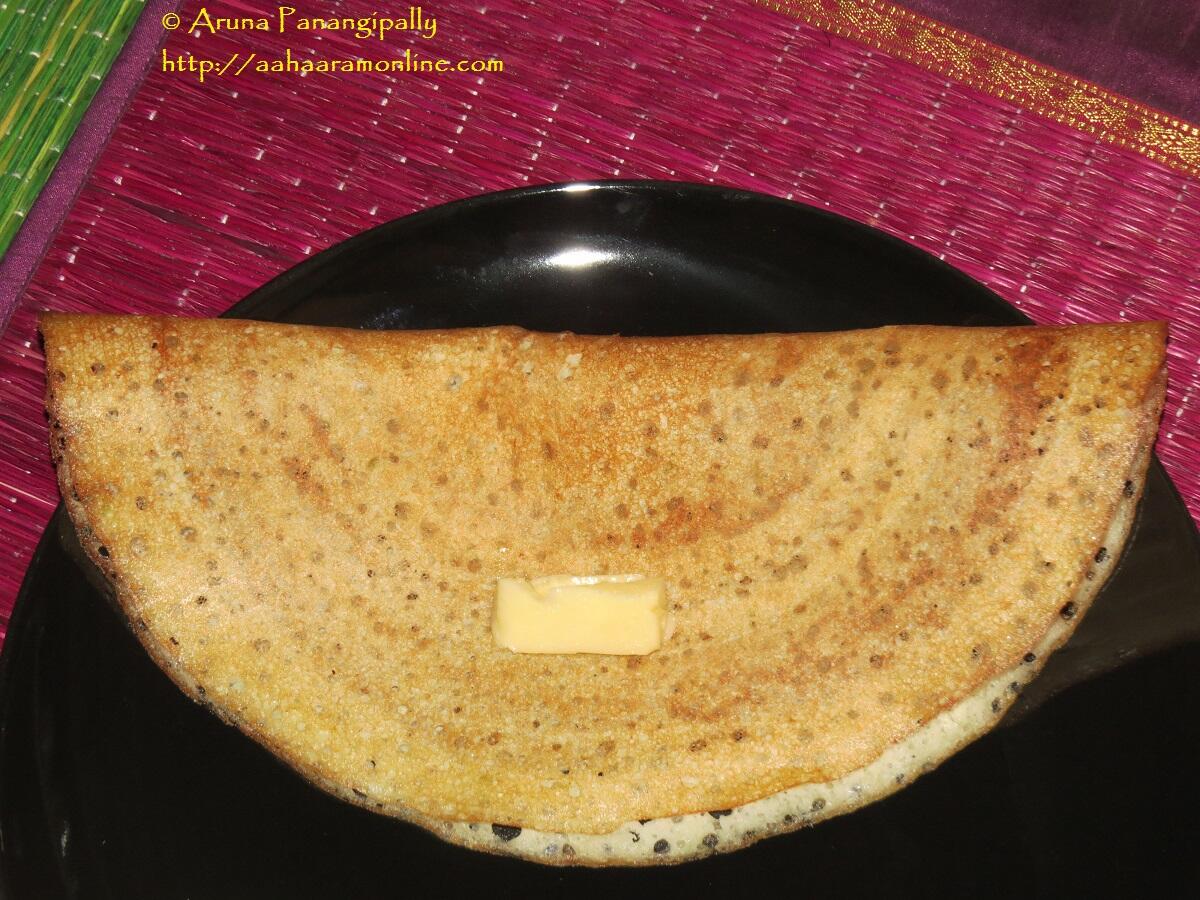 Pin
Davangere Potato Palya
Ingredients
Potato – 3 Large
Onion – 1 Medium
Green Chillies – 2
Oil – 1 tbsp
Salt to Taste
Method to Make Davangere Potato Palya
Peel and chop the onion to fine pieces.
Boil or pressure cook the potatoes till they are mashable.
Peel the potatoes mash well.
Slit the green chillies.
Heat the oil.
Add the green chillies and onion pieces.
Fry the onion pieces till transparent.
Turn off the heat.
Add the mashed potato and salt.
Mix well.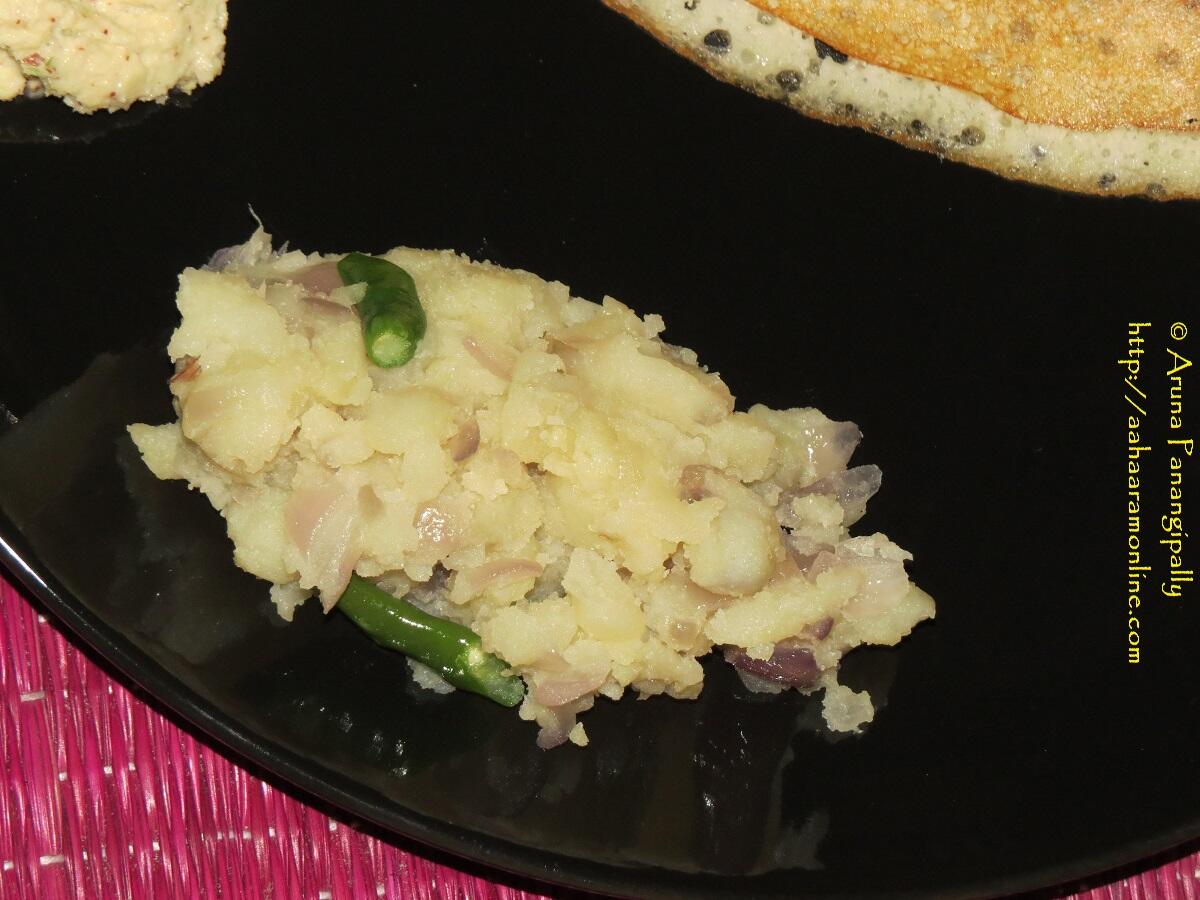 Pin
Coconut Chutney for Davangere Benne Dosa
Ingredients
Grated Coconut – 2/3 Cup
Roasted Chana Dal, Putnala Pappu, Huri Kadale, Pottukadalai – 2 tbsp
Green Chillies – 2 or 3
Tamarind Flake – 1 Large
Or
Thick Tamarind Pulp – 1/2 tsp
Salt to Taste
Method to Make the Coconut Chutney
Grind all the ingredients together to form a thick and slightly coarse chutney.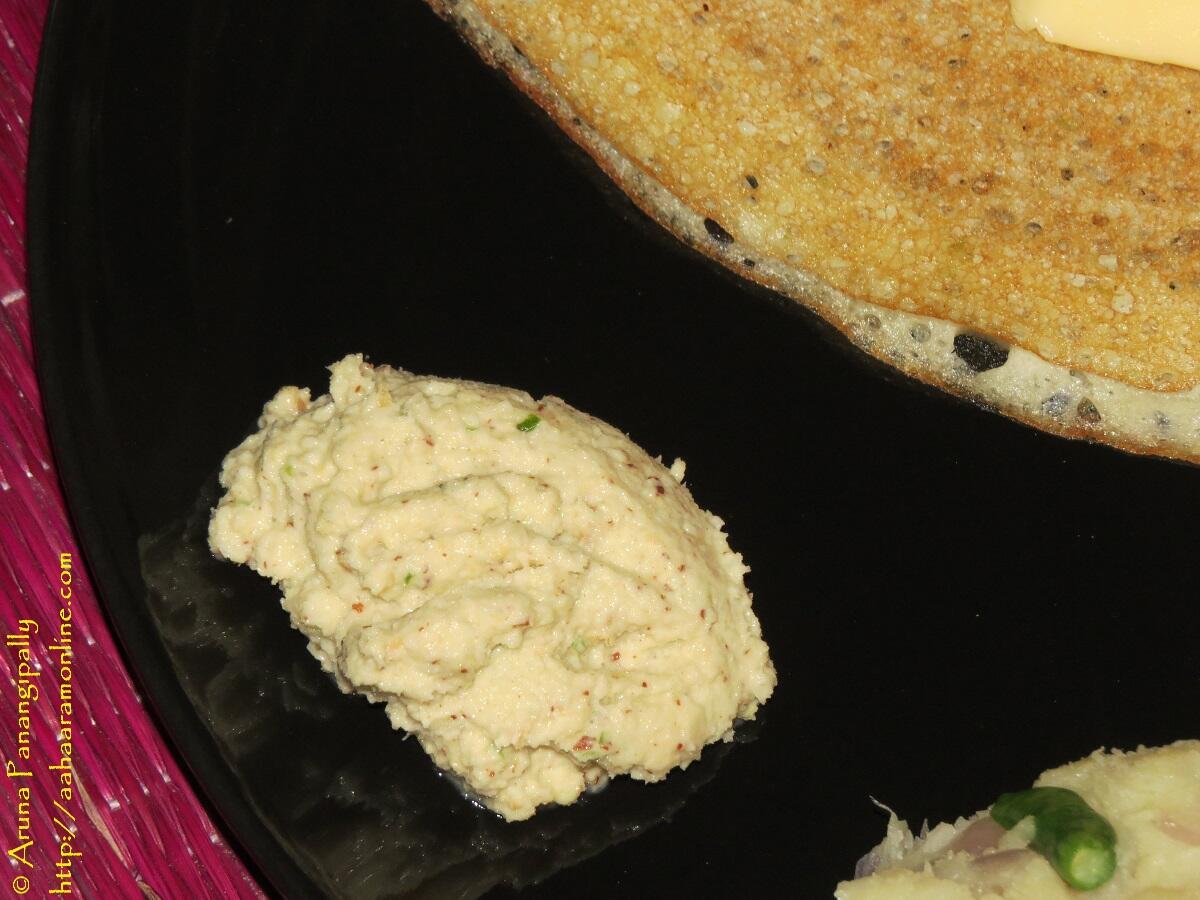 Pin