Dudhi Halwa | Lauki Halwa is super easy to make and depending on the mood can be made simple or decadent. Either way it is very delicious and quite popular.
With Diwali being just round the corner, I decided to make a fully loaded version of this delicious Halwa and am quite pleased with the results. I have used Mawa and Ghee libreally in this version of the Dudhi Halwa and so after it cooled, it solidified a bit and I could even cut it into the burfi shape. 🙂 However, if you do not use Mawa it remains soft and nice and is much lighter on the stomach as well.



Dudhi Halwa | Lauki Halwa is to North India what Kasi Halwa | Ash Gourd Halwa is to South India.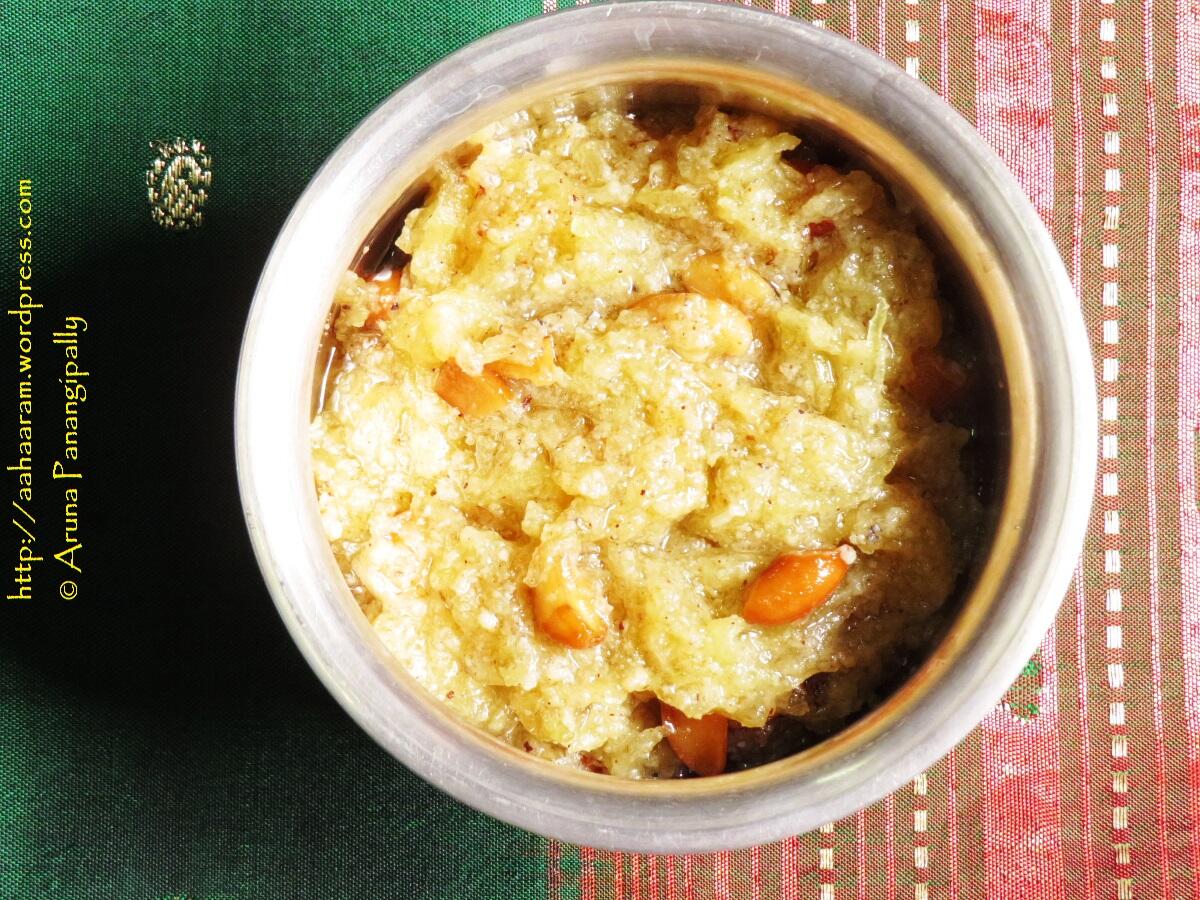 Pin
How to Make Dudhi Halwa | Lauki Halwa with Mawa
Ingredients
Grated Dudhi, Lauki (Bottle Gourd, Anapakaya, Sorakaya) – 4 Cups
Mawa – 2/3 Cup
Sugar – 3/4 Cup
Milk – 1 Cup
Green Caradamom Powder – 1/4 tsp
Cashews – 12 to 16
Kishmish – 12 to 16
Ghee – 3 tbsp
Method to Make Dudhi Halwa | Lauki Halwa with Mawa
Split the cashew into 1/2″ pieces.
Crumble the mawa.
In a heavy bottomed vessel, over medium flame, heat the ghee.
Add the cashew and fry till light golden in colour.
Remove set aside.
Add the kishmish and wait till they puff.
Remove set aside.
To the remaining ghee, add the grated dudhi.
Stir-fry for 2 or 3 minutes.
Add the milk and mix well.
Cover and let the mix cook till the mix is absorbed and the dudhi is soft. Stir occasionally while cooking. Add a bit more milk if necessary.
Add the crumbled mawa and mix well.
Cook for 5 mins till the mawa is well incorporated.
Add the sugar and cardamom powder.
Mix well. When you add sugar, it will release liquid ad the halwa will become slightly liquidish.
Cook till the water released by the sugar evapourates.
Add the fried dry fruits and mix well.
Serve the Dudhi Halwa | Lauki Halwa warm.