I am a sucker for dishes with exotic names. 🙂 So the moment I heard the name Dindigul Thalapakatti Biryani I had to—absolutely HAD to—try it.
You can read all about the origins of this recipe at http://www.thalappakatti.com/.
As I searched for the recipe, I found that it was a primarily non-vegetarian dish and so set about adapting it to make a vegetarian version. As I learnt from my experience of converting the Mutton Do Pyaaza to Paneer do Pyaaza, I have to be careful and reduce the spices because vegetables don't need the same level of spice as meat.
The recipe I have adapted is the Dindigul Thalapakatti Biryani Recipe found on Kannamma Cooks. Why did I choose this one? Well, first she adapted it from an recipe provided by a cook from the original Thalapakatti Hotel. Secondly, she vouches that the taste is the closest to the original; since I have not tasted the original I had to go with a Chef who said so. Finally, the pictures of her biryani most resembled the original. 🙂
A Note: I did not have Seeraga Samba rice that is traditionally used to make this biryani and was not about to go out in pouring rain to get some; so I made it with Basmati. The result was excellent and the next round will be with Seeraga Samba rice which I have bought since.
What I loved about this Biryani is that it had flavours very different from the traditional biryanis, which lends the diversity that I sometimes crave for.
Do try this biryani!
How to Make Vegetarian Dindigul Thalapakatti Biryani
Serves: 4
Cooking Time: 45 to 60 Minutes
Ingredients
Basmati Rice or Seeraga Samba Rice – 1.25 Cup
French Beans – 10
Potato – 1 Medium
Carrot – 1 Small
Cauliflower Florets – 1/2 Cup
Shallots or Madras Onions – 15
Fresh Garlic Paste – 1.5 tsp
Fresh Ginger Paste – 1 tsp
Yogurt or Dahi – 1/3 Cup
Fresh Coriander – A Handful
Fresh Mint Leaves – A Handful
Lemon Juice – 1 tsp
Green Chillies – 4
Cinnamon – 2″ piece
Cloves – 3
Green Cardamom – 3
Red Chilli Powder – 1/2 tsp
Nutmeg or Jaiphal Powder – A Pinch
Javitri or Mace – 1 Large Petal or Piece
Ghee – 1 tbsp
Bay Leaf – 1
Salt to Taste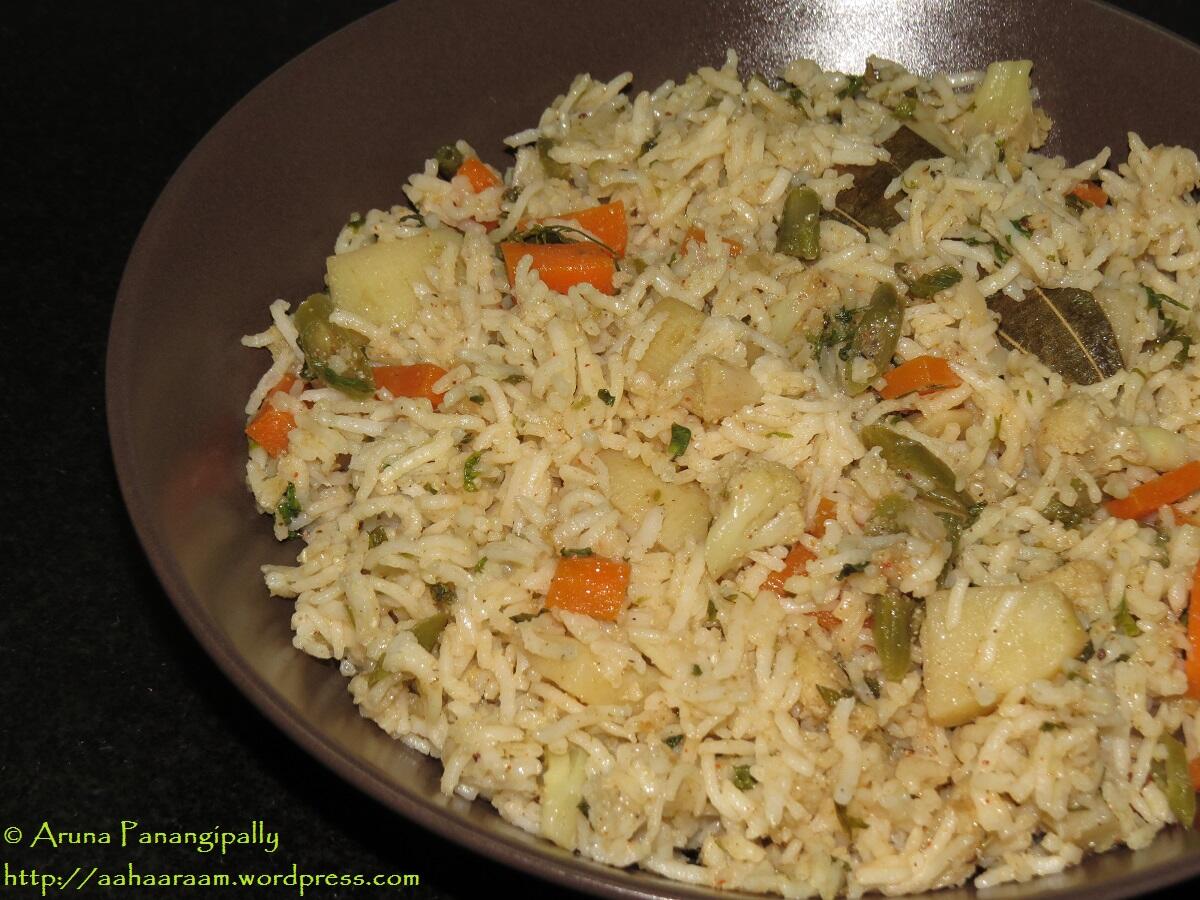 Pin
Preparation for Dindigul Thalapakatti Biryani
Soak the Basmati Rice in water for 10 minutes.
Drain and set aside.
Peel and cut the potato into 1/2″ pieces.
Peel and cut the carrot into 1/2″ pieces.
Cut the french beans into 1/2″ pieces.
Whisk the dahi till it is smooth.
Chop the mint and coriander leaves into fine pieces.
Method To Make Thalapakatti Biryani
Grind the shallots, garlic, ginger, green chillies, cardamom seeds, cinnamon, nutmeg, mace, and cloves into a smooth paste. Add very little water, if required.
In a kadhai or heavy bottomed vessel, heat 1 tbsp of ghee.
Add the bay leave and the ground masala.
Over medium flame, stir-fry the masala for about 3-5 minutes till the raw masala disappears.
Add the potato, carrot pieces, beans, and cauliflower.
Stir-fry for 2-3 minutes.
Turn the flame to low.
Add the dahi, salt, and red chilli powder.
Mix well.
Add the mint and coriander leaves.
Mix well.
Add the drained basmati rice.
Mix well.
Add 2 cups water.
Cover and cook till the rice and vegetables is just cooked.
Turn off the heat and let the Dindigul Thalapakatti Biryani rest for about 30 minutes.
Enjoy!
Tips
I used a pressure cooker to make the biryani and it turned out just fine.
Do use ghee as it lends a wonderful flavour to the biryani.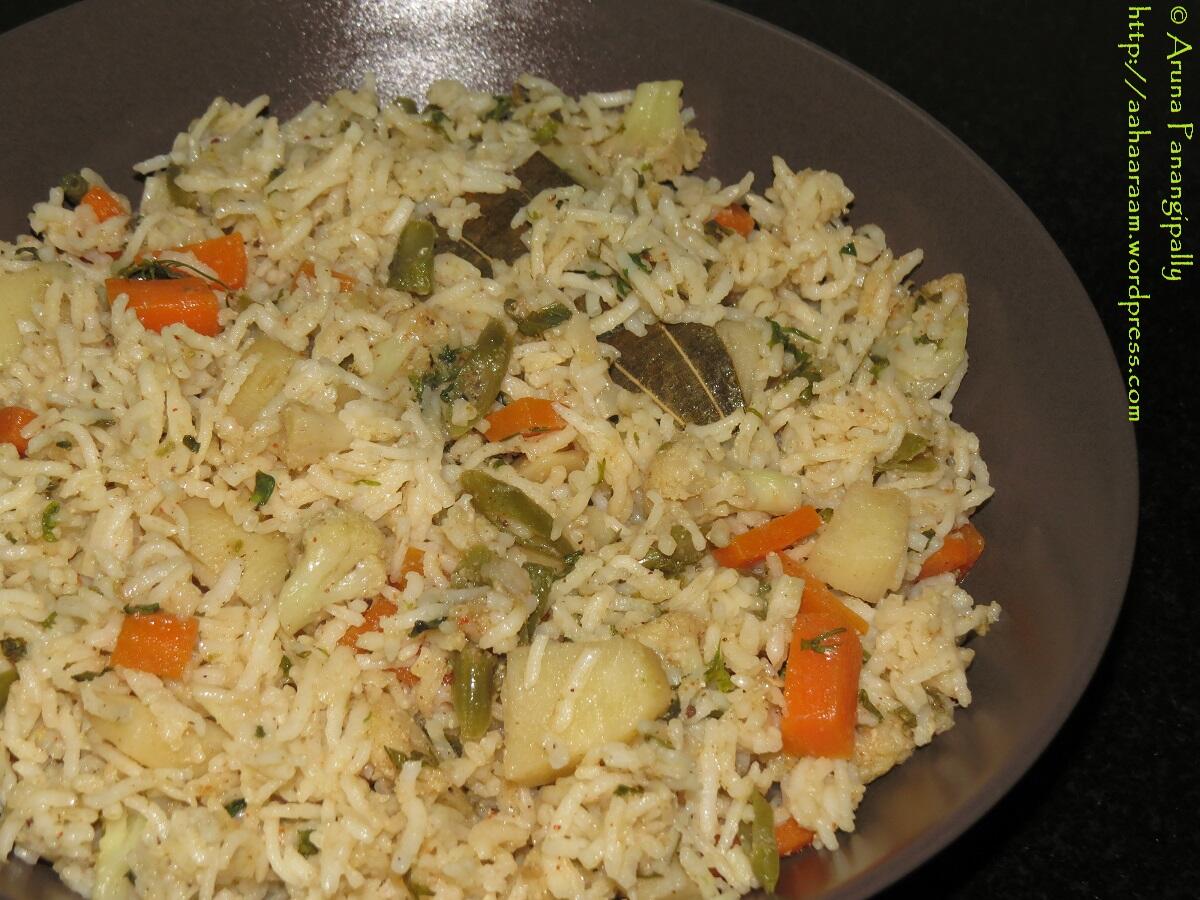 Pin