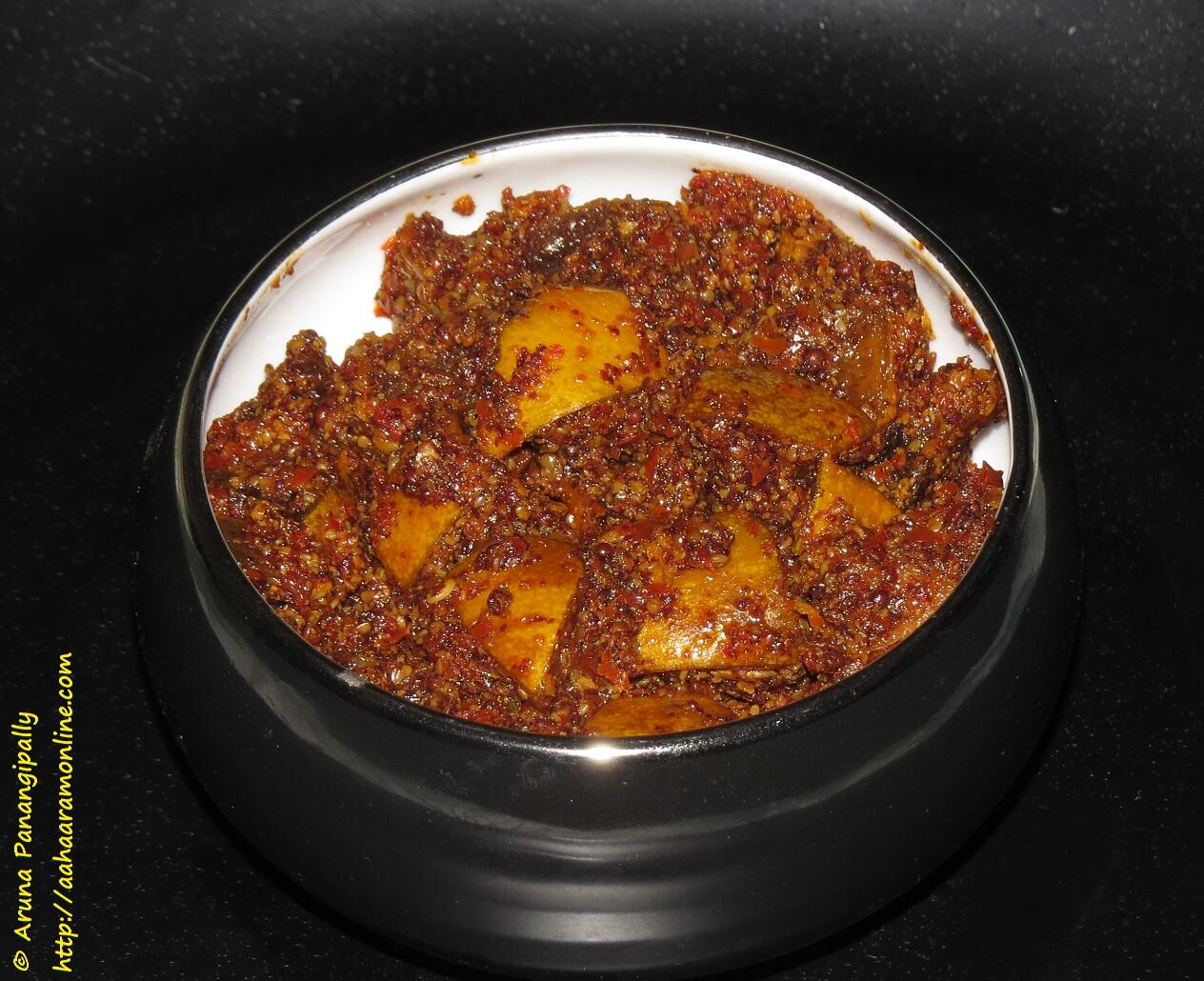 Pin
A wedding in Andhra will almost always have Dosa Avakai (Dosavakaya | Dosavakai) as one of the accompaniments. I absolutely love Dosa Avakai and look forward to it at Andhra weddings. I love the crunch of the dosakaya pieces and the hit of the mustard. Mudda Pappu Annam and Dosa Avakai is a match made in heaven!
I guess serving the famous Avakai or Mango Pickle would not be feasible, given the great number of people that attend an Indian wedding.
Dosavakaya is an instant pickle made with a particular kind of cucumber called Nakka Dosakaya which is not easily found in Mumbai. When my cousin Subbalakshmi (fondly called Ramana Akka) heard of my fondness for this pickle, she got me this huge bottle of Dosavakaya when she came to Mumbai a couple of months ago. I have been in seventh heaven ever since. 🙂
This cousin of mine is the repository of all the customs followed in our family (so she functions as a ready-reckoner when we are in doubt) and also quite a gutsy lady. I don't know of many Indian ladies who managed a trucking business and even travelled in trucks in the mid-1980s.
Thank you, Ramana Akka, for this wonderful gift.
Coming back to Dosa Avakai, it is quite easy to make and  can be used within a day of making it.
How to Make Dosavakaya |Dosa Avakai
Dosavakaya | Dosa Avakai | Dosavakai: Andhra Yellow Cucumber Pickle
Dosa Avakai or Dosavakaya is a traditional pickle from Andhra Pradesh that is often served as an accompaniment at weddings. It is also an instant pickle that can be eaten within a day of making it, which is quite a relief as waiting is sometimes quite a pain. 🙂
Ingredients
2

Cup

Nakka Dosakaya

3

tbsp

Coarse Mustard Seed Powder

3 to 4

tbsp

Red Chilli Powder

2

tbsp

Salt

1/4

Cup

Sesame Oil
Instructions
Method to Make Dosa Avakai or Dosavakaya
Taste the Nakka Dosakaya pieces to ensure they are not bitter.

In a dry bowl, using a dry spatula, mix together all the ingredients.

Store in a dry, air-tight bottle.