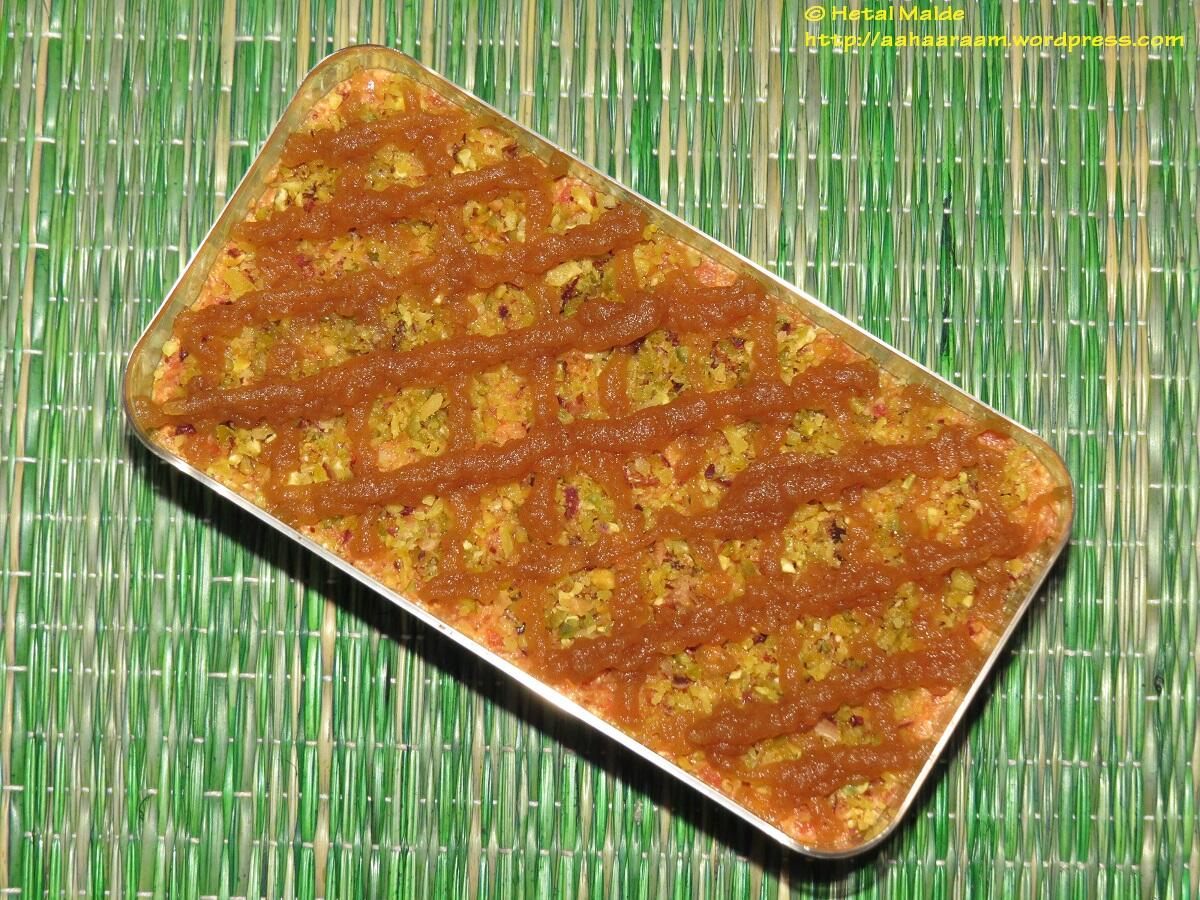 Pin
Fusion Delight is a deceptively simple name that Hetal has thought of for this dessert par excellence. First, it is a superb amalgamation of tastes we love; Gajar ka Halwa and Apple Cinnamon Sauce. Then there are the various textures; the Gajar ka Halwa with a bit of a bite, super smooth Apple sauce, and  a crunchy biscuit base!
It is not surprising that this recipe of Hetal's won her a contest hosted by the popular blog Manjula's Kitchen. The moment I saw the recipe, I wanted to taste it and hassled Hetal about it. Hetal being Hetal made it for our family this past week. 🙂
Also try Hetal's Kela Methi ki Sabzi!
This recipe and its execution is so so representative of Hetal. She is a talented person of hidden depths who is a perfectionist to the core. There is not a thing I have seen Hetal do that is short of perfect. Coming back to Hetal's culinary skills, I have relished many a dish cooked by Hetal and I can tell you that each one had me ooh-ing and aah-ing.
I am privileged to present Hetal's winning recipe on my blog. Thank you, Hetal!
I thought the love and affection that Hetal infused this recipe with makes it the perfect recipe for Valentine's Day!
In Hetal's own word, "My Fusion Delight pie is a great way to enjoy almost a healthy and guilt free desert. This pie is consists of several layers of delightful goodness that is sure to please most everyone. Give it a try."
Preparation Time: 30 min
Cooking Time: 40 min
Yield: 12 X Cup Cake Size Portions or 1 X 8″ Round/Square Shape
Ingredients for Gajar ka Halwa
Grated carrots – 3 Cups
Milk – 1 Cup
Sweetened Condensed Milk – 1/2 Cup
Method to Make Gajar ka Halwa
Mix all ingredients together in a heavy bottom vessel.
Cook over medium heat till the carrots are cooked and the mix attains the texture of a thick pudding.
Ingredients for the Base
Powdered Digestive Biscuits – 1.5 Cups
Powdered Sugar – 1 tbsp
Butter – 2 tbsp
Milk – A Few Drops
Method to Make the Base
Mix all the ingredients in a bowl.
Ingredients for Apple Cinnamon Sauce
Apple Pulp – 4 Cups
Sugar – 1/2 Cup
Ground Cinnamon – 2 tsp
Method to Make the Apple Cinnamon Sauce
Combine apple pulp and sugar.
Cook on high flame till the mix reduces by half.
Add cinnamon powder.
Mix well.
Let the sauce cool to room temperature.
Ingredients for Garnish
Crushed Pistachios – 1/4 cup
Putting It All Together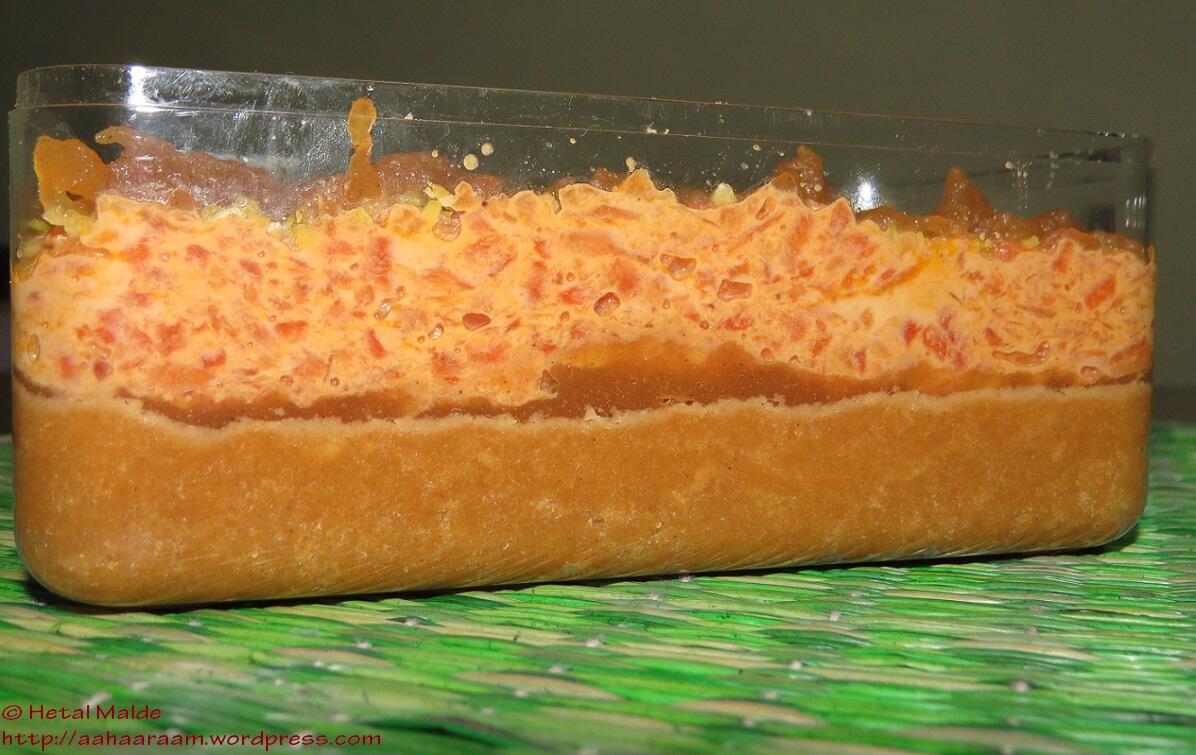 Pin
Layer the bottom of the tray or muffin cups with the digestive biscuit mix.
Press lightly with a spoon to form a firm base.
Spread a thin layer of the cinnamon-spiced apple sauce on top of the base.
Spoon all the Gajar Halwa evenly as the next layer.
Press lightly with a spoon to form a smooth layer.
Sprinkle some crushed pistachios on top of the Gajar Ka Halwa.
Decorate with the remaining apple-cinnamon sauce.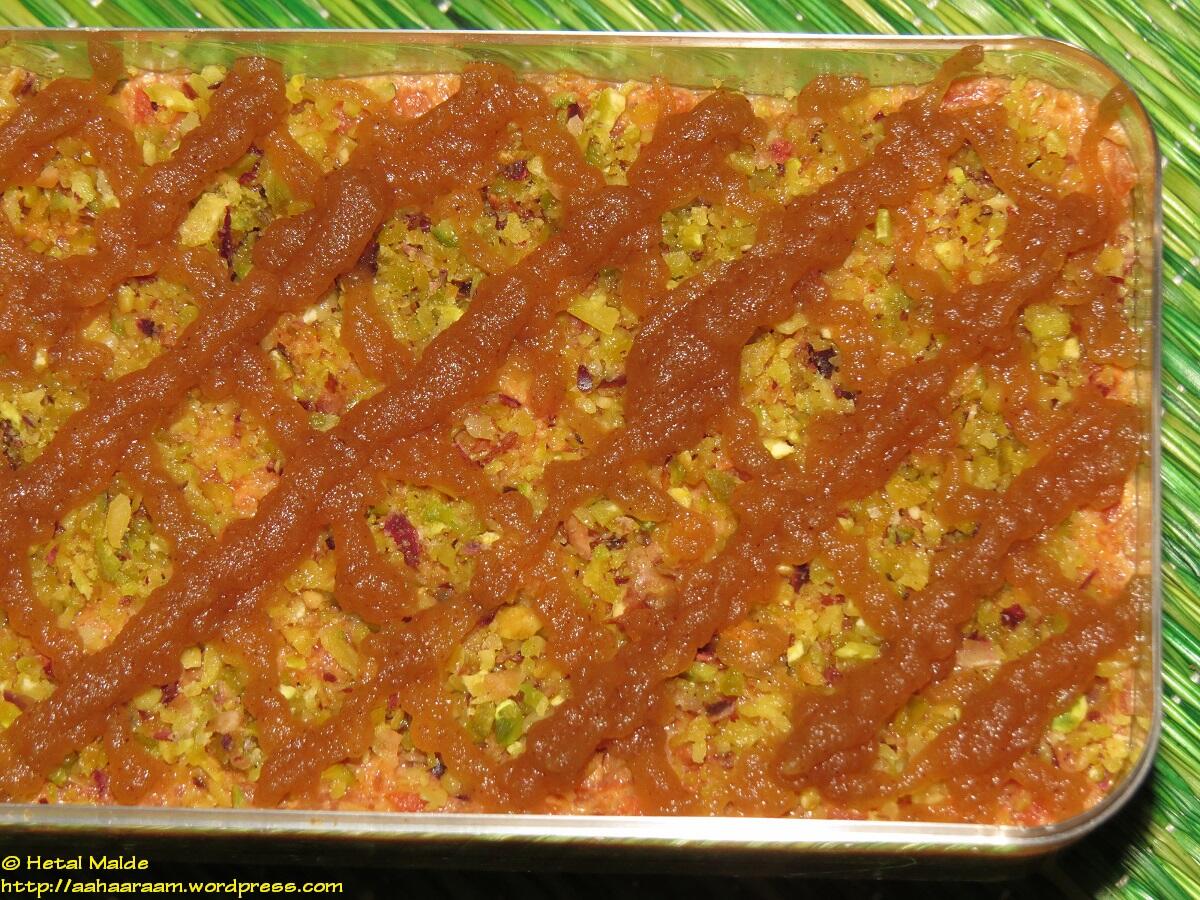 Pin