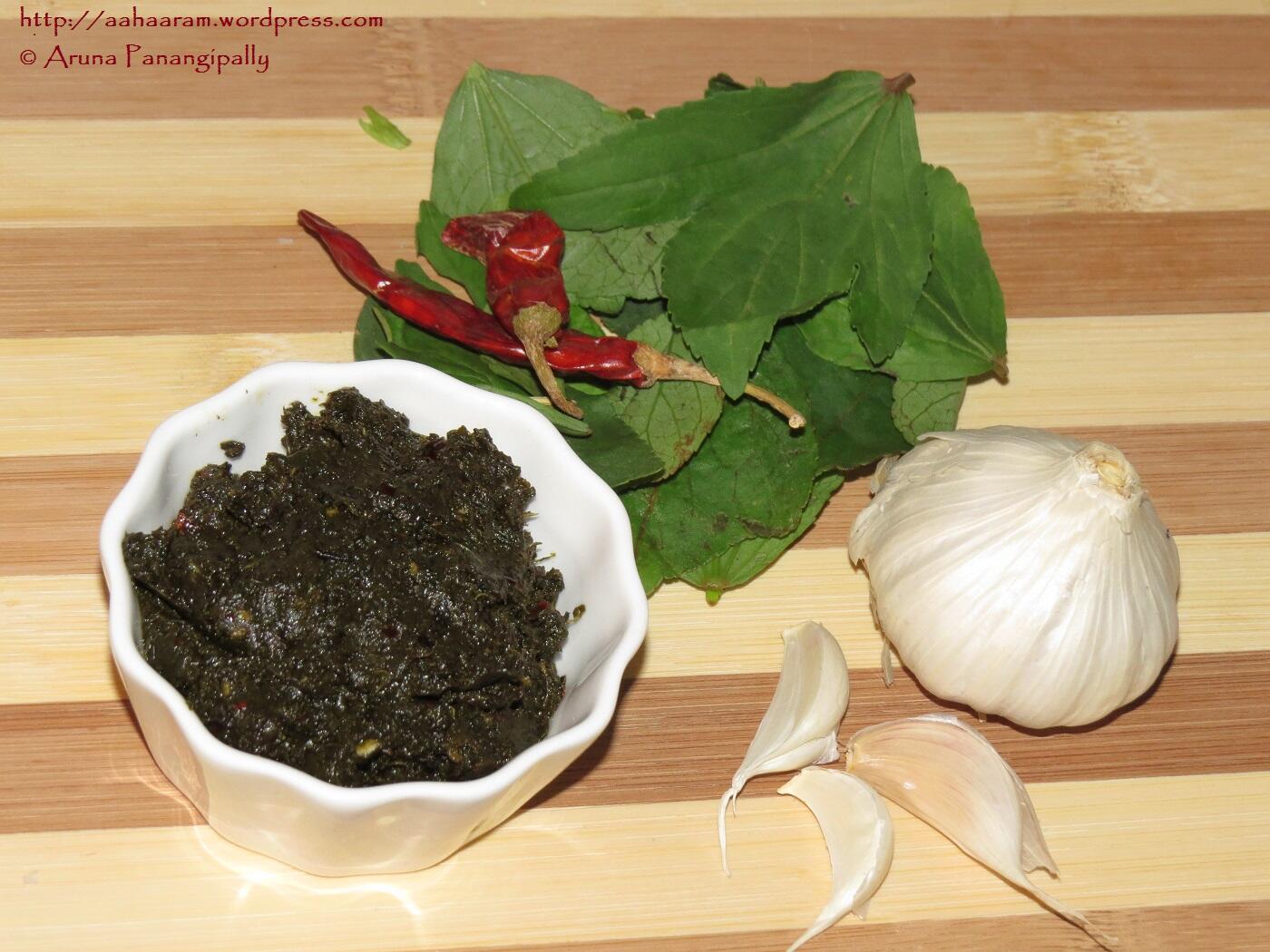 Pin
Andhras love Gongura or Ambadi. We go into raptures when we spot good Gongura and find innovative ways to make it a part of our meals. We make Gongura Pappu and Gongura Pulihora. People who eat non-vegetarian food swear by Gongura Mutton.
However, nothing defines Andhra food the way Gongura Pachadi does. This tangy, spicy chutney is the beloved of all Andhras.
In the famous Telugu movie, Mayabazar, there is a scene in which the groom's party creates a ruckus saying that the impending meal lacks Shakhambari Devi Prasadam (aka Gongura).
In fact, Gongura Pachadi is the first thing that comes to mind when you say Andhra food. I made a fresh batch yesterday and here is the recipe!
Ingredients:
Gongura or Ambadi – 3 large bunches (~8 packed cups)
Red Chillies – 15 to 20
Oil – 2/3 cup
Garlic flakes (optional) – 10 to 12
Mustard seeds – 1 tsp
Salt to taste
Method:
Pick the leaves off the stalk and wash them. Do not use the stalks.
Spread the leaves over a thin cotton cloth or newspaper.
Let the leaves to dry overnight ( at least 8 hours).
In a heavy bottomed kadai, heat about 1/3 cup of oil over medium heat.
Add the red chillies and fry for a minute.
Take out the red chillies and set aside.
If you are using garlic, then, in the same oil, fry the garlic flakes till they are brown.
Take out the garlic flakes and set aside.
To the oil, add the leaves and fry till the leaves are soft and reduce to 1/2 of the original volume.
Set the fried gongura aside to cool completely.
Grind the fried leaves, chillies, salt, and garlic along with enough salt to a smooth paste.
Remove the ground gongura pachadi into a bowl.
In a ladle or small kadai, heat the remaining oil.
Add mustard seeds.
When the seeds splutter, turn off the heat.
Let the oil and seeds cool to room temperature.
Add the oil and mustard seeds to the gongura pachadi.
Mix well.
Store in a dry, air-tight bottle.
Serve with hot rice and gingelly/sesame oil.
Tips
Do use the amount of oil specified otherwise the chutney will be dry. This is actually more of a pickle than chutney so it needs more oil.
When you fry the leaves, ensure that you do so only till the leaves soften and that the leaves do not dry out.
The pickle may taste very spicy just after you have made it, but give a day or two and the spiciness will reduce.
There are two varieties of Gongura; one with red stalk and one with white stalk. Use the one with red stalk, if possible.
Related articles