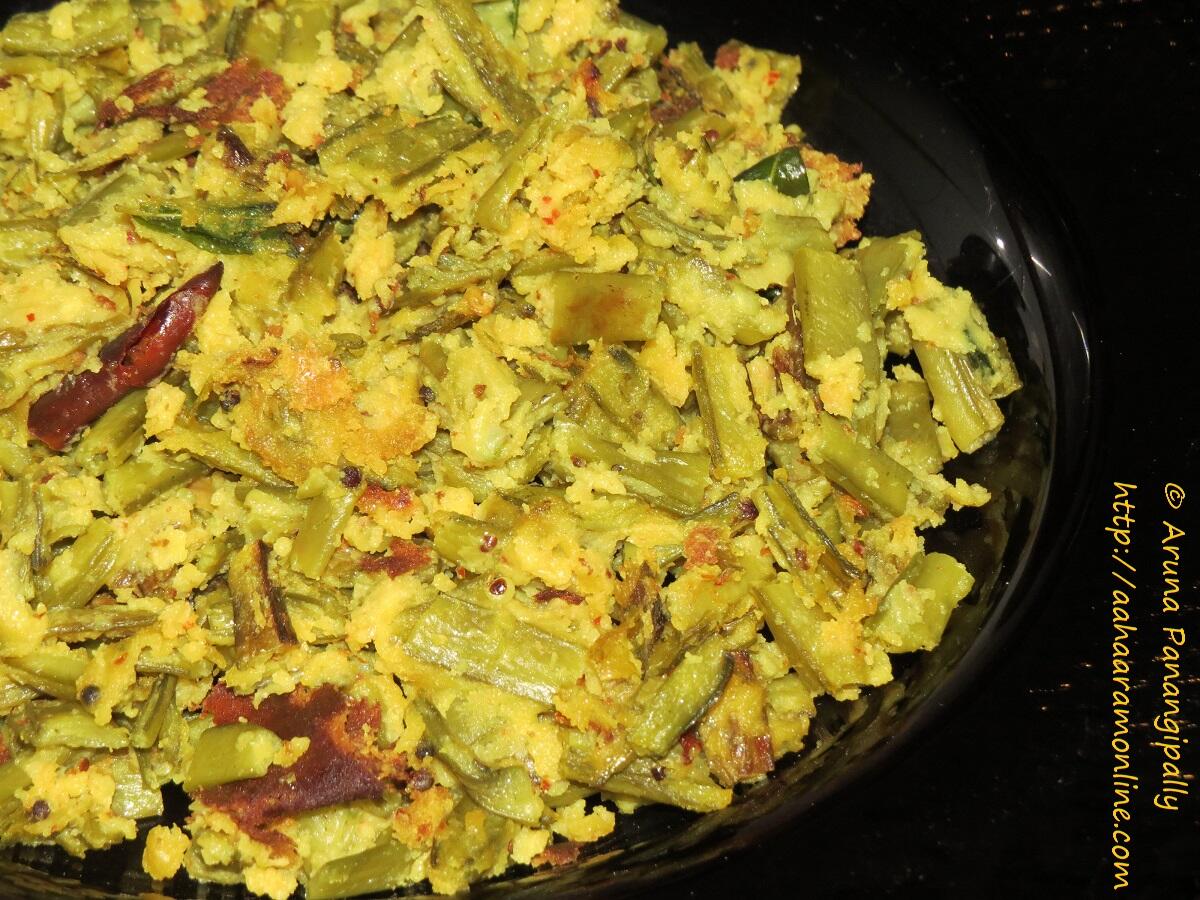 Pin
Goru Chikkudukaya (called Gawar in Marathi and Gujarati; Guar in Hindi; and Cluster Beans in English) are abundantly available in Mumbai and is a vegetable always found in my home. I cook Goru Chikkudukaya or Gawar in several ways with Nuvvula Podi/Til Powder, with Jaggery or Bellam, with Peanuts and Garlic, and with potatoes. I also use it as a part of the vegetable medley in Avial and Pindi Miriyam.
One of my favourite ways to cook Goru Chikkudukaya or Gawar is in a paste of soaked Kandi Pappu (Tuvar Dal or Split Pigeon Pea). This lends body to the otherwise delicate vegetable. You can enjoy this Goru Chikkudukaya Kandi Pappu Kura with rice and roti.
How to Make Goru Chikkudukaya Kandi Pappu Kura or Gawar aur Tuvar Dal ki Bhaji
Goru Chikkudukaya Kandi Pappu Kura (Gawar aur Tuvar Dal ki Bhaji)
Ingredients
250

Gms

Goru Chikkudikaya/Gawar/Cluster Beans

3/4

Cup

Kandi Pappu/Tuvar Dal/Pigeon Pea

1

tbsp

Minapa Pappu/Udad Dal/Husked Black Gram

1

tsp

Avalu/Rai/Mustard Seeds

3 or 4

Red Chillies

2

Green Chillies

1/8

tsp

Turmeric

1.5

tbsp

Oil

A Few Curry Leaves

Salt to Taste
Instructions
To Prepare the Kandi Pappu or Tuvar Dal
Soak the Kandi Pappu in 2 Cups of water for about 3 hours.

Drain water from the Kandi Pappu.

Grind the Kandi Pappu to a fine paste along with the turmeric, green chillies, and some salt but without any or with minimal water into paste.

Set aside.

Method to Make the Goru Chikkudukaya Kandi Pappu Kura
Wash the Goru Chikkudikaya.

Chop of the ends and cut into 1/2" pieces.

Boil about 1 litre of water with 1 tsp salt.

Add the Goru Chikkudikaya pieces to the water and cook covered for about 5 to 7 minutes.

Drain the water from the Chikkudikaya pieces and set aside.

In a wok/kadai, heat the oil.

Add mustard seeds and wait till they splutter.

Add udad dal or minappapu and fry till golden brown.

Add split red chillies and curry leaves.

Fry for a minute.

Add the boiled Goru Chikkudikaya pieces and stir-fry for about 7-10 minutes.

Add the ground Kandi Pappu paste.

Over medium heat, stir-fry till the Kandi Pappu paste is well-cooked and slightly crumbly.

Serve hot with rice or rotis.
Notes
Ensure that the Goru Chikkudukaya or Gawar is boiled till just done. It should not be mushy and retain shape.
Be careful not to add water while grinding the dal because otherwise you will have a mushy Kura on your hands.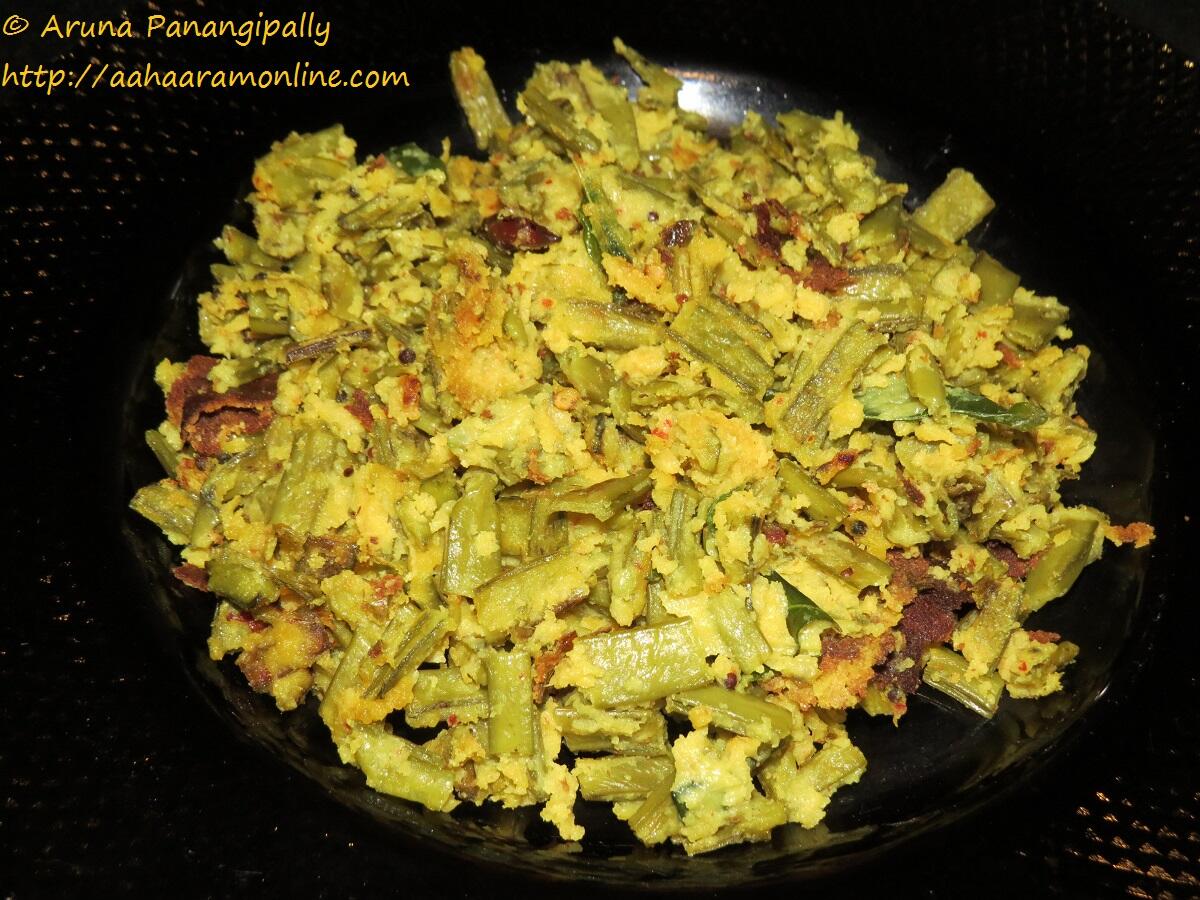 Pin