This past fortnight has been such a hectic one at work that I have not been able to plan or make dishes for Ganesh Chaturthi ( aka Vinayaka Chavithi). This was when Aparna stepped in to suggest that I try Panchakajjaya, a traditional naivedyam from Karnataka. Not only did she suggest it, she sent me her recipe immediately AND then pinged her aunt for alternate recipes. So I have quite a few variations of Panchakajjaya with me right now. I made Aparna's recipe for Hesaru Bele Panchakajjaya and have stashed away the others for future use. 🙂
The Panchakajjaya was very very easy to make, absolutely delicious and crunchy to boot. I can see why Ganesha would love it.
This is Aparna's second contribution to the blog after Milagu Kuzhambu.
Makes: 1 Cup
Time: 30 Mins
Ingredients
Hesaru Bele, Moong Dal, Pesara Pappu – 1/2 Cup
Kadle Bele, Chana Dal, Senaga Pappu – 1/4 Cup
Grated Coconut – 1/2 Cup
Grated Jaggery – 1/3 Cup
Ghee – 1 tsp (Optional, I did not use any)
Green Cardomom – 4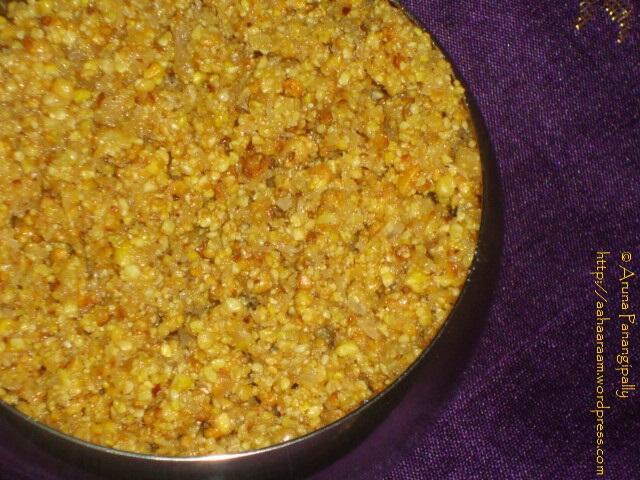 Pin
Method to Make Hesaru Bele Panchakajjaya
Peel and powder the green cardamom seeds.
Roasting and Grinding the Dals

Dry roast the moong dal till it is light brown.
Dry roast the chana dal till it is light brown.
Spread the 2 roasted dals in a plate to cool.
Grind the dals to a coarse powder. The idea is to breakup the dal not to make a fine powder.

Putting the Panchakajjaya Together

Mix jaggery, coconut and ghee by hand till they are well mixed.
Add the roasted dal powder and cardamom powder.
Mix well.

Offer as naivedyam and serve as prasadam.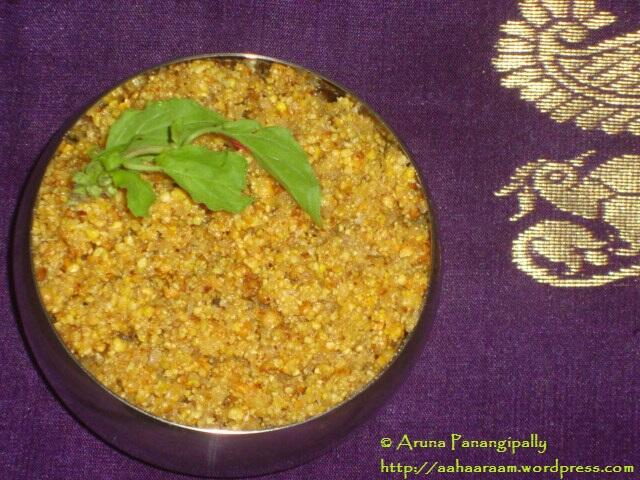 Pin