This recipe for Jowar Dosa comes from Malar of Malar's Kitchen. This  is a blog I follow avidly for two reasons: the traditional recipes (my weakness) and healthy recipes (my aspiration). I have bookmarked so many of Malar's recipes that it will take me a month's vacation to try all of them. 🙂
Malar is one of the bloggers I interact with regularly through comments on blogs and I cannot imagine why I did not ask her for a guest post much earlier. However, it is never too late and here is a delicious and healthy Jowar Dosa that Malar made for me. It is gluten-free and vegan to boot.
When I requested Malar for a guest post, she agreed instantaneously and gave me quite a selection of recipes to choose from. I chose Jowar Dosa because I was intrigued by the sound of this healthy recipe. All I have ever done with Jowar is made Bhakri.
Without much ado, I turn you over to Malar but not before asking you to read more of her lovely recipes at her:
Thank you, Malar, for this delicious Jowar Dosa!
---
I am so delighted to be in Aruna's space. According to me she is an expert and gives her heart and soul in every recipe that she puts up. I specially love all her traditional recipes. She has always been kind and leaves lovely comments on my posts. I was so excited when she asked me for a guest post, it is such an honor for me.
No further delay, here is the recipe for Jowar dosa.
Ingredients:
Jowar Flour : 1 ½ cup
Moong dal : 1 ½ cup
Water : as needed to grind batter
Salt : as needed
Black pepper : ½ teaspoon ( can replace with green chili)
Red Chili : 1
Garlic : 2 pods
Ginger : 1 inch piece
Grated coconut : 2 tablespoons
Cilantro/Coriander Leaves : Handful finely chopped
Oil : to drizzle over dosa
Method:
Soak moong dal in water for a minimum of 3 hours to overnight.
Drain water and grind it to a fine paste with black pepper, garlic, ginger, red chili with minimum water.
Now mix the jowar flour with this paste along with salt, grated coconut, cilantro leaves.
Bring it to a bit thicker dosa batter consistency.
Heat a dosa tawa , drizzle one teaspoon oil over the tawa.
Using a ladle pour batter in the center of the tawa and spread it.
Drizzle oil over the dosa.
These dosa's will be thick.
After the first side gets cooked for 2 mins, flip sides and cook for another 2 to 3 mins.
Serve with any spicy chutney.
Tips
This batter is a little thicker than normal dosa batter and thinner than idli batter.
You can add any veggies like carrot, cabbage of your choice and mix with batter.
Jowar tends to break the dosa texture, so make sure it is cooked well the first side only then flip to the other side.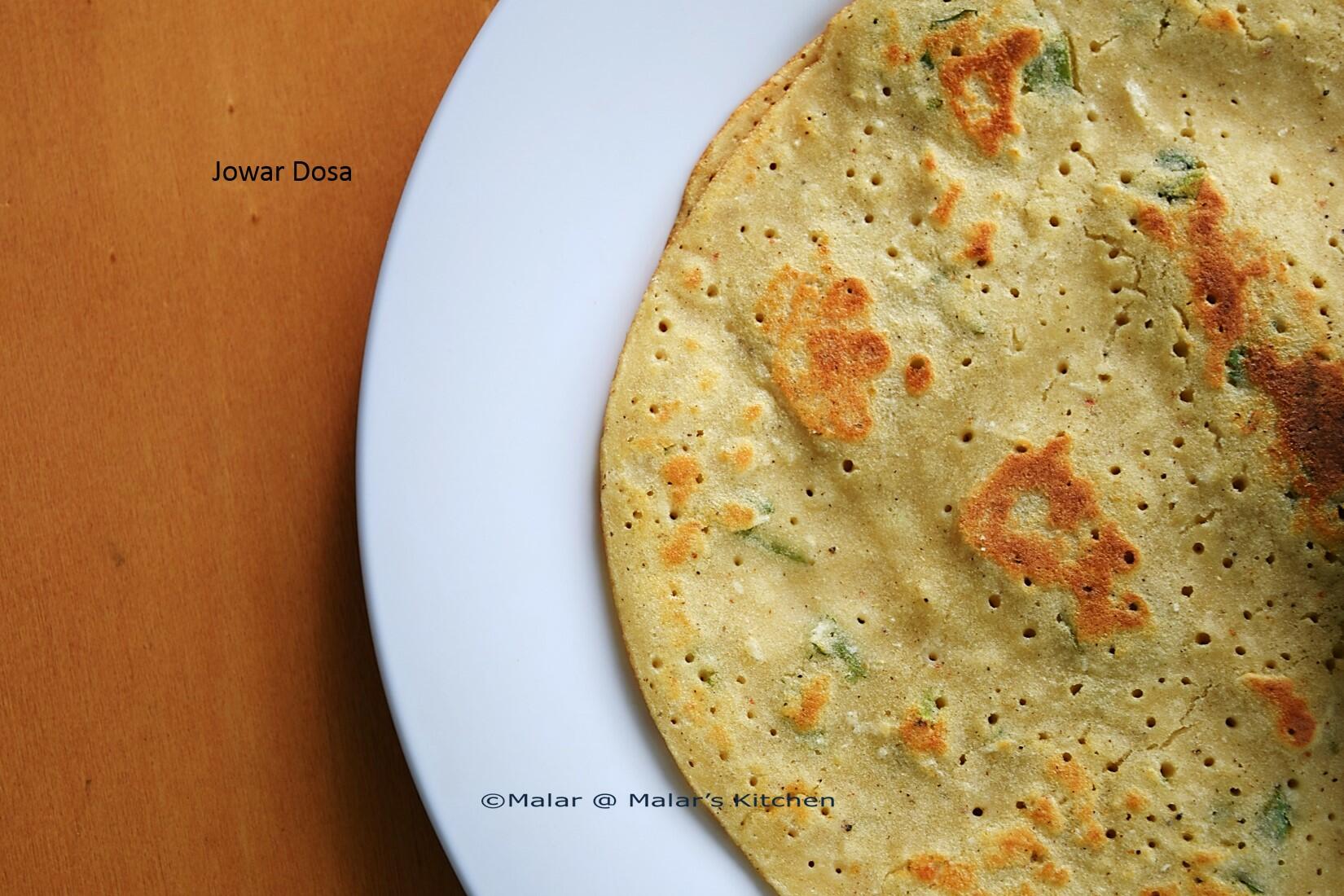 Pin