I am so enjoying this series of Ramadan or Ramzan special recipes. It has given me a chance to explore a whole new range of cuisines and recipes. One dish that I am very very fond of is Meethe Chawal or Zarda Pulao. This sweet saffron-flavoured rice peppered with dry fruits is so easy to make and so very utterly delicious.
Common to a whole range of North Indian cuisines, Meethe Chawal is particularly important and essential dish on most festive occasions. It is also  a part of Iftar during Ramzan/Ramadan and the festivities of Eid.



Do also try my recipes for Sheer Khurma | Sheer Korma, Meethe Sevaiyan, and Shahi Tukde.
How to Make Meethe Chawal or Zarda Pulao
Serves: 4
Time: 60 Minutes
Ingredients
Basmati Rice – 1 Cup
Ghee – 1/4 Cup
Sugar – 1.25 Cups
Cashews – 6 to 8
Almonds – 6 to 8
Raisins – 20
Cloves – 4
Cinnamon – 2″ Piece
Green Cardamom – 4
Turmeric – 1/4 tsp
Saffron Strands – A Large Pinch (20)
Salt – 1/2 tsp
Water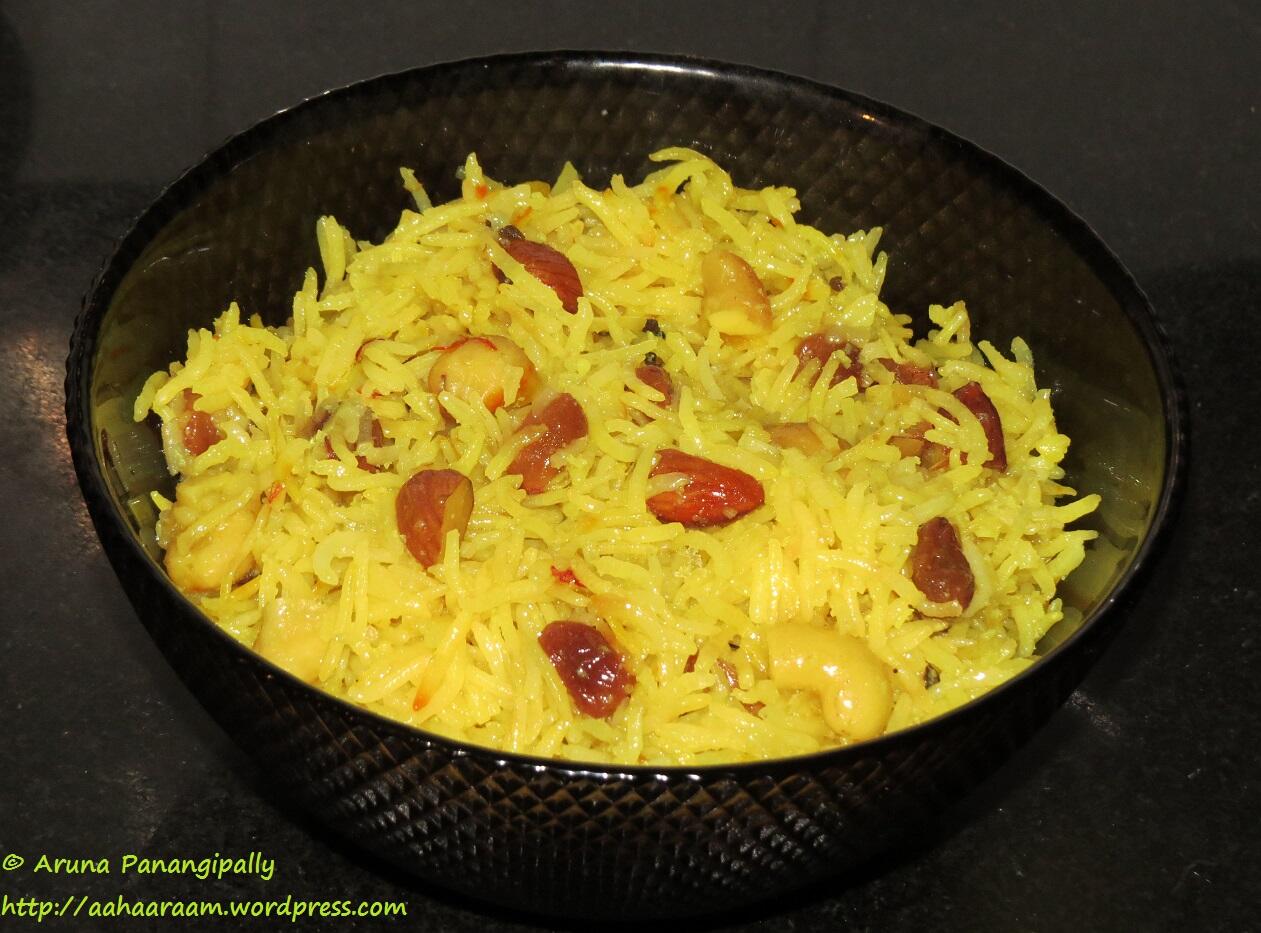 Pin
Preparation for Meethe Chawal
Wash and soak the basmati rice in 2 cups water for 10 minutes.
Drain and set aside.
Split the cashews into quarters.
Cut the almonds in 1/2 or slice them.
Boil 1.5 cups of water. Set aside. Ensure it remains hot.
Method to Prepare the Rice
Heat the ghee in a pan.
Add cloves, cinnamon, and green cardamom.
Saute for 10-15 seconds.
Add the cashews, almonds and raisins.
Saute for 10-15 seconds.
Add turmeric and drained rice.
Mix well.
Add salt, saffron strands, and 1.5 cups of hot water.
Mix well.
Pressure cook for 3 whistles or cook covered till all the water is absorbed and the rice is just cooked.
Spread on a large plate and let it cool a bit.
Method to Make the Sugar Syrup
Add 1/4 cup water to 1.25 Cups of Sugar.
Mix well.
Over medium flame, heat the sugar and water till it forms a thick syrup.
Let it cool a bit till it is just warm.
Method to Make the Meethe Chawal or Zarda Pulao
Mix the sugar syrup and the rice.
Let the Meethe Chawal or Zarda Pulao rest a while.
Enjoy!
Tips
You could use Yellow or saffron food colour instead of turmeric.
You can add fried/toasted coconut slices to the Meethe Chawal to give it an additional zing!
Be sure that the sugar syrup is just thick (all sugar should melt) and not one-string consistency.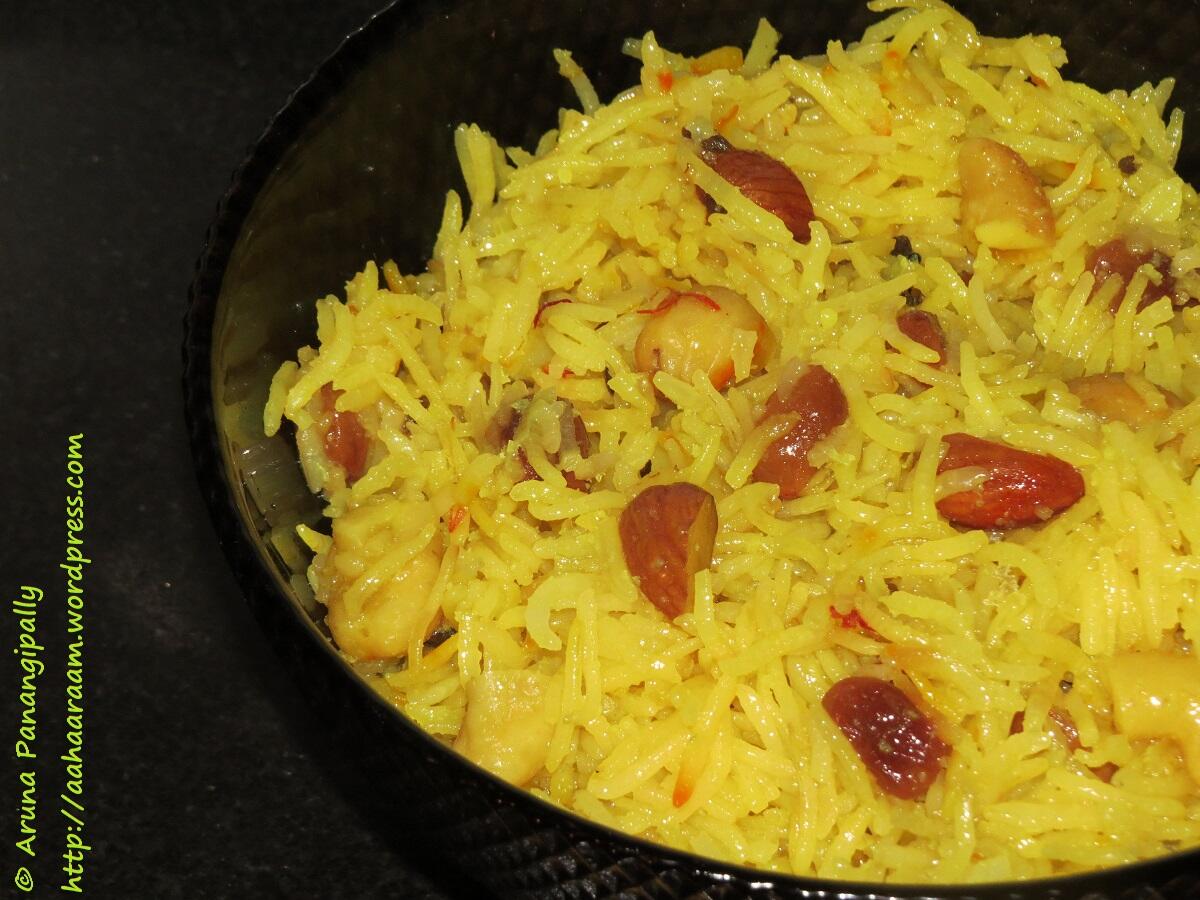 Pin
I am taking this sweet treat to the party at Fiesta Friday #75.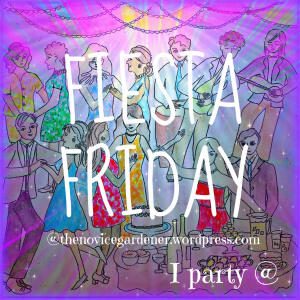 Pin