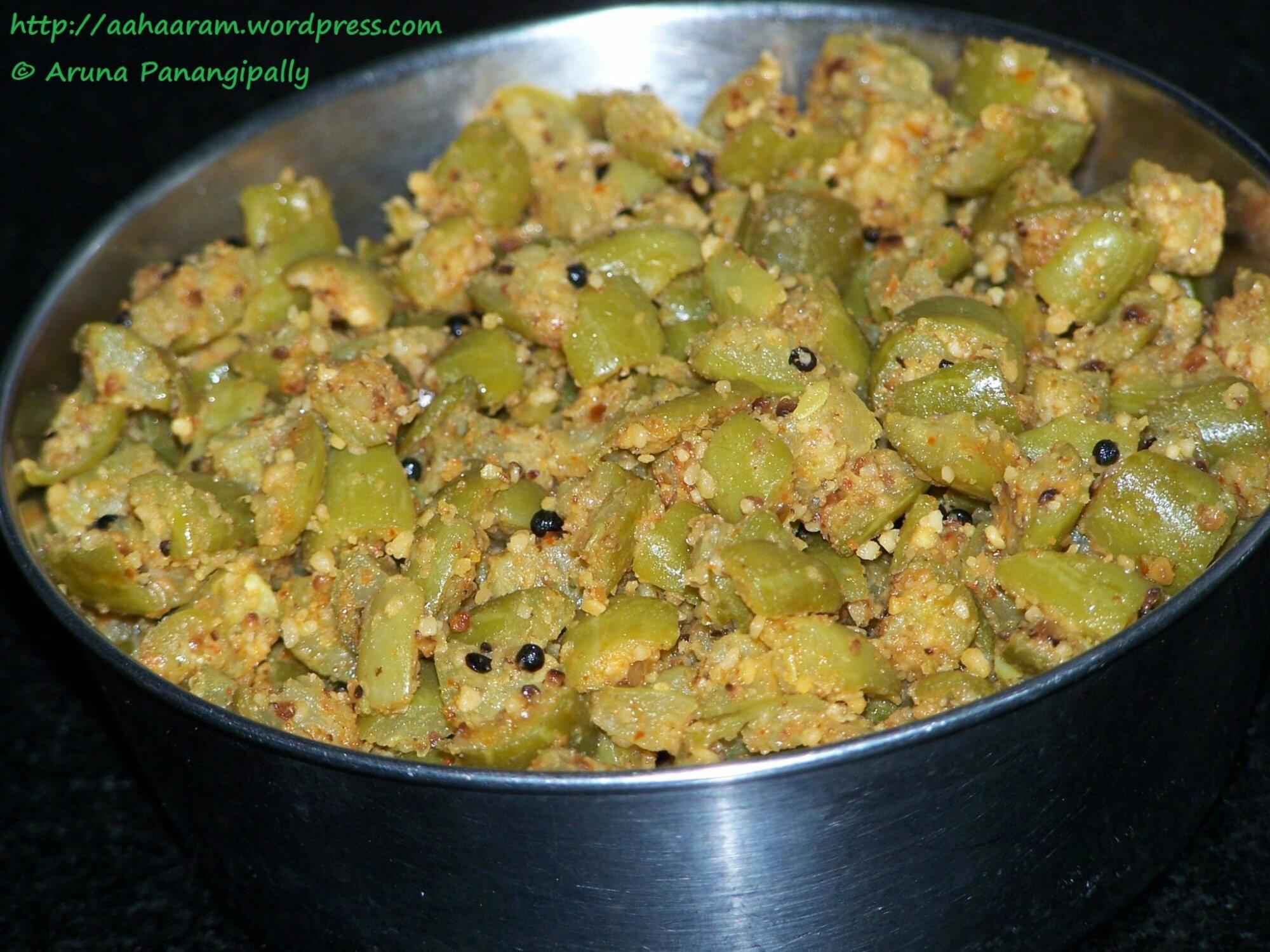 Pin
Dondakaya (Ivy Gourd/Tondli) is a vegetable found in abundance in South and West India. We make it a variety of ways at home and this version is a particular favourite because it of its mild flavour.
Menthi Podi Veysina Dondakaya Koora is a yummmm accompaniment to pappu annam or majjiga annam.
Ingredients
Dondakaya/Ivy Gourd/Tondli – 1/2 Kg
Menthi Podi – 3 tsp
Red Chillies – 3 or 4
Mustard Seeds – 1 tsp
Curry Leaves – 6 to 8
Turmeric – 1/4 tsp
Oil – 1 tbsp
Salt – 1 tsp + To Taste
Method
Wash the ivy gourd and wipe clean with a soft cloth.
Chop off the ends and slice in half vertically.
Quarter along the length so that you have "half moon" shaped pieces.
Bring about a litre of water to boil.
Turn the heat to low, and add the dondakaya pieces along with 1 tsp salt and 1/4 tsp turmeric.
Cook covered over medium for about 5 minutes.
Turn off the heat and leave the pieces in for 10 minutes so that they are parboiled.
Use a colander to drain the water from the dondakaya pieces, and set aside for 10 minutes till all water is drained.
In a heavy bottomed wok, heat the oil.
Add the mustard seeds and wait till they splutter.
Add spilt red chillies and curry leaves.
Fry for a minute.
Add the dondakaya pieces and mix well.
Over medium heat, fry for about 10 minutes or till the pieces just start turning brown.
Turn off the heat.
Add the menthi podi and salt, and mix well.
Serve hot with rice or roti.
Tips
You know the dondakaya pieces are parboiled when they start to sink to the bottom of the vessel.
Be careful about the amount of salt you add at the end because there is salt in the water used to parboil the dondakaya pieces and in the menthi podi.
Related articles