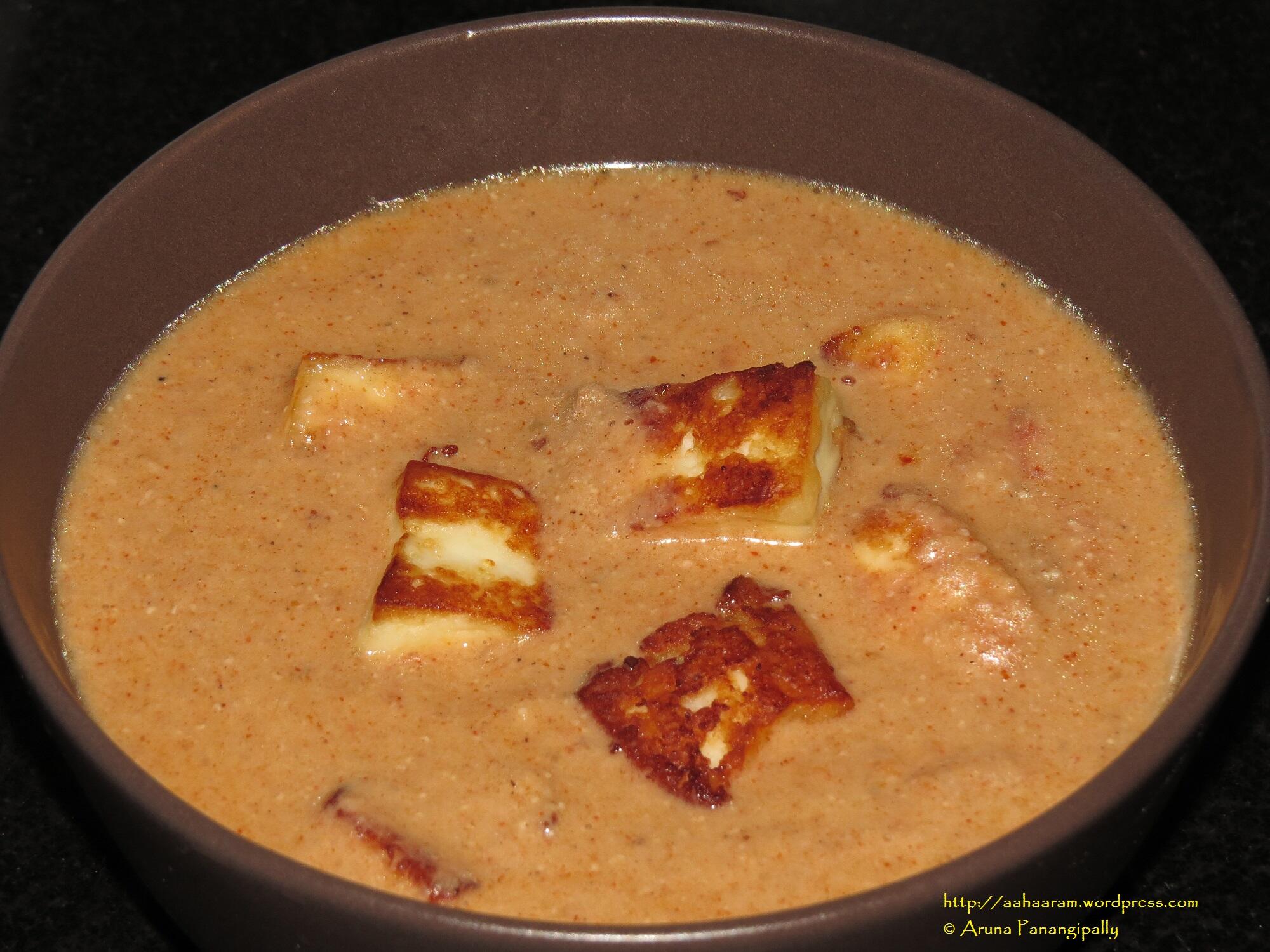 Pin
This recipe is very, very dear to my heart for sentimental reasons.
The first cookbook I ever bought on my own (that is, not with my mother in tow) was Nita Mehta's Paneer Recipes. I was fascinated by the range of recipes she had in the book. More importantly, it was a very affordable book, yet was glossy enough with lots of pictures et al. 🙂 You see I was an Engineering student with limited funds.
The first dish I every tried from this book was Mughlai Paneer. This is a recipe that is adapted from that recipe.
This dish has a sweetish taste because of the onion gravy that is its base but is very light on spices. The recipe calls for fried paneer, but I prefer not to fry the Paneer but that adds to the sweetish taste of the dish.
Ingredients
Paneer or Cottage Cheese – 250 gms
Onions – 5 Large
Tomato – 2 Large
Dahi or Yoghurt – 1/2 Cup
Khus Khus or Poppy Seeds – 1 tbsp
Cashew Nuts – 12
Chilli Powder – 1/2 tsp
Garam Masala – 1 tsp
Oil – 5 tbsp
Salt to Taste
Method
Soak the khus khus in 3 tbsp of water for 30 mins.
Cut the Paneer into 3/4″ cubes.
Blanch the Tomatoes.

Boil 1/2 litre of water.
Drop the tomatoes in the hot water.
Cover and let rest for 5 minutes.
Remove the tomatoes from the hot water.

Peel the blanched tomatoes and puree.
Peel and slice the onions.
In a shallow pan, heat 2 tbsp oil.
Shallow fry the paneer till golden brown.
Remove from the oil and set aside.
To the same pan, add 1 tbsp oil.
Add the sliced onion and 1/2 tsp salt.
Fry till golden brown.
Remove the onion from the oil and grind to a smooth paste.
Add back to the oil and fry till light brown.
Grind the soaked khus khus and cashews to a fine paste.
Add to the onion paste and fry for 5 minutes.
Add the tomato puree and fry till light brown.
Beat the yoghurt till it is smooth and add to the onion-tomato paste.
Fry till brown.
Add the chilli powder and garam masala.
Fry for a minute.
Add enough water to make a thick gravy.
Add the fried Paneer and simmer for 5 minutes.
Serve hot with rotis.