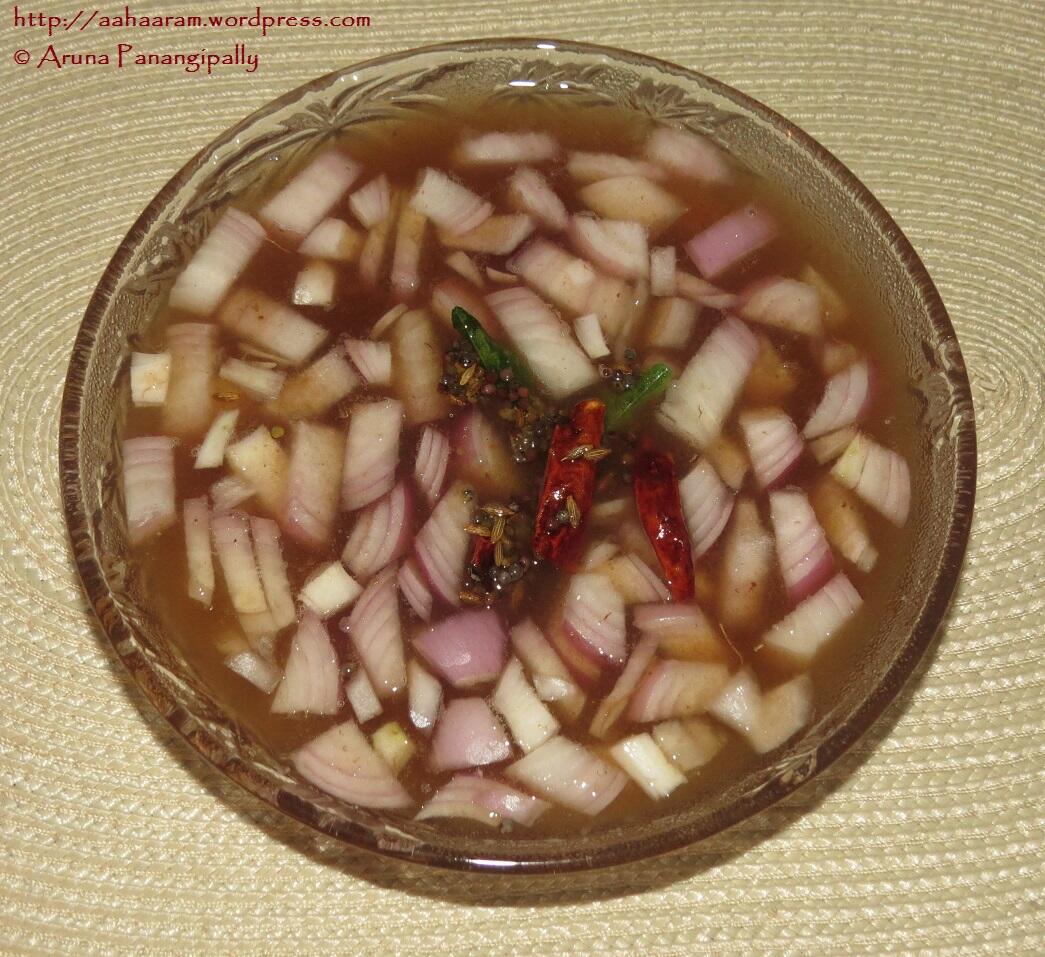 Pin
This is a very easy recipe that is often made when one wants to have something light. It is very easy to make and gets done in literally a jiffy. Pachi Pulusu is typically served as a side dish for Mudda Pappu Annam (rice mixed with plain cooked lentils) and its beauty lies in its simplicity.
This post is dedicated to Usha Chinmay, who requested the recipe many, many moons ago. Why I delayed it so long, I don't know. My only excuse is that we rarely make it. Vankaya Pachi Pulusu is preferred in my home.
Serves: 2
Ingredients
Onion – 1 Large
Tamarind – 1 Lemon Sized Ball
Grated Jaggery – 2 tbsp
Mustard Seeds – 1/2 tsp
Cumin Seeds – 1/2 tsp
Red Chillies – 3
Curry Leaves – A Few
Oil – 1 tsp
Asafoetida – A Pinch
Salt to Taste
Method
Soak the tamarind in 1 cup of water for 30 minutes.
Dissolve the jaggery in 1 cup of water.
Squeeze the tamarind well to extract all the pulp.
Discard the pulp.
Add the jaggery water to the tamarind water.
Chop the onion into fine pieces.
Add to the jaggery-tamarind water.
In a ladle, heat the oil.
Add mustard seeds and wait till they splutter.
Add cumin seeds and red chillies.
Stir-fry for 1 minute.
Add asafoetida and curry leaves.
Add to the pulusu.
Add salt and mix well.
Serve with mudda pappu annam.
Tips
You could lightly saute the onion pieces in oil, if required.