I made this Parsi Dhanshak Masala at home following a recipe posted on a food group.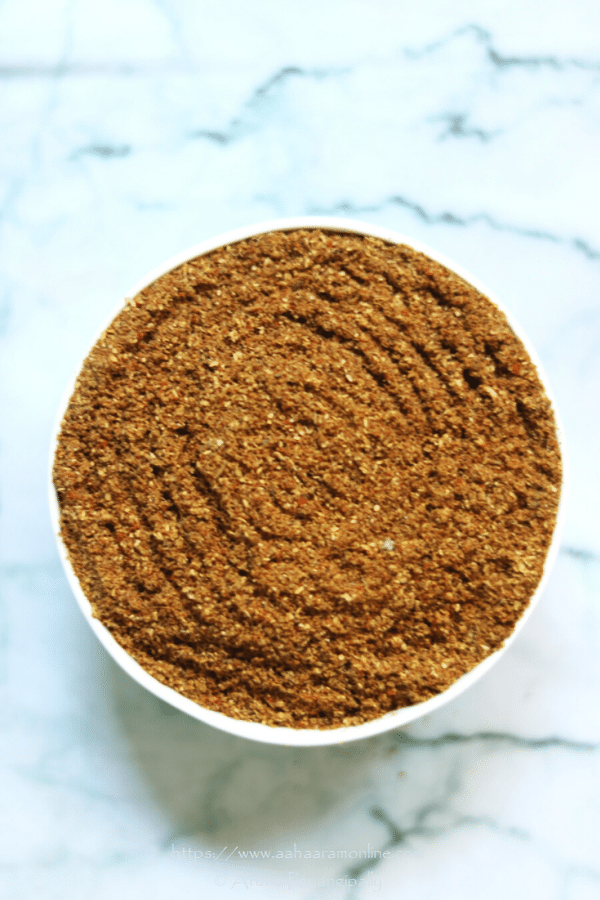 I have this fascination for making all masalas at home and when I saw this detailed recipe for Parsi Dhanshak Masala by Jenifer Petigara Mistry in a food group back in 2014, I had saved it to make it "soon". Now more than 1/2 a decade later, I got around to making it. All because my friend Hetal gave me the recipe for Dhanshak and I wanted to make that at home.
Coming back to this recipe, it takes a while to slow-roast all the spices, but believe you me the result is absolutely worth it.
It took me some more time because of the math involved in scaling down the quantities to make just 1/10 of the quantity. At this reduced scale, some ingredients were just 1 gm in weight. While my kitchen scale has a sensitivity of 1 gm, to be on the safer side, I weighted out 5 gms and then apportioned the ingredient into 5 parts to get the portion I wanted. The engineer in me had some fun at this exercise. 😀
Here I am posting Jenifer's recipe as is. Thank you, Jenifer, for giving me the permission to post the recipe on my blog.
Do try my recipes for:
Recipe for Parsi Dhanshak Masala
Parsi Dhanshak Masala: Recipe by Jenifer Pettigara Mistry
As with all Indian Masalas, this recipe for Parsi Dhanshak Masala just needs a lot of love and patience to make. You have to slow roast each individual ingredient and that takes time. But believe you me, the result is a Dhanshak Masala that is aromatic and has a wonderful depth of flavour.
Equipment
Kadhai

Spoon or Spatula

Grinder
Ingredients
500

g

Coriander Seeds

250

g

Cumin Seeds

10

g

Cinnamon

10

g

Cloves

20

g

Black Cardamom

20

g

Star Anise

30

g

Black Pepper

20

g

Dagar Phool (Stone Flower Or Patthar Ke Phool)

20

g

Bay Leaf

20

g

Red Chillies

20

g

Poppy Seeds

20

g

Fennel Seeds

20

g

Shah Jeera (Caraway Seeds)

20

g

Fenugreek Seeds

1

Nutmeg

10

g

Nag Kesar

Castor oil

(See Notes)
Instructions
Over low flame, heat a kadhai. Keep the flame low so that you can slow roast the ingredients.

Dry roast each individual ingredient separately till aromatic and to the point that they just start to change colour.

As each ingredient is roasted, transfer to a plate.

Let all the roasted ingredients cool.

Grind the roasted and cooled ingredients to a powder.

Store in an air-tight bottle.
Notes
I made a scaled down version of this recipe (just 1/10 of the quantity) for immediate use. However, if you are using these proportions to make a large batch, then use a little oil when roasting the methi seeds and the chillies.
Jenifer's Tip: We use castor oil as it helps store the masala for longer time.