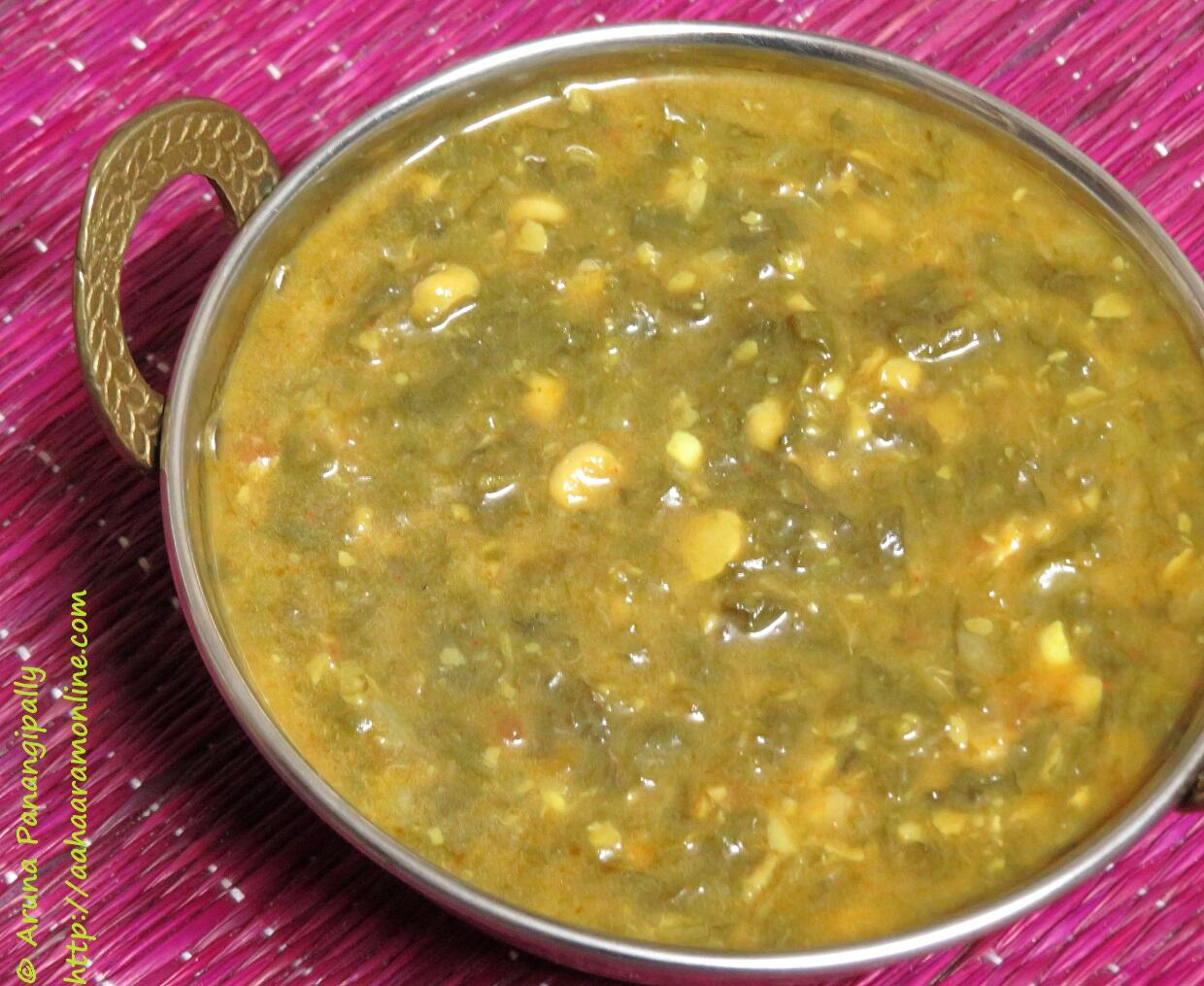 Pin
Greens are a staple in my home; whether used in dal or as dry sabzis. To alleviate boredom, I try to cook the greens in different ways. This week, I made Sai Bhaji, a Sindhi Specialty with the help of two of my  Sindhi colleagues; Roshni Sharma and Nikita Jhanglani. Both of them gave me very similar recipes; the only difference was that Roshni's recipe used methi along with Palak (Spinach), Ambat Chukka (Green Sorrel, Khatta Palak) and Sua (Dill). Since I had methi at home, I used it as well. More the greens the better it is for health being my mantra. 😀
To get back to Sai Bhaji, it is a wonderfully tangy curry made that uses Palak and Chana Dal (Bengal Gram) as its mainstay with Sua, Khatta Palak and Tomatoes being used to add tanginess. It is a complete dish in itself and a wonderful accompaniment to both rotis and rice.
The trick to a good Sai Bhaji I am told is to ensure that the greens are mashed while the Chana Dal retains its shape. I sent the two ladies pics to ensure I got it right. 🙂
In my enthusiasm, I used a wee bit more Chana Dal than was necessary. However, it did not detract from the taste in anyway.
Thank you, Roshni and Nikita, for this recipe. It was indeed yum!
How to Make Sindhi Sai Bhaji
Sai Bhaji - A Sindhi Speciality
Sai Bhaji is a Sindhi specialty made with loads of greens: palak, khatta palak/ambat chukka, methi, and sua. Added to this is protein in the form of Chana Dal. Healthy and tasty!
Ingredients
3

Packed Cups

Finely Chopped Palak or Spinach

3

Handfuls

Finely Chopped Khatta Palak or Green Sorrel

1

Handful

Sua or Dill

2

Handfuls

Methi or Fenugreek Leaves

2/3

Cup

Chana Dal

2

Large Tomatoes

1

Large Onion

1

tbsp

Grated Ginger

1/2

tbsp

Finely Chopped Garlic

2 to 3

Green Chillies

1

tsp

Red Chilli Powder

1/4

tsp

Haldi or Trumeric

2

tbsp

Oil

Salt to Taste
Instructions
Soak the Chana Dal
Wash the chana dal thoroughly.

Soak in about 1 cup water for 30 minutes.

Drain the water and set aside the chana dal.
The Preparations for Sai Bhaji
Chop all the leafy vegetables to small pieces.

Peel and chop the onion to fine pieces.

Chop the tomato to fine pieces.

Slit the green chillies.
Method to make Sai Bhaji
Heat a a heavy bottomed vessel or small pressure cooker.

Add the oil.

Add the onion and saute till transparent.

Add the ginger, garlic, and green chillies.

Saute for a minute.

Add tomato pieces and saute till soft.

Add the salt, red chilli powder and haldi.

Mix well.

Add the chana dal and mix well.

Add the greens and mix well.

Add about 2/3 cup water.

Pressure cook for 4 to 5 whistles.

Let the cooker cool completely.

Using a masher, mash the Sai Bhaji such that the greens are mashed but the Chana Dal retains shape. This is the tricky bit. 🙂

Serve hot with rice or rotis.
Notes
I added methi but you can omit it.
If you do not get Ambat Chukka, you could add about 1/2 tsp tamarind paste for tanginess but it does change the taste.
If you do not like too much tanginess, reduce the amount of tomato or dill.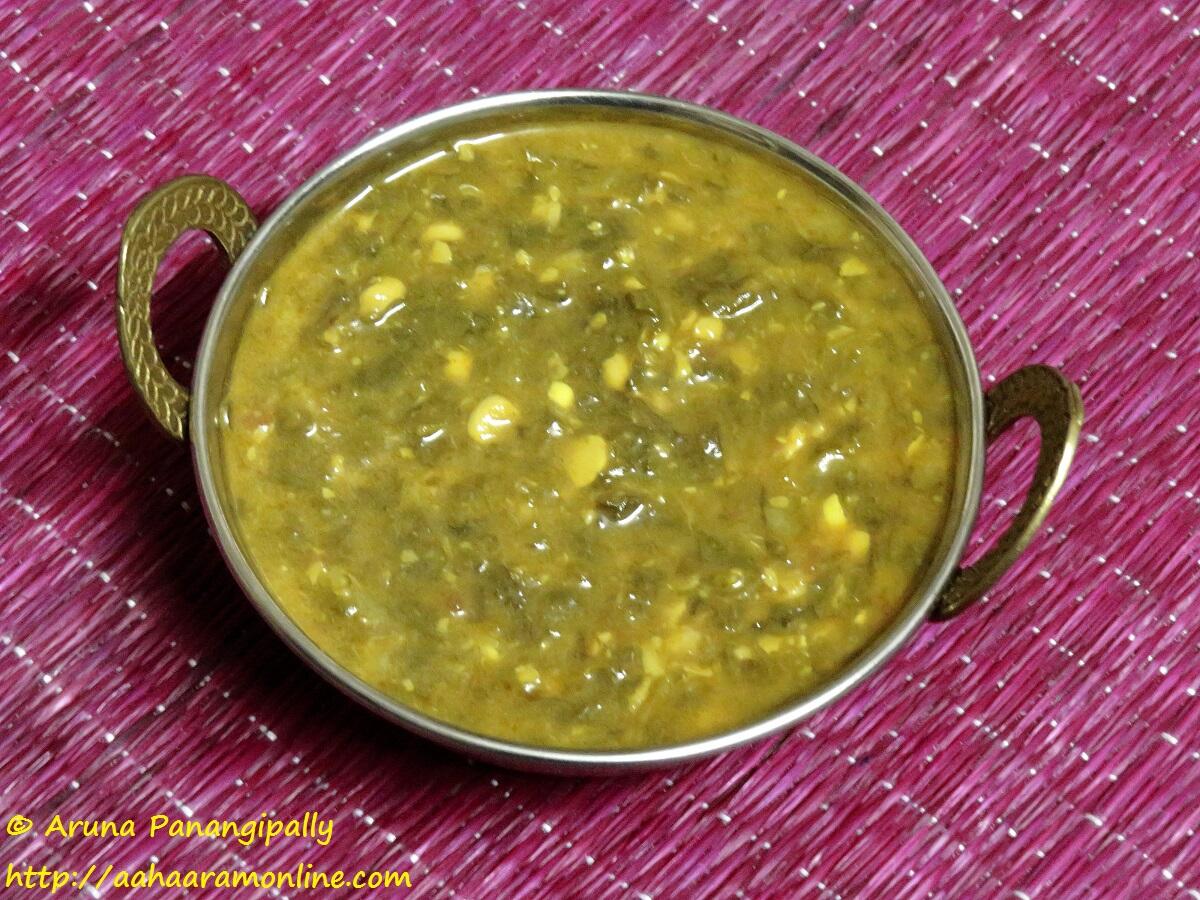 Pin