How would you react if you got up at 5 AM and saw a stream of photographs in your messenger showcasing a unique dish made by a friend? That is what happened to me yesterday. I was moved beyond words and so touched at the effort that Jenny Jani Parikh put into this Smorgastorta recipe. Jenny is a friend of a friend who has become my virtual friend, thanks to the blog. She leaves wonderful tips and suggestions as comments on my posts. She also often suggests recipes for me to try (I am waiting to try the Chole Calzone, a recipe suggested by her). I know Jenny has demanding career and that makes this post extra special.
Thank you, Jenny, for this wonderful post on Smorgastorta. It is something very new to me. What I loved best about this recipe is that you could just mix and match what you have to achieve a fantastic result. To top it all, there are oh-so-many-veggies and for a sour cream lover like me, this sandwich cake is a dream come true. 🙂
Over to Jenny now.
---
Each country has a dish at which other cultures snub their noses. Americans have ketchup, the French have frog legs, and the Swedish have the Smorgastorta – The Sandwich Cake. That's right, it's a sandwich that is a cake too.
At first, a sandwich cake looks like a regular cake, but after closer inspection you realize that it's not garnished with frosting, but with cream cheese and sour cream, cheeses, colorful vegetables and greens.
To anyone who knows cake as being made strictly of butter, sugar, flour and eggs, this Swedish dish is just different – great as a make ahead meal, kiddies and adults parties and the best part is during this sweltering heat in India, there is no cooking/baking or spending time at the gas stove.
Think of this traditional Swedish dish as a gigantic sandwich with all of your favorite ingredients jammed into it — which doesn't sound so bad. The permutation combinations are innumerable.  Make it with what is in your refrigerator; vegan, vegetarian, eggitarian or non-vegetarian.  A very versatile recipe in my humble opinion and even great to clean out your refrigerator.  A crowd pleaser with a layer of everyone's favorite stuffing for sandwich, this is a no fail dish.  Use fresh uncooked vegetable or even cooked beans/vegetables, boiled eggs, peanut butter, meats, beets, garlic chutney, smoked salmon,
Being a vegetarian and a family that has a few food allergies, I did not use peanut butter, carrots, and so on.
How to Make Smorgastorta
Ingredients for Smorgastorta 
Bread Slices – 8 Large Slices
Butter – As Required
Ketchup – As Required
Hot Mustard Paste – As Required
For The Green Chutney
Cilantro – 1/2 cup
Mint – 1/4 cup
Jalapenos – 1 or 2
Almonds – 6 to 8
Salt – To Taste
Lemon Juice – To Taste
A Pinch of Sugar
For the White Filling
Sour Cream – 1 Cup
Cream Cheese – 1 Cup
Grated Hard Cheese – 1/2 Cup (I used Monterey +Colby. Amul Cheese will work just as well)
Crushed Black Pepper – 1/2 tsp
A Touch of Ginger and Garlic Paste
For Frosting (Be sure that the frosting remains white as possible)
Cream Cheese – 1 Cup
Sour Cream – 1 Cup
Hung Yogurt – 1 Cup
Salt to Taste
Pepper Powder – To Taste
Red Chili Powder  – To Taste
Lemon Juice  – To Taste
A Pinch of Sugar – To Taste
Thinly Sliced Vegetables (A Judicious Mix)
Tomatoes – 2 to 3
Cucumber – 1
Radishes – 3 to 4
Sliced Red Bell Pepper – 1
Sliced Yellow Bell Pepper – 1
Edible Flowers – A Few
Sliced Green and Black Olives – A Few
Chives – A Few
Method to Make the Green Chutney
Soak the Almonds in warm water for 15 minutes.
Peel them.
Grind together all the ingredients to a smooth, thick paste with a little water. Note that the chutney should not be runny or watery as it will make the bread soggy.
Method to Make the White Filling
Mix together all ingredients listed. Simple as that. 🙂
Method to Make Smorgastorta 
Butter all slices on both sides.
Cover 2 slices with green chutney, 2 with ketchup and 2 with hot yellow mustard.

Place to slices with the green chutney facing up.
Cover with sliced cucumber

Add a thick layer of cream cheese filling.

Add the bread slices with the ketchup facing up.

Cover with radishes and the cream cheese filling.
Add the bread slices with hot mustard facing up.

Cover with sliced tomatoes and cream cheese filling.

Alternate layers one more time, if desired.
Add 2 buttered slices as the topmost layer.
Press all the layers lightly with hand.
Now begins the fun decorating part. 🙂 Cover the block of sandwiches with the white frosting layer, thick on all the sides.  Final step is decorate the sandwich with colorful vegetables, sliced green and black olives, chives, and edible flowers.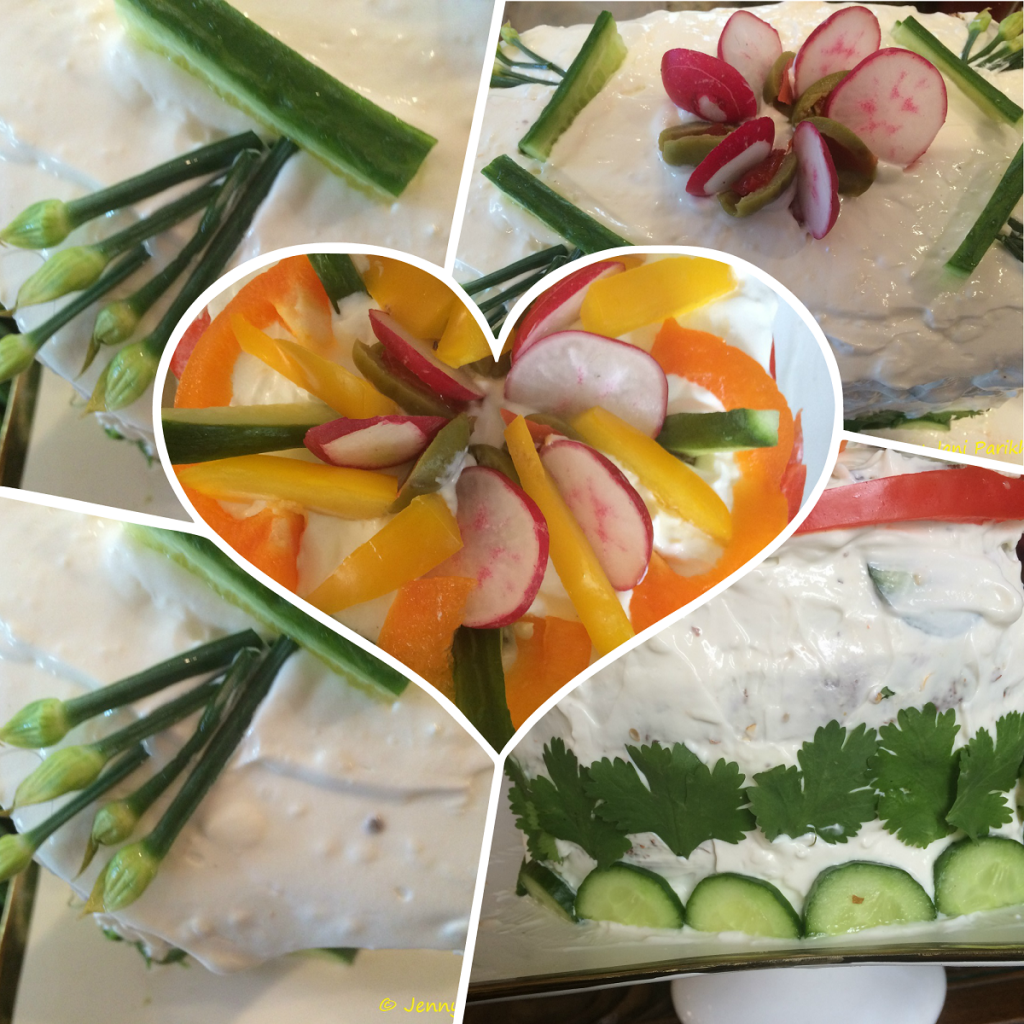 Pin
You get the idea!  Let your imagination run wild.  The Smorgastorta tastes best the next day – if you can resist eating!
Notes:
Both cream cheese and sour cream can be substituted with hung curd and mashed soft paneer.