Today, I present Spicy, Crunchy Baked Chickpeas. It is a wonderful and healthy snack that is in keeping with both the theme of the 105th Foodie Monday Blog Hop, Savoury Baked Dishes, as well as my decision to eat healthy. It also fit into my crazy work schedule.
Truth be told I was tempted to try a dozen other dishes like Calzone, Vegetarian Moussaka, Baked Pies and Casseroles. But we are bang in the middle of the festival season and we are having heavy meals almost every other day. So I decided to keep it light and so this Spicy Crunchy Baked Chickpeas.
Do also try my recipes for the Cheesy Baked Spinach and Sweet Corn Casserole and Green Chilli Peppers Stuffed with Hummus!
If you are a vegetarian like me trying to up the protein quotient in your daily food intake, these crunchy-munchies are just what you are looking for! All I need to make these beauties was a load of chickpeas, a little olive oil, salt and chilli powder. That's it. In fact, you can play around with the flavours and make a range of baked chickpeas.
What I loved about these protein-rich munchies was the crunch, which made them just the perfect anytime, guilt-free snack!
Before I move onto the recipe let me say that the Blog Hop is challenging me to think on my feet and come up with recipes above and beyond what I had planned for the blog. That is so much fun. 🙂

I am looking forward to seeing what the themes are over the next few weeks.
So here I present my Chilli Flavoured Baked Chickpeas.
How to Make Spicy, Crunchy Baked Chickpeas
Spicy, Crunchy Baked Chickpeas
These spicy, crunchy baked chickpeas are just the perfect snack; they are protein-rich, low-oil, and filling. They are in fact a weight watcher's dream and an anytime munchy.
Ingredients
2

Cups

Dried Chickpeas

2

tbsp

Olive Oil

1-2

tsp

Chilli Powder

Salt to Taste
Instructions
Preparing the Chickpeas
Wash and soak the chickpeas in 4 cups water for 4 to 6 hours.

Drain the water and add 4 cups of water.

Pressure cook for 2 whistles or till the chickpeas are just cooked. They should break when pressed between fingers and not be mushy. Cook them for less time than you would for Chole.

Spread the chickpeas on a cloth kitchen towel for 10 minutes or till all the water is absorbed. If you are using a kitchen tissue, blot out all the water.
Making the Baked Chickpeas
To a large bowl, add the olive oil, chilli powder, and salt.

Add the chickpeas and mix well till the chickpeas are covered in oil and spice. There should be just enough oil to coat the chickpeas.

Spread the chickpeas on a baking tray.

Bake in 175C for about 45 to 60 minutes till the chickpeas are crunchy.

Store in an airtight container.

Enjoy with a hot cup of tea!
Do you want to see other baked recipes that my fellow Foodie Monday Bloghop bloggers have shared? Hop over to our Facebook page by clicking on the logo.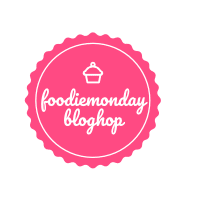 Pin