I must thank Hetal for sharing Tarla Dalal's Malai Cake with me when she made it. As soon as I had the first bite, I wanted to try my hand at baking this cake and here I am two weeks down the line with this delicious Eggless Fresh Cream Cake.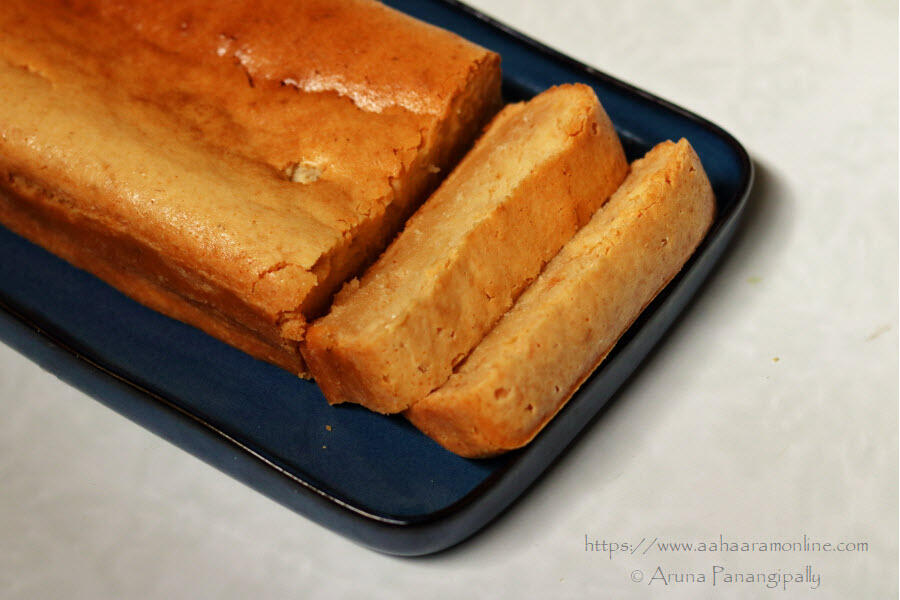 When I looked up this recipe of Tarla Dalal's website, I was impressed by how simple it was to make and how few ingredients it needed.
However, there is sometimes a slip between cup and lip; the first time I made this cake mid-week, I had a disaster on my hand because the quantity of Baking Soda and Baking Powder was too much. So the batter just rose and overflowed when I started to bake the cake and then collapsed. The net result was that I stopped the baking (the batter which overflowed was burning at this point) and I had something like a dense pudding on my hands.
This time when I made this Malai Cake, I used just baking powder and the result was good. I still need to refine the recipe a bit, and when I do I will update this page.
Anyway, all the drama aside, the result was a delicious tea-time cake and I am challenging you to stop after eating just just one piece of this yummy Eggless Cream Cake.
Do also try my recipes for the Devonshire Honey Cake as well as Revani (Turkish Semolina Cake).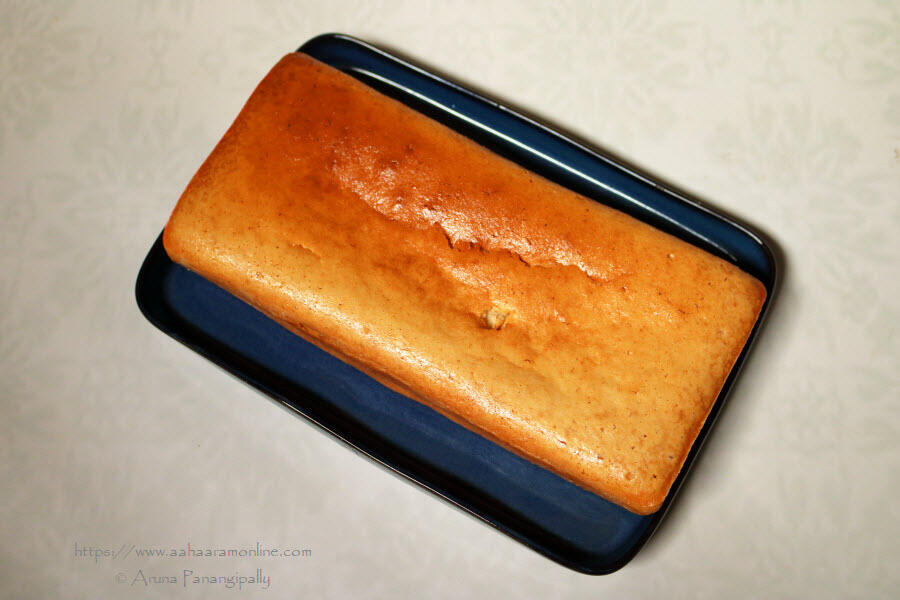 Eggless Fresh Cream Cake | Malai Cake (Recipe by Tarla Dalal)
This a delicious eggless fresh cream cake (or Malai Cake as we call it in India) that is easy to make and gets done in under 1 hour. I adapted the recipe from Tarla Dalal's website.
Ingredients
1

Cup

Flour

(150 gms)

1

Cup

Fresh Cream/Malai

(250 ml)

1

Cup

Powdered Sugar

(200 gms) (See Notes)

1

Cup

Milk Powder

(175 gms)

1/2

tsp

Baking Powder

1/4

tsp

Vanilla Essence

2-3

tbsp

Milk

(See Notes)

1/2

tsp

Butter or Ghee

(To grease the baking tin)
Instructions
The Prep
Butter and flour a 9" rectangular baking pan or an 8" round baking pan.

Preheat the oven to 150C.
Baking the Eggless Fresh Cream Cake | Malai Cake
Mix together the cream and powdered sugar. Set aside for 5 minutes.

Add the milk powder, flour, baking powder, and vanilla essence.

With a gentle hand, mix well.

If your batter is very stiff or doughy, add a little milk (1 tbsp at a time) and mix well till you have a batter of pourable consistency.

Gently pour the batter into the prepared tin.

Bake at 150C for 45 minutes.
Removing the Cake from the Pan (Do it while the cake is till warm)
Remove the baked cake from the oven when done and let it cool ill just warm to touch.

Loosen the edges of the cake using a small, sharp knife.

Place a plate over the pan and flip the pan over.

Gently tap the tin to remove the cake from the pan.

Let the cake cool and cut into 1" slices.
Notes
I used store-bought fresh cream (Amul Fresh Cream) and needed just 1 tbsp of milk to achieve the desired consistency.
If you are using homemade malai or fresh cream whisk it well with a gentle hand to ensure there are no lumps.
The cream should be at room temperature. 
The batter should be pourable but not runny. A simple test is to see if the batter forms ribbons when it flows off the spatula.