What attracted me to to Sarah's blog was her easy to make yet delicious recipes. In her write-up about herself, Sarah mentions that she is "not into frou frou desserts." I would extend that to all her recipes. Her recipes are very down to earth and yet so appealing.
Do visit Sarah's blog Flour & Spice for a full tour of her repretoire.
I am delighted to share Sarah's light yet delicious Thai Noodle Salad as a guest post for me.
Thank You, Sarah!
Now, without much ado, over to Sarah.
---
ahem ahem nervous throat clearing
Hello old friends and new and a big thank you to Aruna for having me here at her lovely blog Aharam. I have been a follower and fan for some time and it is quite an honour to be here. Aruna's blog constantly amazes me with it's wide variety of foods and the amount of new things I learn from each post. It reminds me how food blogging isn't about food alone, but also about who we are, where we come from, and what we believe. Thanks Aruna for regularly welcoming us into your world. 🙂
It is no secret that I love Thai flavours. I find most salads to be bland or too unhealthy but add a Thai inspired dressing and it is hard to walk away. With the weather turning in these parts this dish adds some hearty healthy comfort to chilly days. Hope you try it and love it as much as I do.
Recipe originally from
Ingredients for the Salad
250 grams noodles – Pad Thai, Soba, Whole Wheat Spaghetti
½ head shredded red cabbage
1-2 peppers of choice thinly sliced
3 scallions/ green onions chopped
1 carrot grated or peeled into strips
1 chopped jalapeno
½ bunch chopped cilantro
3 tbsp toasted sesame seeds
4 tbsp thinly sliced almonds toasted
Ingredients for the Dressing
1 inch ginger
3 cloves garlic
2/3 cup soy sauce
½ cup neutral oil – I used Canola
2 tbsp sesame oil
1 tbsp honey
1 tsp dark brown sugar
2 limes zested and juiced
Pinch of salt
Method to Make the Dressing
Put dressing ingredients into a blender, blitz till well combined and set aside.
Putting Together the Salad
Prepare your noodles according to directions.
Add the vegetables to the dressings and let it sit.
Once the noodles are done, mix into the vegetables.
Garnish with cilantro, sesame seeds, almonds and eat up!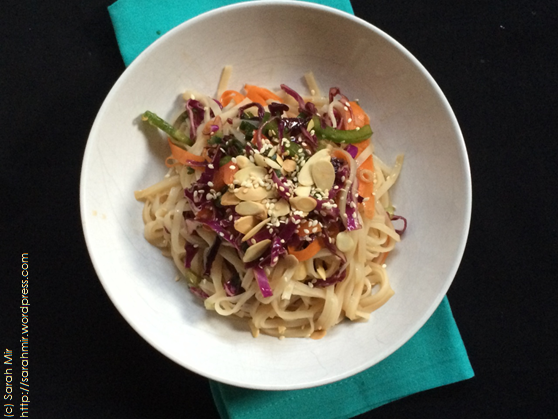 Pin