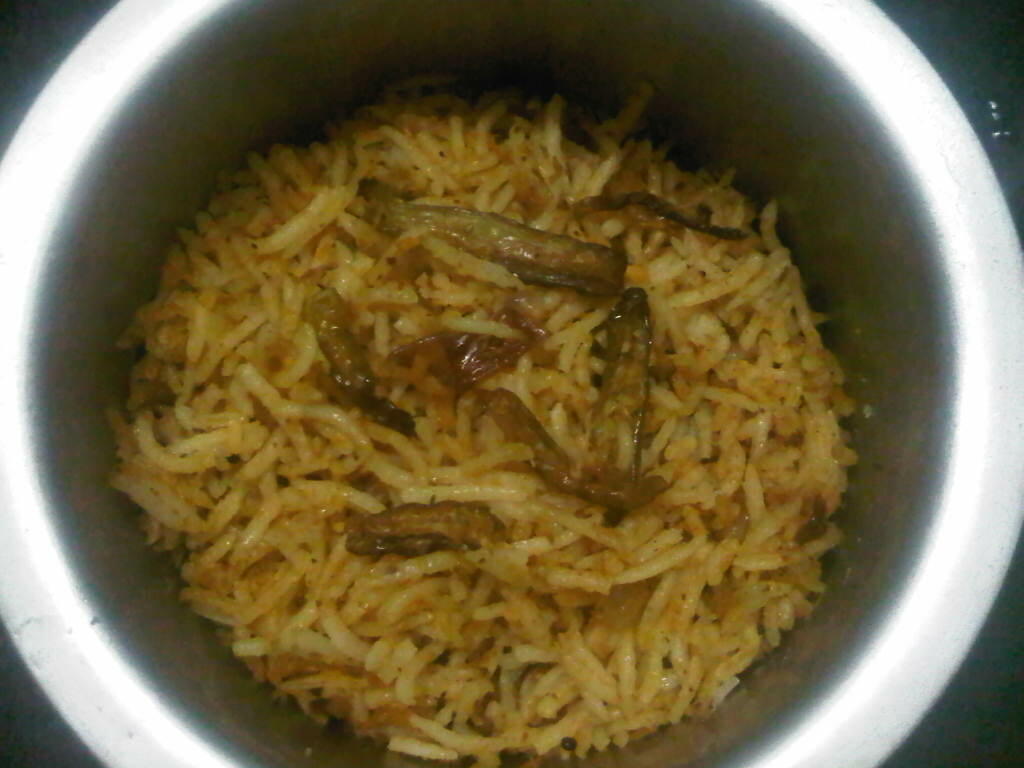 PinHaving lived in Maharashtra all my life, I love Maharashtrian food. Tondli Bhaat is a classic Maharashtrian dish that is simple to make and a nice way to use Tondli (Dondakaya/Ivy Gourd).
This is also a dish that is very quick and easy to make. Have it with some raita or just simple plain dahi and it is a complete meal in itself.
I love the lovely aroma of star anise used in this recipe! 🙂
Ingredients
Rice – 1.5 Cups
Tondli/Dondakaya/Ivy Gourd – 1/4 Kg
Clove – 4
Cinnamon – 1″ stick
Pepper Corns – 4
Star Anise – 1 segment
Grated Coconut – 1/2 Cup
Mustard Seeds – 1 tsp
Chilli Powder – 1/2 tsp
Turmeric Powder – 1/4 tsp
Grated Jaggery (Optional) – 1/4 tsp
Oil – 2 tbsp
Salt to Taste
To make the masala:
In a kadai/wok, heat 1/2 tsp of oil.
Add the cloves and cinnamon.
Fry for 1 minute.
Reduce the heat to medium.
Add the grated coconut and saute till the coconut turns light brown.
Set aside to cool.
Grind the cooled ingredients into a fine powder without any water.
To make the tondli bhaat:
Cook rice as usual.
Spread the rice onto a plate to dry out the excess moisture.
Cut off the ends of the tondli and then cut into four pieces vertically.
In a kadai/wok, heat the remaining oil.
Add the mustard seeds and wait till they splutter.
Add the tondli pieces and fry till done.
Add red chilli powder, turmeric, jaggery, and masala powder.
Mix well.
Add the rice and salt.
Mix well.
Serve hot with dahi or raita.
Tips
Be careful about the amount of star anise you add. Too much star anise tends to overpower all other flavours. I use just one segment or "petal" of a star anise.
You could use Kopra/desiccated coconut instead of fresh coconut. If you do this, do not fry the coconut.