On Ekadashi, many Hindus fast and and those who don't also try to refrain from eating rice. In Maharashtra, a popular dish to cook on this day is Varyache Tandul (also called Varicha Bhat or Bhagar) made with Little Millet or Sama.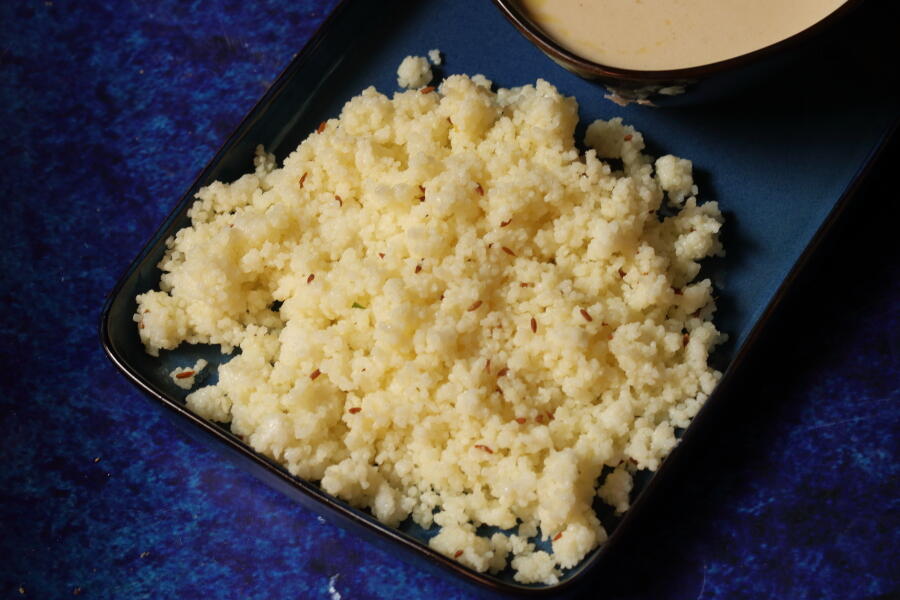 Pin
Bhagar | Varicha Bhat | Varyache Tandul | Samo RiceLast week, we were having a very interesting discussion on the benefits of eating millets, instead of grains. This was in the middle of a serious music class. 😀 I have been meaning to feature recipes using millets for a while now and have never gotten round to it. So I decided to make an auspicious start this Ashadi Ekadashi today.
Typically Shengdanyachi Amti (also known as Danyachi Amti) is served along with it. Both Varyacha Tandul and the Amti are cooked to meet requirements of Vrat ka Khana or Upwas ka Khana. However, this does not detract from the taste at all and the result is a delicious meal.
Do try the Kuthiraivali Pongal or Barnyard Millet Pongal as well. If you want a one dish meal, try
Recipe for Varyache Tandul | Varicha Bhat | Varai Bhagar
Varyache Tandul - Samo Rice - Bhagar - Ashadi Ekadashi Special
Varyache Tandul is often made on Ekadashi in Maharashtra as a substitute for rice. However, this dish, also known as Samo Rice, Bhagar, or Samai, is very healthy and can be eaten every day.
Ingredients
1

Cup

Varai. Samai, Samo Rice

2 or 3

Green Chillies

1

tsp

Cumin Seeds

1

tbsp

Ghee

Salt to Taste
Instructions
Chop the green chillies to fine pieces.

Dry roast the Varai till it just starts to change colour.

Set aside.

In a kadhai, over medium heat, melt the ghee.

Add cumin seeds.

When the cumin seeds starts to change colour, add the green chilly pieces.

Saute for a couple of seconds.

Add the roasted Varai.

Mix well.

Add 3 cups of water and some salt.

Mix well.

Cover and cook till the Varai is well-cooked. Mix every few minutes.