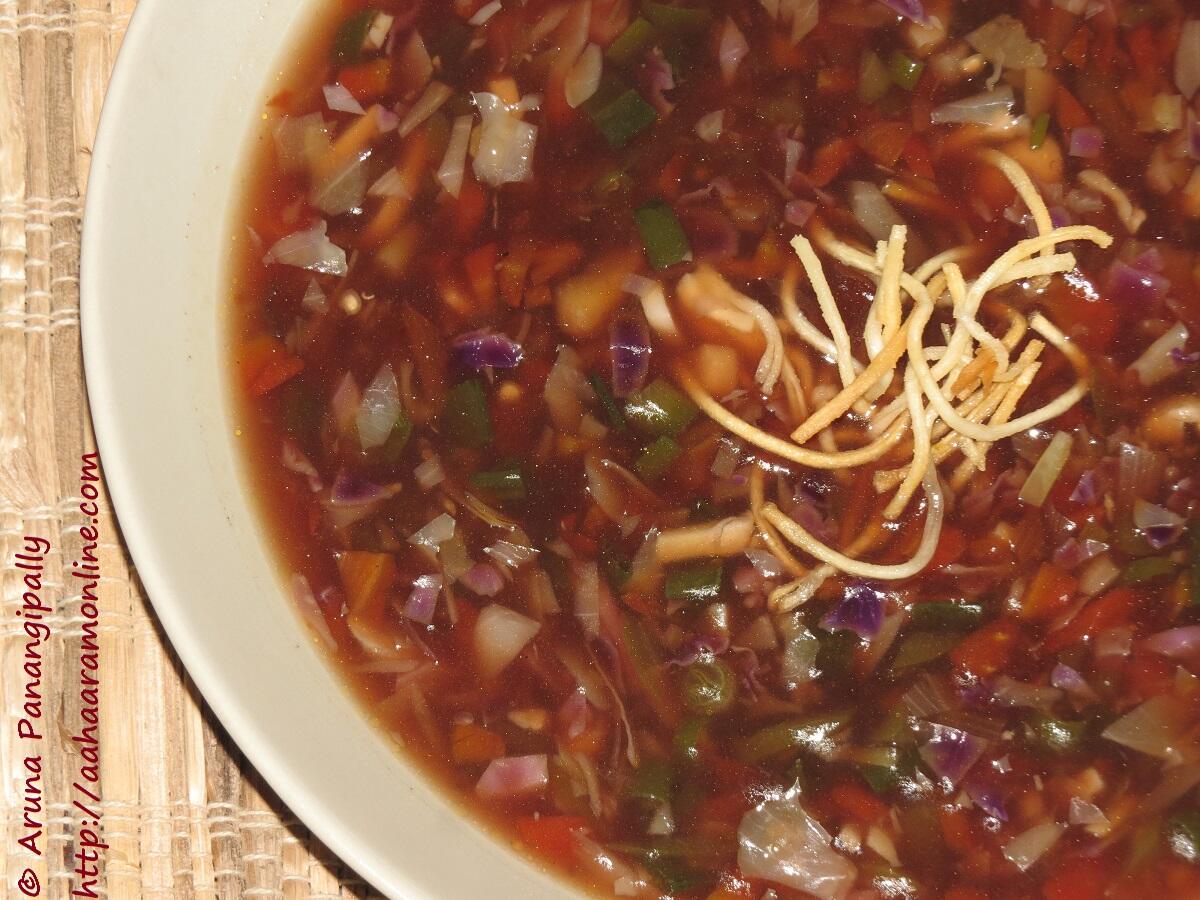 Pin
I have been having this yearning for Indo-Chinese food all of last week and have been driving my colleagues at work batty with my flip-flops at lunch; I keep saying I want to order Chinese and then would chicken out at the last moment saying I want to stick to my diet. 😝
This weekend, however, I gave in to the temptation and made both Manchow Soup and Veg Hakka Noodles at home.
If there is one dish which is found on every Indo-Chinese menu along with Manchurian, it is Manchow Soup. I like this hearty soup because it has loads and loads of vegetable so it does not feels like a soup at all and feels more like a stew. As a result, Manchow Soup can be a meal in itself and I often do.
These are dishes that are familiar to Indians who have been eating India's version of Chinese Food; especially from food vendors on the street. There was a time you could find Chinese Food Thelas (hand carts) at various street corners whipping up tasty delights in their steaming hot woks. Alas, that is no longer the case in an India that is slowly getting gentrified.
Manchow Soup is a load of shredded vegetables and flavoured with soy sauce, vinegar, ginger, garlic and green chillies for taste. It is warming, nourishing AND low on calories. What more could one ask for!
To make it more filling you could add some boiled hakka noodles to it, or then be naughty and top it with fried hakka noodles like I did. 😀
Do you like Indo-Chinese cuisine? Do try these recipes:
How to Make Veg Manchow Soup
Vegetable Manchow Soup - An Indo-Chinese Recipe
Manchow Soup is a mandatory part of any Indo-Chinese menu. I love it because it is chock-a-bloc with veggies and can be a meal by itself.
Ingredients
50

Gms

Cabbage

50

Gms

Purple Cabbage

1

Large Carrot

1

Large Capsicum

10

Mushrooms

2

Spring Onions with Greens

8

Garlic Cloves

1"

Ginger

2

Green Chillies

1.5

tbsp

Soy Sauce

1

tbsp

Vinegar

1.5

tbsp

Corn Flour

1

tbsp

Oil

3

Cups

Water

Salt to Taste
For Garnish
50

Gms

Hakka Noodles

Oil for Frying the Hakka Noodles
Instructions
The Preparations for Manchow Soup
Chop all vegetables to fine pieces. Keep the spring onion and its greens separate.

Chop the ginger, garlic, and chillies to fine pieces as well.

Dissolve 1.5 tbsp corn flour in 1/4 cup water. Set aside.
Method to Fry Hakka Noodles
Boil the hakka noodles just to soften them.

Leave in the colander to drain water completely.

Sprinkle corn flour and mix well.

Heat some oil.

Deep fry noodles till they just start to turn brown.

Remove from the oil and place on a kitchen tissue.

Set aside.
Method to Make Manchow Soup
In a pan, heat the oil.

Add ginger, garlic and green chillies.

Saute till the aromas are released.

Add the spring onions. Do not add the spring onion greens at this stage.

Stir-fry for a minute.

Add the mushrooms and stir-fry to 1 minute.

Add carrots and stir-fry for 2 minutes.

Add the capsicum and stir-fry for 2 minutes.

Add both the cabbages and stir-fry for 2 minutes.

Add spring onion greens and mix well.

Add soy sauce and vinegar.

Mix well.

Stir-fry for 1 minute.

Add 3 cups water.

Simmer for 5 minutes.

Add the corn flour paste and salt.

Mix well and simmer till the Manchow Soup thickens a bit.

Divide into 4 equal portions.

Top with some fried Hakka noodles.

Serve hot!
Notes
You could also add some boiled Hakka Noodles to the Soup to make it more hearty and a complete meal.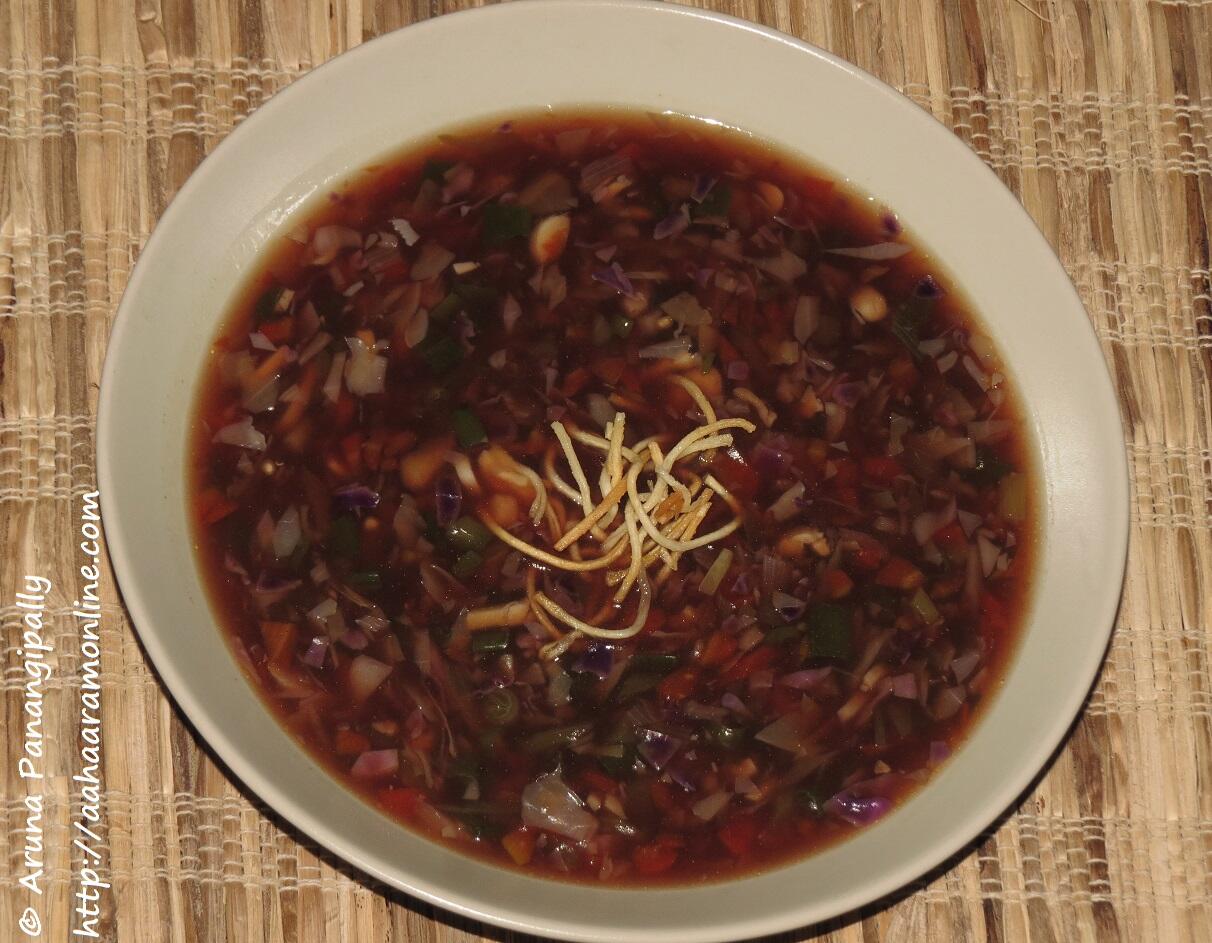 Pin