Velakkaya, Wood Apple or Kaith is quite popular in Andhra Pradesh and is commonly eaten as pachadi or chutney. We make 3 different types of Velakayya Pachadi in my home. Today's recipe is for Velakkaya Perugu Pachadi, a raita/thayir pachadi made with Wood Apple.
Do also try this recipe for Velakkaya Bellam Pachadi | Sweet Wood Apple Chutney.
Velakkaya has an hard outer shell which when broken open reveals a brown pulp with seeds of a lighter colour. It has quite an astringent taste and a pungent aroma.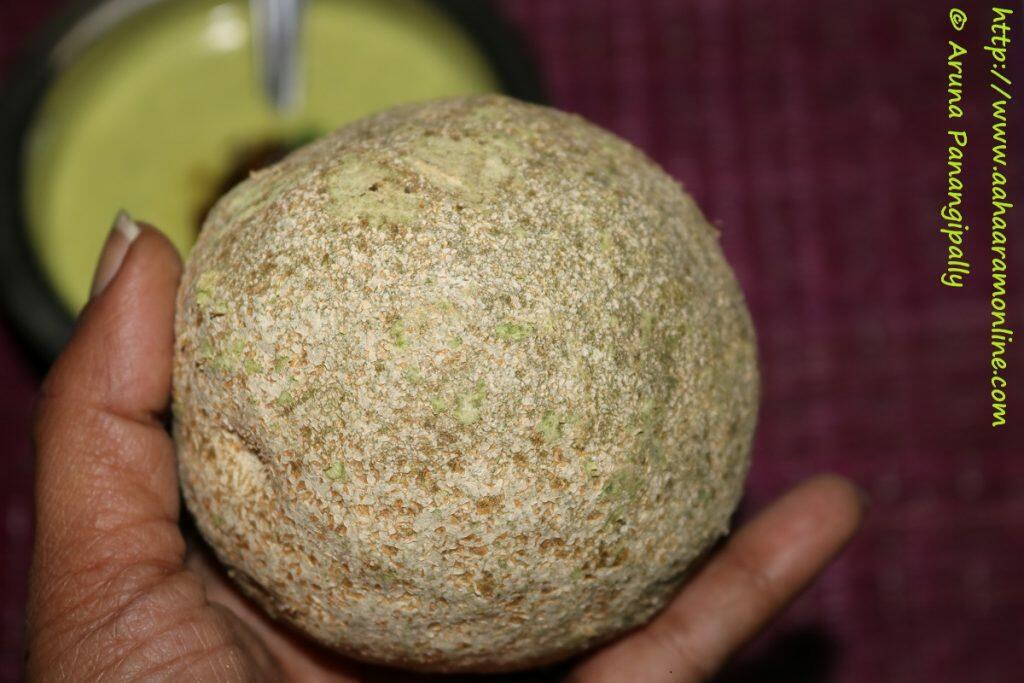 Pin
Velakkaya | Wood Apple | Kaith
A Velakkaya | Wood Apple tastes best when it is midway to becoming ripe. When a Wood Apple is unripe, its pulp is light brown in colour and has a strange aftertaste, while if it is completely ripe the pulp is a bit soggy and has a very strong smell.
To choose an edible Velakkaya, first check the shell; it should be grey-brownish and not green. We also smell it; if you cannot smell the aroma then it is raw. You should just be able to smell the pulp when you hold the fruit close to your nose. Also, I shake the Wood Apple a bit. If you feel the pulp shake within the shell, then you are all set. 🙂
I like Velakkaya Perugu Pachadi because the Yogurt cuts through the astringent taste of the fruit.
How to Make Velakkaya Perugu Pachadi
Time: 20 Minutes
Makes: 2 Cups
Serves: 6 to 8
Ingredients
Velakkaya, Wood Apple – 1 Large (About 1 Cup of Pulp)
Fresh Perugu, Yogurt, Dahi – 1/2 Cup
Green Chillies – 4 to 5
Fresh Coriander Leaves – 1/4 Packed Cup
Red Chillies – 2 or 3
Mustard Seeds – 1 tsp
Turmeric – A Large Pinch
Asafoetida – A Small Pinch
Salt to Taste
Oil – 2 tsp
Method to Make Velakkaya Perugu Pachadi
Extracting the Pulp:

Use the handle of a large knife or a heavy ladle to crack open the Velakkaya.
Using a spoon, scoop out the pulp.
Using a spoon, gently mash the pulp a bit.

Beat the yogurt till smooth and set aside.
Slit the green chillies.
In a pan, heat 1 tsp of oil.
Add the green chillies and stir-fry for a few seconds.
Add the asafoetida first and then immediately add the Velakkaya pulp
Stir-fry for 5 minutes or till the raw aroma disappears. You can even add a bit of water and cook the pulp, if so required.
Turn off the heat.
Add the turmeric, salt, and fresh coriander. Mix well.
Using some water, grind the cooked wood apple to a smooth paste.
Add the ground paste to the yogurt.
Mix well.
To temper:

Heat 1 tsp oil.
Add the mustard seeds and let them splutter.
Add the split red chillies.
Add the tempering to Velakkaya Perugu Pachadi.
Mix well.

Serve Velakkaya Perugu Pachadi at room temperature.
Ways to Savour the Velakkaya Perugu Pachadi
Typically, Andhras eat their chutneys and podis mixed with steamed rice and some sesame oil/ghee. This is at the start of the meal and is called Modati Mudda or the first morsel.So mix some Velakkaya Perugu Pachadi and sesame oil in warm rice, and just savour the taste.
You can use this chutney as a side for Pappu Annam.