Last Saturday started off very well with a splendid early morning concert followed by a hearty breakfast with some good friends. I then decided to go to the bank to complete some work and that was the mistake. By the time I got to the bank, it was about 10:00 AM and a baking 40°C. I was out and about in the open sun for just a few minutes but that was enough to do me in.
By the time I got home at 10:45 AM, all I wanted was to cool down. By the time I cooled down sufficiently, my father mentioned that he can feel the cloth of his "easy chair" swing a bit. At first I did not pay much attention but then I felt the mild swaying too. At first I thought I was a bit light-headed but then put on the TV to see the breaking news about the earthquake in Nepal. It was just a few minutes after the event and the extent of the disaster that was to unfold was still unknown.
After a few minutes began the din from the apartment complex opposite ours which is under going a face lift. So the afternoon siesta was not a very relaxing one. Then I decided to add to my own misery by stepping out for a brisk walk in the evening.
So by about 7 PM I was rather out of sorts and if I were the drinking sort, would have certainly downed a peg or two. 😀 Since I do not keep alcohol at home, I decided to calm down with a Virgin Mojito.
A simple drink made of lemon juice, sugar syrup, fresh mint and water/soda, a Mojito is very very refreshing and my drink of choice on many an occasion that we dine out. This is the first time I have made a Virgin Mojito at home and am very glad that I made it.
One confession though: The amount of sugar in one glass of the Virgin Mojito came as quite a shock to me and left me wondering what else I poison myself with when I dine out!
How to Make Virgin Mojito
Serves: 4 Tall glasses
Time: 10 Minutes
Ingredients
Fresh Mint Leaves – 1 Cups
Fresh Lemon Juice – 6 tbsp
Sugar – 6 to 8 tbsp
Chilled Soda or Water – 2.5 Cups
Ice Cubes or Crushed Ice
Method
Chill four tall empty glasses.
Over medium heat, boil the sugar in 1/2 cup water till it dissolves completely to form a thick syrup.
Let the syrup cool.
Bruise or crush the mint leaves lightly to release the aroma.
To each of the chilled glasses:

Add 1.5 tbsp lemon juice.
Fill 1/2 of the glass with ice cubes or crushed ice.
Add 1/4 cup of lightly crushed mint leaves.
Add 1/4 the sugar syrup.
Top with chilled water or soda.

Mix well.
Sit back and enjoy the Virgin Mojito.
Tips
You can reduce the amount of sugar or use a sugar substitute.
You can make a large pitcher of Virgin Mojito rather than individual servings like I have.
Be sure to bruise the mint leaves as otherwise you won't get the minty fresh taste of a Mojito.
Do not add the mint leaves to the lemon juice concentrate or they will soon turn black.
You could reduce the amount of mint, but I do love my mojito to be minty. 🙂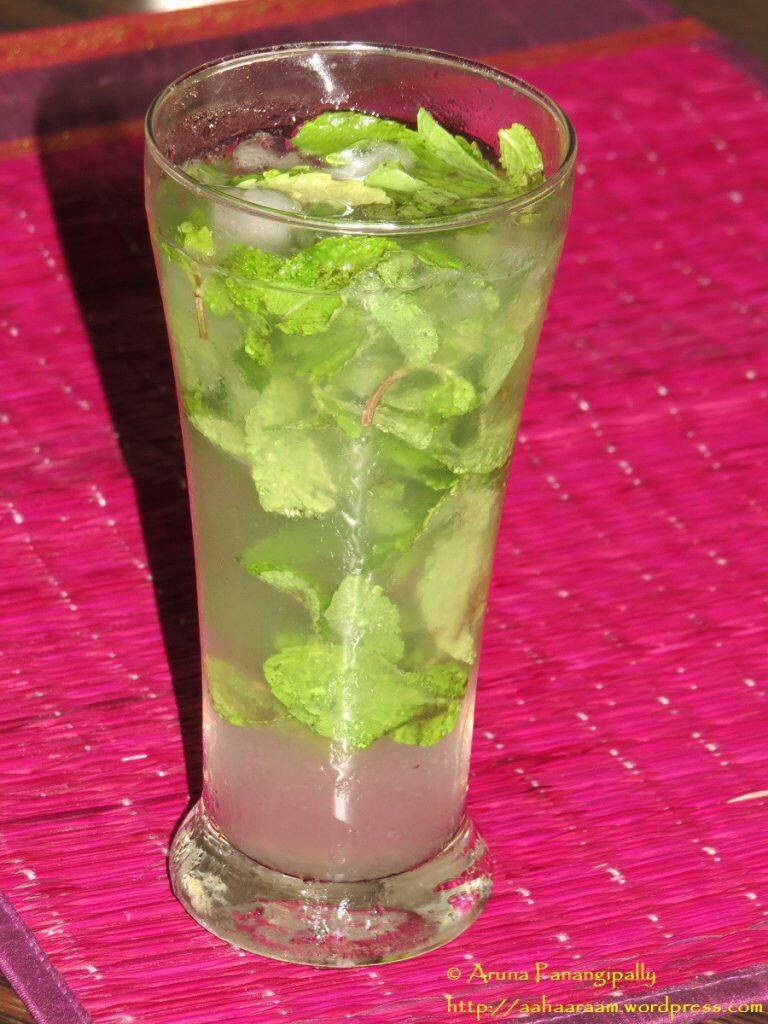 Pin