Maharashtra's Shengdana Lasun Chutney (Peanut Garlic Chutney) has now become quite popular across the India, thanks to the popularity of Vada Pav; that most quintessential of Mumbai street foods. Today, I present a variation of this chutney with flaxseed incorporated in it.
Last week, I wrote about my efforts to incorporate flaxseed in my diet and the recipe for a Flaxseed + Sesame Seed Chutney Powder. That recipe incorporated flaxseed into the traditional Andhra Nuvvulu Podi | Roasted Sesame Powder. Keeping to the theme of using flaxseeds, I added this superfood to yet another famous chutney to make Alsi Shengdana Lasun Chutney. This chutney now has 3 superfoods: garlic, peanuts, and flaxseed.
Garlic is loaded with micronutrients like Selenium, Manganese, Vitamin C, and more. It is know to lower blood pressure, lower blood sugar, and cure digestive ailments. Read about the health benefits of garlic.

Flaxseed is now being celebrated across the world as a superfood and it is indeed. Read about the health benefits of flaxseeds.
Recipe for Alsi Shengdana Lasun Chutney | Maharashtrian Peanut-Garlic Chutney with Flax Seeds
Alsi Shengdana Lasun Chutney | Peanut-Garlic-Flaxseed Chutney
I have added Alsi (flaxseed) to the traditional Maharashtrian Peanut and Garlic Chutney to make this Alsi Shengdana Lasun Chutney. It is a great way of including both flaxseeds and garlic into everyday diet.
Ingredients
1/4

Cup

Roasted Peanuts

(~45 gms)

1/4

Cup

Flaxseeds

(~30 gms)

6

Large Garlic Cloves

(Adjust to taste)

1

tbsp

Red Chilli Powder

(Adjust to taste)

Salt to Taste

(~ 3/4 tsp)
Instructions
Grind the red chilli powder, garlic, and salt together. I do this to ensure the garlic is well-minced so that we do not get chunks of garlic in the chutney.

Add the roasted peanuts and flax seeds.

Pulse till you get a coarse powder. Do not grind at high speed and/or for long because both peanuts and flaxseeds are oily by nature and you will have a lumpy mess on your hands.


Store in an air-tight bottle.

Serve as a side with main meals.
Notes
Do not roast the flaxseeds as the Omega 3 oils in it will be destroyed.
You can increase the proportion of flaxseeds to make this chutney even more healthy.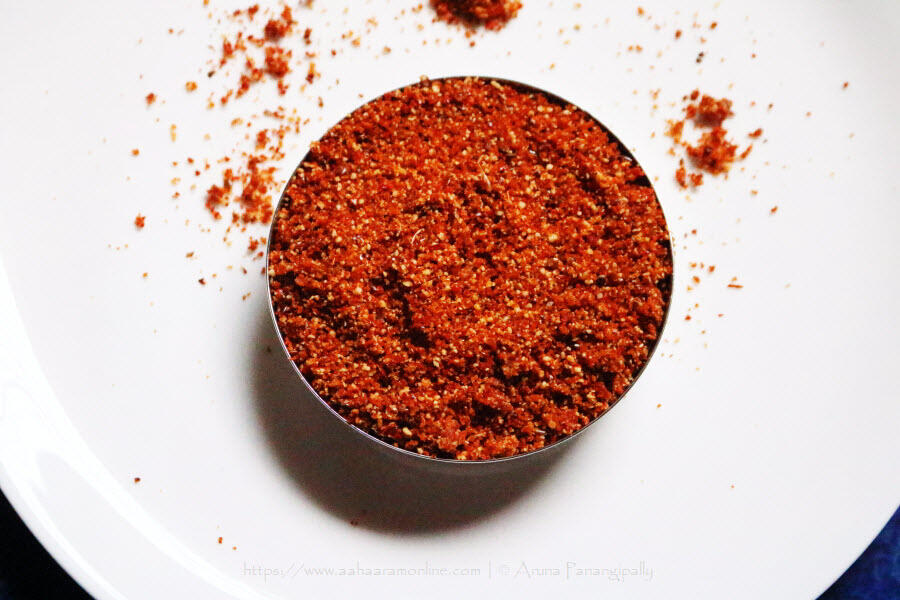 Pin Flaxseed Peanut Garlic Chutney from Maharashtra[/caption