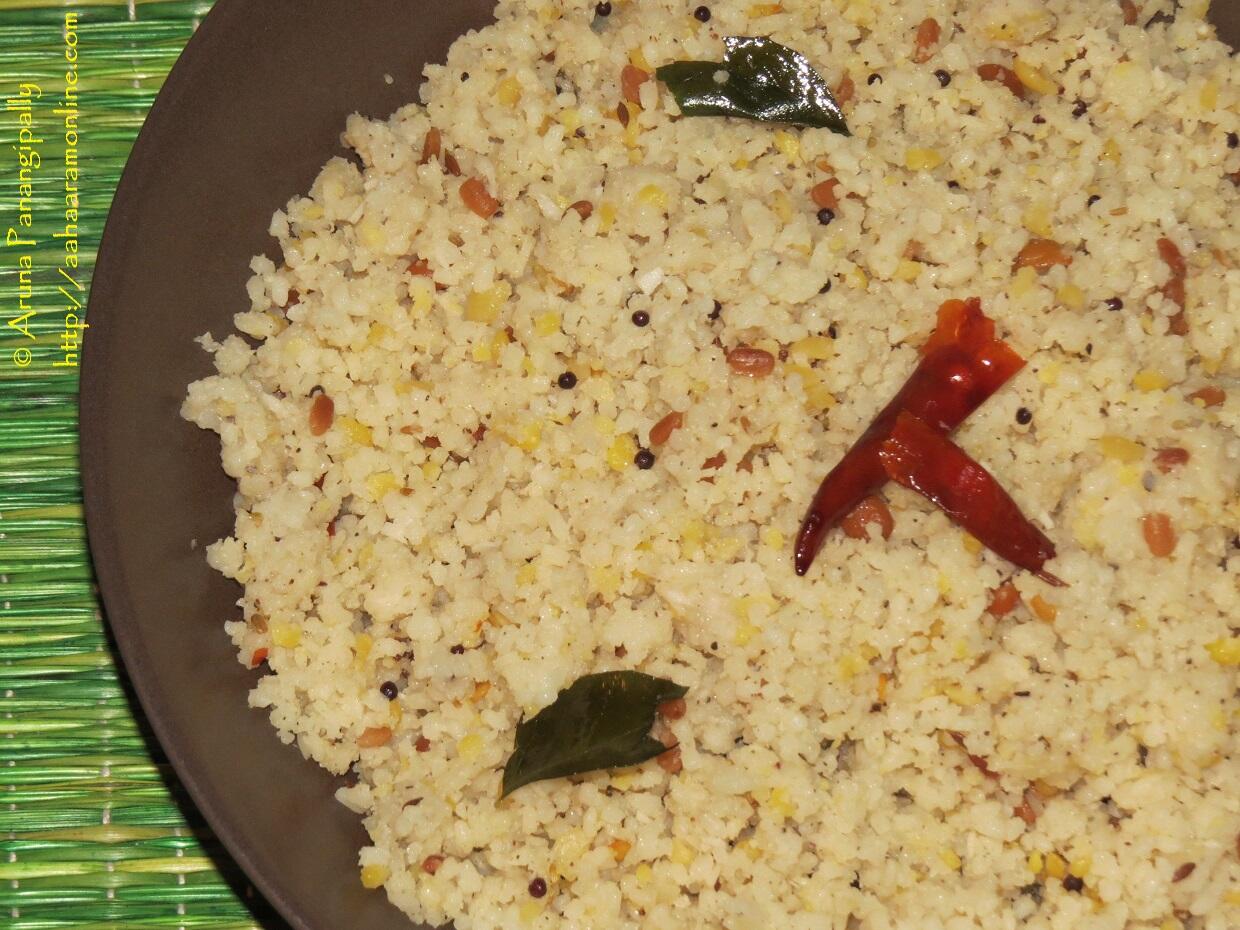 PinRice Rava Upmas are very popular in South India. I have already written about Uppu Pindi and Biyyam Rava Challa Upma or Majjiga Upma from Andhra Pradesh. Today, I am bringing you another Rice Rava Upma, this time from the state of Tamil Nadu. Called Arisi Upma, this delicious upma is made out of coarsely ground rice and tuvar dal that has been spiced with pepper, cumin, red chillies, and grated coconut.
What I love about Arisi Upma is that as you make it your home will be redolent with the aroma of coconut oil and spices. The very process of making this upma can make you very very hungry!
I absolutely loved the taste of Arisi Upma and for some reason it also reminded me of the taste of Kodubale.
How to Make Arisi Upma
Arisi Upma - Spicy Rice Rava Upma from Tamil Nadu
Arisi Upma is a simple recipe made of rice rava that also has some tuvar dal. It is spiced with pepper, cumin,coconut, and red chillies. The result is a wonderfully spicy dish that can be eaten as a snack or as a meal by itself.
Ingredients
1.5

Cups

Rice

1/2

Cup

Tuvar Dal

1

tsp

Pepper

1

tsp

Cumin Seeds

1/4

Cup

Grated Coconut

1

tbsp

Udad Dal

1

tbsp

Chana Dal

1

tsp

Mustard Seeds

3 or 4

Red Chillies

2

Large Pinches

Asafoetida or Hing

1 + 1

tbsp

Coconut Oil + Sesame Oil - 1 tbsp

Substitute 2 tbsp cooking oil

4.5

Cups

Water

A Few Curry Leaves

Salt to Taste
Instructions
Method to Make the Rava for Arisi Upma
Mix the rice, tuvar dal, pepper, and cumin seeds.

Grind or pulse them together to a coarse powder.
Method to Make Arisi Upma
Heat a heavy-bottomed pan or tava.

Add the coconut+sesame oil or cooking oil.

Add the mustard seeds and wait till they splutter.

Add the udad dal and chana dal.

Fry till golden brown.

Turn down the heat.

Add split red chillies, asafoetida and curry leaves.

Stir-fry for a few seconds.

Add 4.5 cups of water.

Over medium heat, heat till the water starts to simmer.

Add salt and grated coconut.

While stirring constantly, add the spiced rice rava.

Mix well.

Cover and cook well while stirring every few minutes. The Arisi Upma is done when all the water is absorbed and the rice is cooked.

Serve the Arisi Upma hot by itself or with Kathirikai Gojju (Brinjal Gotsu).
Notes
Do try to make Arisi Upma in the Coconut+Sesame Oil. These oils lend a unique flavour.
Do ensure that you cook this over medium flame, otherwise the water will evaporate but the Arisi Upma will remain raw.
If you need more water, use a little hot water at a time. Too much water and it will turn gluggy.
Mix it regularly so that the Upma does not stick to the bottom and burn.