Bendakaya Pulusu is a dish that my father is inordinately fond of. For him it is an integral part of his childhood memories and the food made by his mother. It is a dish that I learnt from Daddy and so it is dear to me too.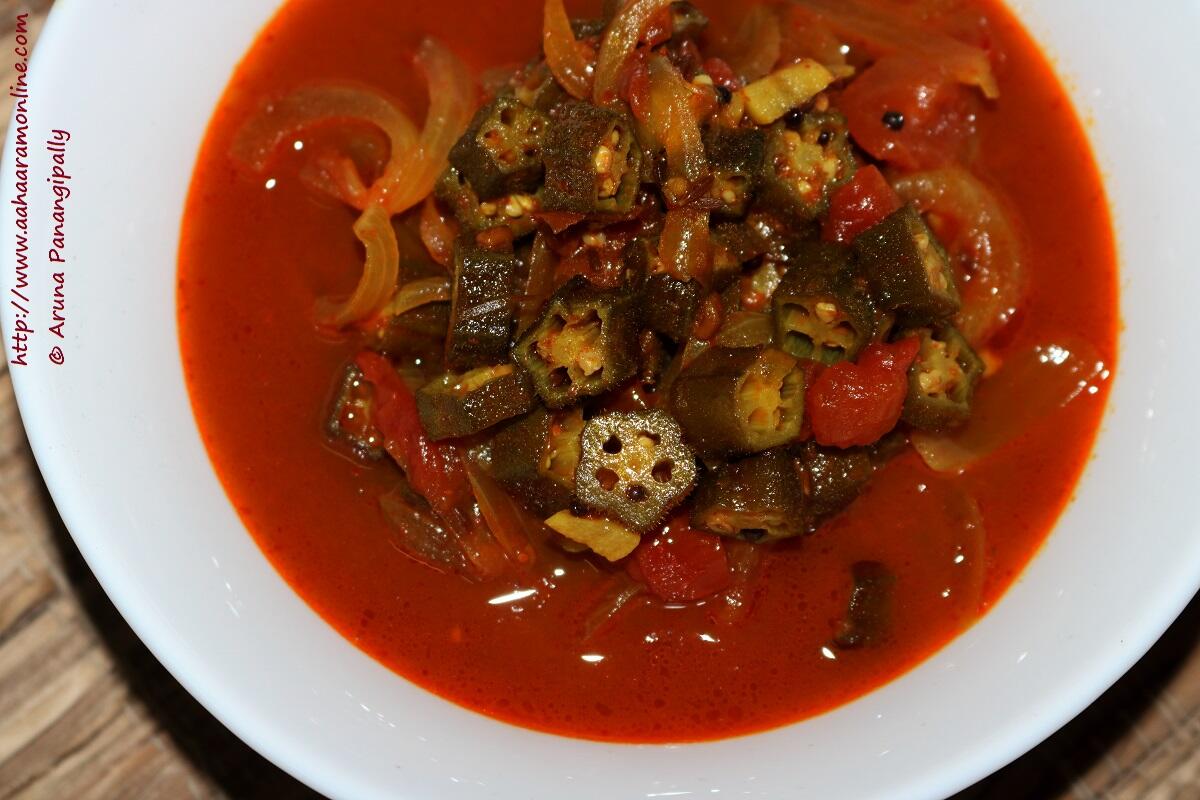 Pin
Bendakaya (called Bhindi in Hindi, Okra or Lady's Finger in English, Vendakka is Tamil) is a popular vegetable in my home. We most commonly make a stir-fry called Bendakaya Vepudu, but in special occasions may indulge in Bendakaya Perugu Pachadi or Vendakka Kichadi. Then there is this recipe for Bendakaya Pulusu.
I like Bendakaya Pulusu because if I am make this tangy, spicy stew all that is needed to complete a meal is steamed rice and some papad. Also, because this Pulusu does not use any dal/pappu, it is very light on the stomach.
How to Make Andhra Bendakaya Pulusu
Andhra Bendakaya Pulusu | Spicy Lady Finger Curry
This Bendakaya Pulusu is a spicy, tangy Okra stew from Andhra Pradesh. Pair it with some steamed rice and papad, and you have a complete meal!
Ingredients
2

Cups

Chopped Bendakaya, Okra

Cut them 1" pieces

3/4

Cup

Sliced Onions

1/2 Cup

Cup

Finely Chopped Tomato

1

tsp

Finely Chopped Garlic

Optional

1.5

tbsp

Thick Tamarind Pulp

2

Cups

Water

1

tsp

Chilli Powder

1/4

tsp

Tumeric Powder

1

tsp

Avalu, Rai, Mustard Seeds

1/2

tsp

Jeelakarra, Jeera, Cumin Seeds

1/4

tsp

Menthulu, Methi Seeds, Fenugreek Seeds

2

tbsp

Oil

Sesame Oil preferred

Salt to Taste
Instructions
The Preparation
Dilute the tamarind paste in 2 cups water.
Making the Bendakaya Pulusus
In a kadai, heat the oil.

Add the mustard seeds and wait till they splutter.

Add the cumin seeds and fenugreek seeds.

Stir-fry till the cumin and fenugreek seeds start to change colour.

Add the sliced onions and fry till they are transparent.

If you are using garlic, add it now and stir-fry for 2-3 minutes.

Add the bendakaya/okra pieces.

Stir-fry till the bendakaya/okra pieces and onion just start to brown.

Add the tomato pieces and stir-fry till the tomato pieces start to stew.

Add the turmeric and chilli powder.

Cover and cook till the bendakaya/okra pieces are cooked.

Serve with steamed rice and Saggubiyyam Vadiyalu, Pela Vadiyalu or Aviri Vadiyalu.