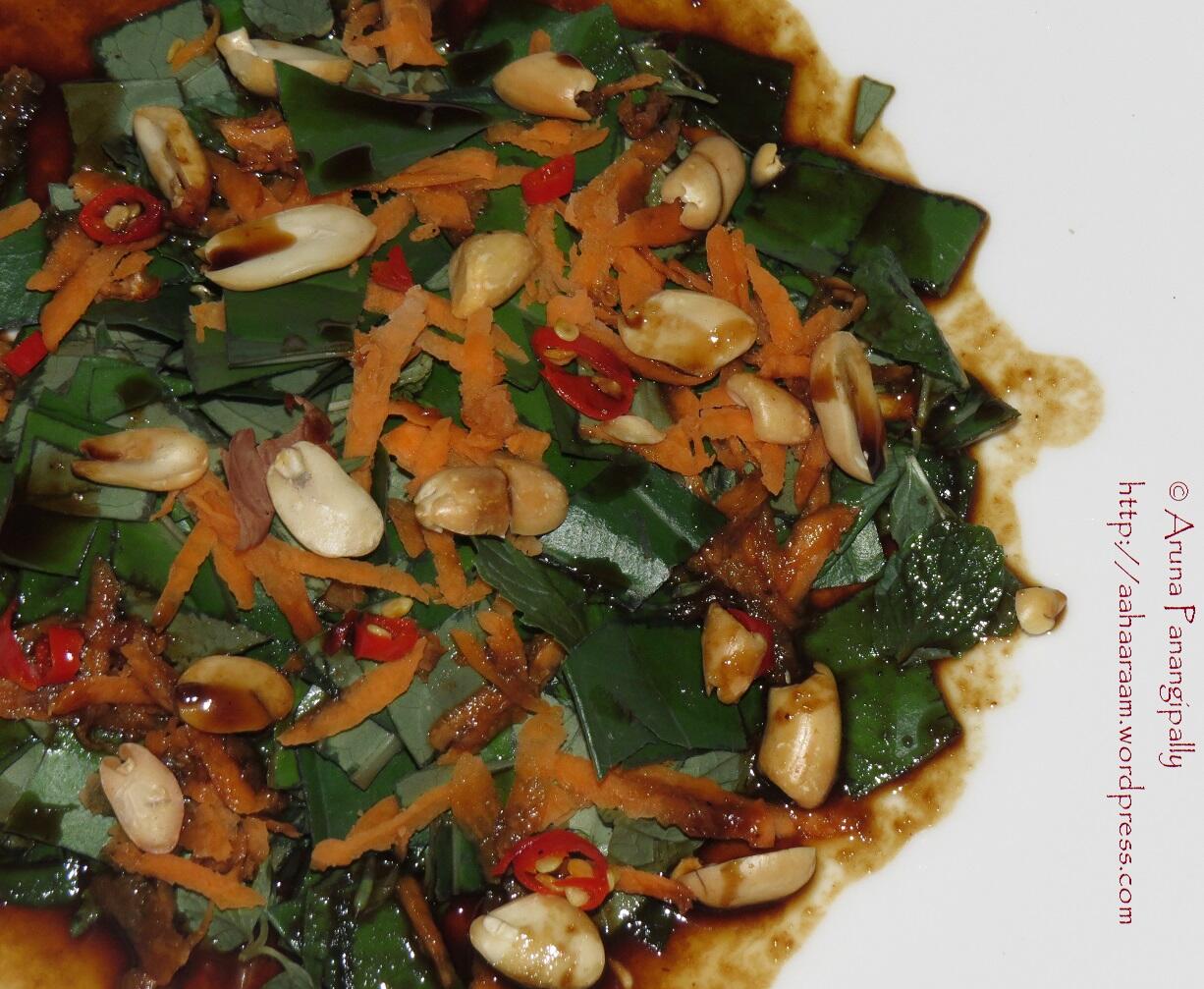 Pin
During Navaratri, I get invited to several homes to see Kolu and for Haldi-Kumkum. One of the side effects of this is the number of betel leaves and fruits that accumulate at home. I normally give away the betel leaves to my maid. Last year I made Paan Shots with some of them. Yesterday I tried this adapted this Bai Chaplu Salad and tried it with Betel leaves.
Bai Cha Plu is a wild pepper leaf found in Thailand and Vitenam. It is also sometimes called Wild Betel Leaf.
What did I like about this salad?
First there was the multiple levels of crunch; from the betel leaf itself, from the peanuts, and from the carrot. Fun while munching. 🙂
Then there was the dressing which incorporated such a medley of flavours; tamarind, lime, palm sugar, and soy. The explosion of myriad tastes in the mouth was fun.
Then there was the spice from the Thai Red Chillies and from the betel leaf itself.
All in all a memorable experience. I am going to experiment with using the wonderful dressing on other salads. I quite fell in love with it.
Serves: 2
Time: 10 Minutes
Ingredients
Betel Leaves – 16-20
Mint Leaves – A Handful
Shredded Carrot – 1/4 Cup
Roasted Peanuts – 1/4 Cup
Thai Red Chillies – 2 (These are very hot so watch out)
Palm Sugar – 1 tbsp
Tamarind Extract – 3/4 tsp
Lime Juice – 1 tbsp
Light Soy Sauce – 1 tsp
Method to Make the Dressing
Mix together the palm sugar, tamarind extract, lime juice, and soy sauce.
Mix well till the sugar dissolves.
Method to Make the Betel Leaf Salad
Cut the betel leaves into 1/2″ pieces.
Lightly crush the roasted peanuts.
Lightly bruise the mint leaves.
Chop the Thai Red Chillies into fine pieces.
Mix together the betel leaves, mint leaves, shredded carrot, peanuts and red chillies.
Drizzle the dressing over it.
Enjoy!