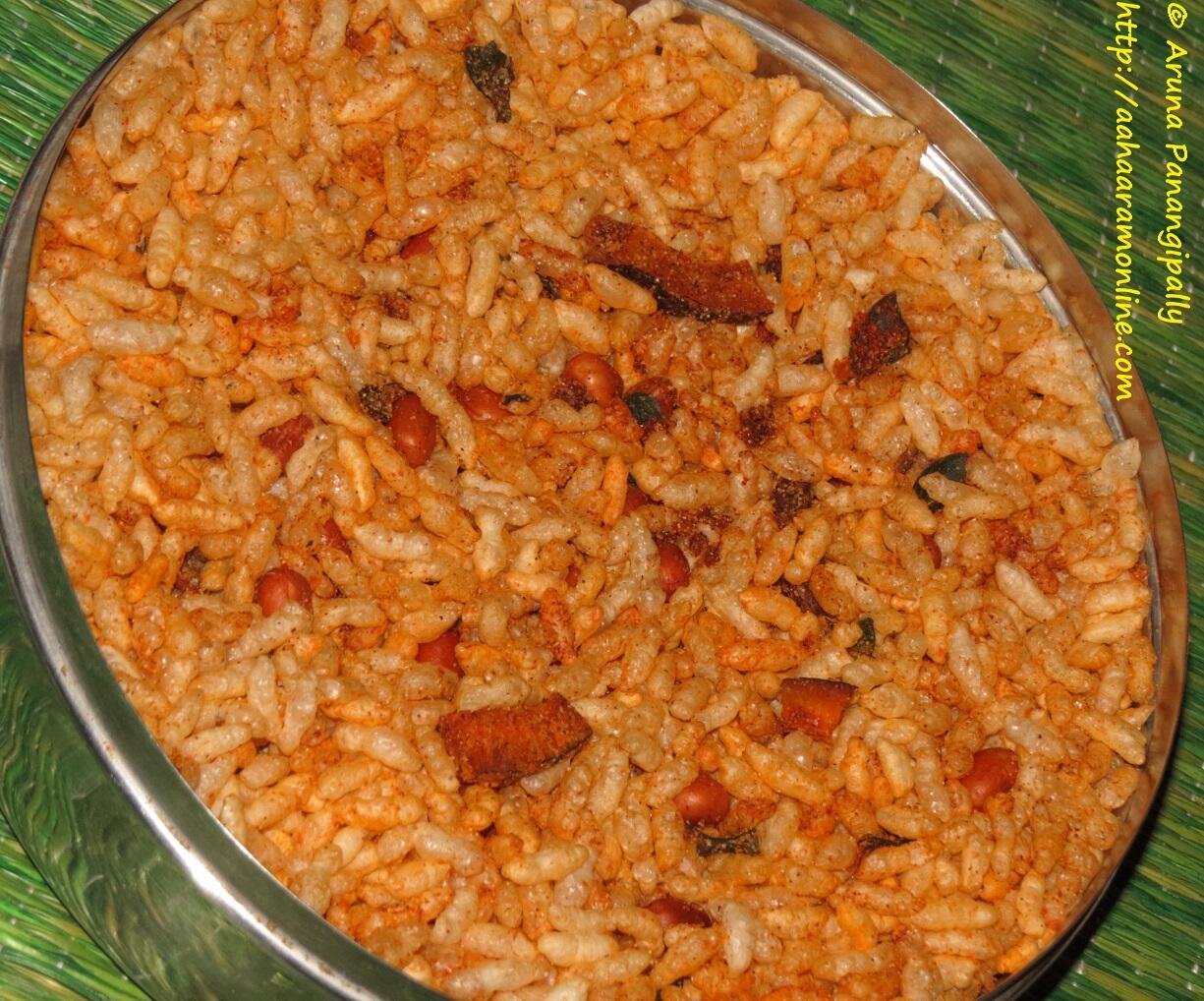 Pin
I have been craving spicy food as you must have seen by my posts on Green Chilli Pickle and Bharli Mirchi or Stuffed Green Chillies. Both these recipes are popular in Maharashtra. Keeping with the theme of spicy Maharashtrian food, here is another fiery treat. This time it is a snack called Bhadang that uses red chilli powder. On the plus side, it is supremely low calorie. 🙂
Bhadang is a spicy snack made with with Kurmura, Murmura or Puffed Rice. In addition, it has peanuts, and dried coconut or kopra, and is spiced with red chilli powder (obviously) and a Maharashtrian spice powder called Metkut (I will add the recipe soon). Even if you don't have Metkut, this snack tastes wonderful. It also has a bit of sugar but that only serves to heighten the teekka taste. 🙂
What I love about Bhadang is its capacity to satisfy that urge for "teekha" khana while being healthy because it is essentially only Kurmura.
If you want the red colour but not the spiciness use Deghi Mirch Powder or Kashmiri Chilli Powder.
How to Make Kolhapuri Bhadang
Bhadang - A Spicy Snack from Maharashtra
Bhadang is a super spicy snack from Maharashtra. It is made with Kurmura or Murmura (aka Puffed Rice) and is spiced with garlic, red chilly powder and a Maharashtrian spice mix called Metkut.
Ingredients
Ingredients for Bhadang
200

Gms

Kurmura, Murmura or Puffed Rice

2/3

Cup

Peanuts

4 or 5

Large Garlic Cloves

(Optional; I did not use any)

1/4

Cup

Dried Coconut or Kopra Slices

1

Handful

Fresh Curry Leaves

2 or 3

tsp

Red Chilli Powder

1

tsp

Turmeric

3

tsp

Metkut

Optional

2

Large Pinches

Hing or Asafoetida

1

tsp

Powdered Sugar

3

tbsp

Oil

Salt to Taste
Instructions
Method to Make Bhadang
Peel and slice the garlic cloves to thin slices.

Tear the curry leaves into small pieces.

In a large kadai or wok, heat the oil.

Turn the heat to low-medium.

Add the peanuts and stir-fry till they start to change colour.

Add the dried coconut slices or kopra, and stir-fry for a few seconds.

If you are using garlic, add the garlic slices and stir-fry till they start to change colour.

Add the curry leaves and stir-fry for a 3-5 seconds.

Add the asafoetida, red chilli powder, and turmeric.

Mix well.

Add the kurmura and mix well.

Turn off the heat.

Add the

Metkut

and Sugar Powder.

Mix well.

Store in an air-tight container.
Notes
You can dry roast the kurmura before using it in the Bhadang.
You can also use roasted dal. If you do, add it just after the peanuts are fried.
If you are not sure of how long to fry the ingredients (or are a novice cook), I would suggest that you fry each ingredient separately and add it all back together. You may have to use a wee bit more oil than usual, but you won't have to worry about over-frying or burning stuff.
Do fry the ingredients on low-medium flame. In this way, all the ingredients will fry through and through. If you use a higher flame, the ingredients fry only from the outside.