I made this classic Bocconcini Salad with Tomato and Basil Salad with Balsamic Vinegar Dressing yesterday for lunch. I was working from home and it was just too hot to eat a regular lunch, so made this salad at the spur of the moment. 🙂 Actually while I made the salad on a whim, it was a week since I had bought the ingredients.
I was actually online shopping for Cream Cheese when I chanced upon Bocconcini. I was super excited because I had enjoyed these little Mozzarella balls on my last trip to Italy. I ordered them forthwith and this Bocconcini Salad is the first dish in which I used them. This Bocconcini Salad is very very simple to make and involves no cooking.
All you need to do to make this salad is chop the tomatoes, mix them up with the basil and bocconcini and top it with a simple dressing in which Balsamic Vinegar plays a starring role! The result is a fresh salad that you can enjoy anytime.
Bocconcini is popular in South Italy (around Naples and Salerno) and is essentially Mozzarella made with Buffalo Milk. It is shaped into small balls and stored along with the whey which prevents it from drying out.
I ordered these Bocconcini from Gourmetdelight, an online Organic Food Store that delivers in Mumbai and Pune. I was very impressed with the care with which they packed my Cream Cheese and Bocconcini in dry ice so that they remain cold and do not spoil. They were also very prompt in delivery. I am quite enjoying browsing their online store and cannot wait to order the next lot of goodies.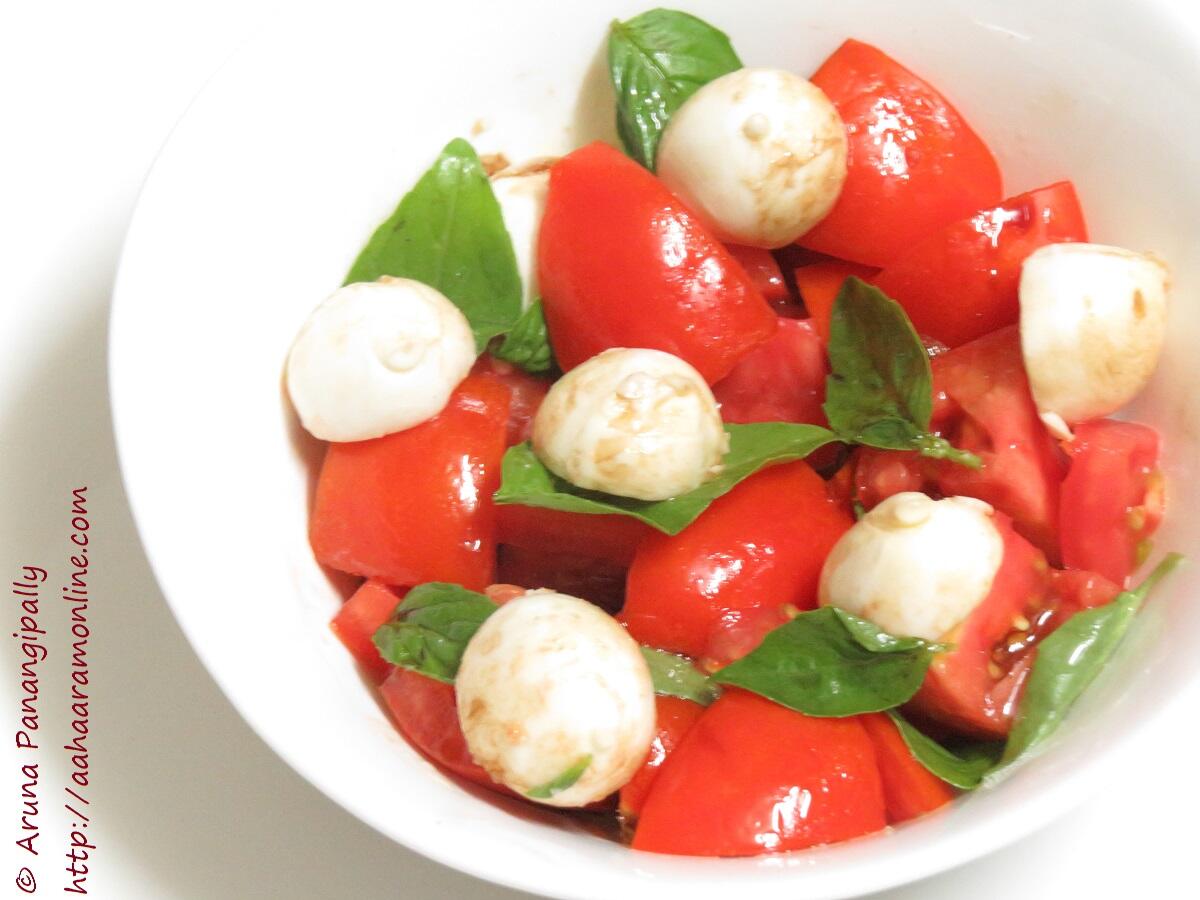 Pin
How to Make Bocconcini Salad with Tomato and Basil and Balsamic Vinegar Dressing
Bocconcini Salad with Tomato and Basil and Balsamic Vinegar Dressing
This fresh Bocconcini Salad with Tomato and Basil and Balsamic Vinegar Dressing is very light and the perfect meal for a hot summer day.
Ingredients
Ingredients for the Salad
4

Large Tomatoes

100

gms

Bocconcini

20 to 30

Fresh Basil Leaves
Ingredients for the Dressing
2

tbsp

Extra Virgin Olive Oil

1

tbsp

Balsamic Vinegar

1

Large Garlic Clove

3/4

tsp

Sugar
Instructions
Method to Make the Balsamic Vinegar Dressing
Smash the garlic.

In a glass bowl, mix together the smashed garlic, vinegar, olive oil, and sugar.

Mix well.

Set aside for 5 minutes for the sugar to dissolve.

Mix well.
Method to Make the Bocconcini Salad
Cut the tomato into 1" cubes.

Cut the Bocconcini in Half.

Mix together the tomatoes, bocconcini and basil leaves.

Dress with the Balsamic Vinegar Dressing.

Enjoy!
Notes
You can use Cherry Tomatoes cut in half instead of large tomatoes.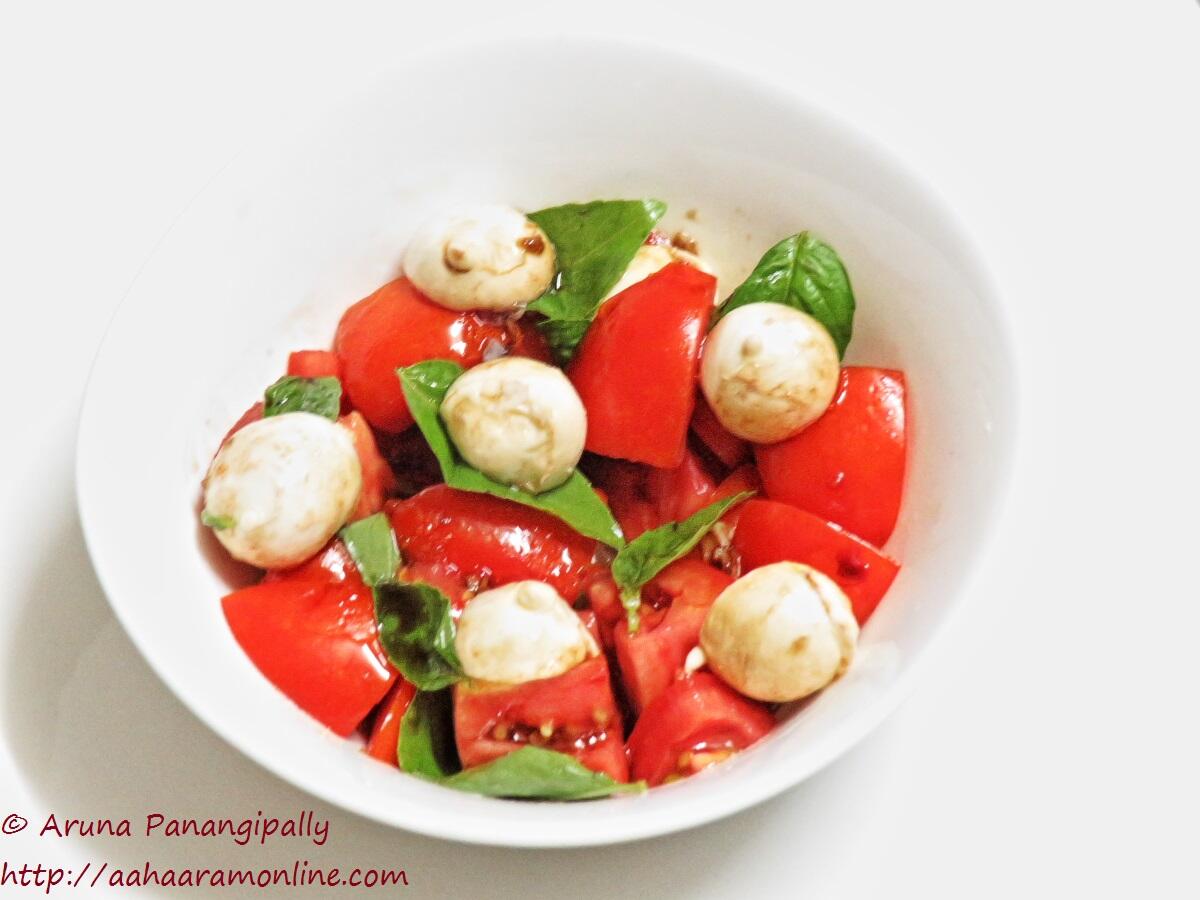 Pin