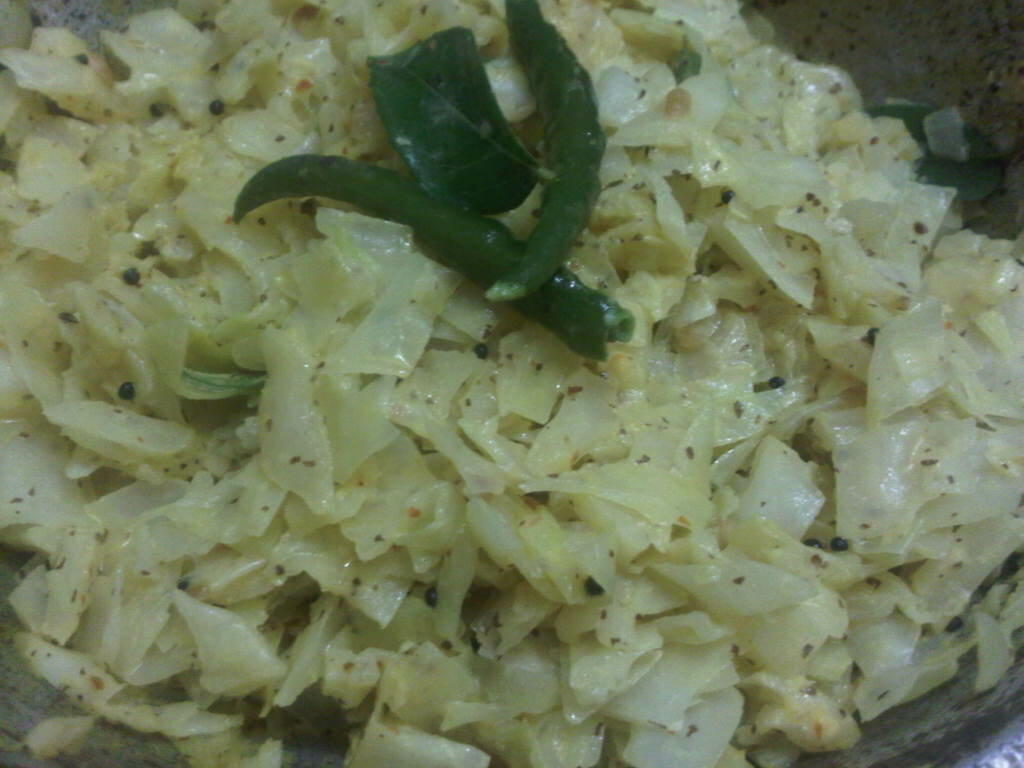 PinThis is a Cabbage Curry/Koora variation that I absolutely love. The ava/mustard paste gives the cabbage koora just the right touch of spiciness.
Ingredients
Cabbage/Gobi – 1/2 Kg
Mustard Seeds – 1.5 tsp
Raw Rice – 1 tbsp
Udad Dal/Husked Black Gram – 1 tsp
Red Chillies – 1
Green Chillies – 2 or 3
Oil – 1 tbsp
Curry Leaves – A Few
Salt to Taste
To make ava/mustard paste 
Soak 1 tsp mustard seeds and the rice in just enough water to cover them for about 1 hour.
Grind the soaked rice and mustard seeds along with one red chilli and the water they were soaked in.
To make koora
Finely chop the cabbage.
In a kadai/wok, heat the oil.
Add the mustard seeds and wait till they splutter.
Add the udad dal and fry till golden brown.
Add the slit green chillies and curry leaves.
Fry for 3-5 seconds.
Add the cabbage.
Sprinkle about 1/2 a cup of water.
Mix well.
Cover and cook over medium heat till the cabbage is cooked.
Stir at regular intervals and sprinkle more water, if required.
When the cabbage is cooked, add the salt and mix well.
Add the mustard paste and mix well.
Cook for 3-5 minutes while stirring constantly.
Serve with rice or chapatis.
Tips
The cabbage is cooked when it gets a translucent look.
Sprinkle more water if you feel the need.
Do not add too much water as then you will have a mushy koora. 🙁
Related articles