Sambar Rice always cries for a crispy stir-fry to accompany it; be it Potato Fry, Yam Fry, or then Arbi Fry (Chama Dumpa Vepudu in Telugu). The other day I spotted fresh arbi/chama dumpa in the market and got them in advance for a Sunday afternoon meal. 🙂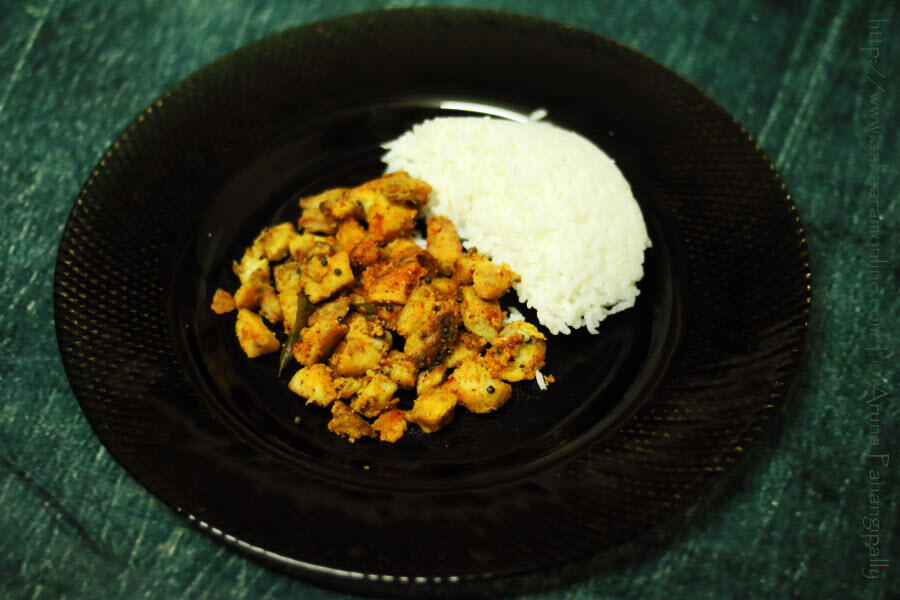 Chama Dumpa (aka Arbi in Hindi and Taro Root or Colocasia in English) has an unsavoury reputation for being slimy and becoming a mashed mess if not cooked properly. In my home, the only way to cook this vegetable is to make Chama Dumpa Vepudu or frying arbi to a crispy state. This, however, needs some patience as slow stir-fry is the only way to get it to be crisp.
Also, this is one dish that should be eaten immediately. Somehow, I don't think reheated arbi fry tastes as good. 🙁
Recipe for Chama Dumpa Vepudu | Crisp Arbi Fry from Andhra Pradesh
Chama Dumpa Vepudu | Crisp Arbi Fry from Andhra Pradesh
I love crispy, fried arbi with my sambar rice or curd rice. The crunch of these fried vegetables is most welcome on a weekend meal, when calorie-watching is at an all-time low.
Ingredients
400

gms

Arbi, Chama Dumpa, Taro Root, Colocassia

2

tsp

Chilli Powder

1/2

tsp

Turmeric Powder

1

tsp

Mustard Seeds

6 to 8

Curry Leaves

4 to 6

tbsp

Oil

Salt to Taste
Instructions
Wash the arbi well and boil in enough water till they are cooked. When you run a knife through the arbi, it should go through smoothly but the arbi should still be firm.

Drain all the water and let the arbi cool a bit.

Peel the arbi and cut into 1″ pieces.

In a kadhai, over medium flame, heat the oil.

Add the mustard seeds and wait till they splutter.

Add curry leaves and stir-fry for a few seconds.

Add the boiled arbi pieces and stir-fry till the pieces turn golden brown and crisp on the outside.

Add the salt, turmeric and chilli powder.

Serve hot with Sambar Rice or Curd Rice.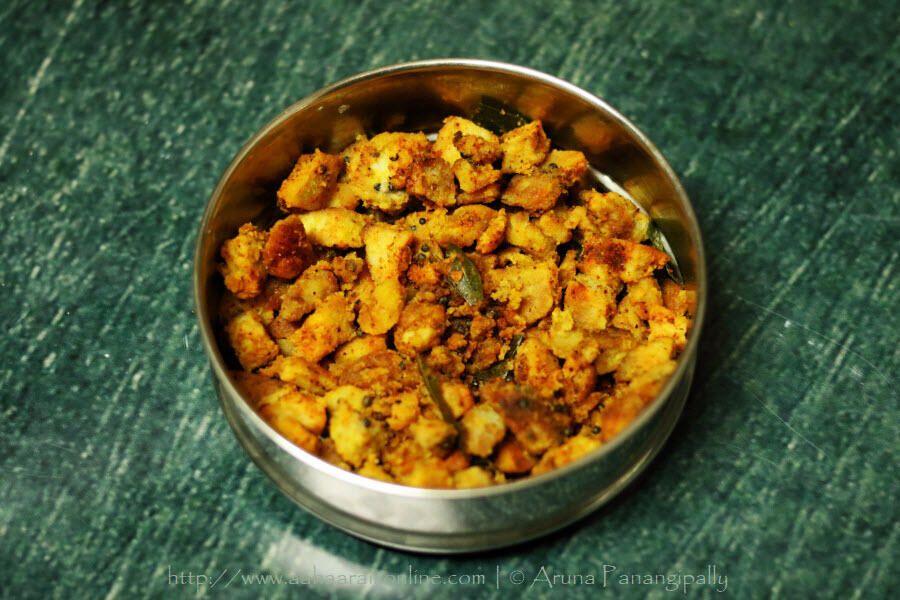 How to Make Chama Dumpa Vepudu | Andhra Taro Root Fry
Scrub the chama dumpa thoroughly to get rid of all the dirt.
Add the chama dumpa to a large vessel that will fit in your pressure cooker.
Add enough water so that the water level rises to about 1/2″ above the arbi.

Pressure cook the arbi for 2 whistles (2 releases of pressure).
Let the cooker cool a bit.
Drain the water and rinse the arbi in cold water.
Peel the arbi.

Cut in 1/2 along the length and cut into 1/2″ pieces.
In a kadai, heat the oil.
Add the mustard seeds and wait till they splutter.
Add the curry leaves and stir-fry for a few seconds.
Add the cut arbi pieces and mix well.

Over low to medium heat, let the arbi pieces fry while turning them over at 2-3 minute intervals.
Fry till all the pieces have started to turn golden brown on all sides.
Turn off the heat.
Add salt, turmeric and red chilli powder.

Mix well.

Serve hot with sambar rice or curd rice.
Tips
Be careful not to overcook the arbi. If you do you will have to serve arbi mash.
Arbi is done when you feel a little bit of resistance while cutting through it. If a knife goes through it like butter, you are in trouble. If the arbi is very hard, you are still in trouble but at least can cook it some more to rescue the situation. 🙂
Adding salt while boiling the arbi reduces the risk of over cooking.
Do not cover the arbi while stir-frying or after. Then you will not have a crisp stir-fry. 🙁
I use a kadai with a broad-base so that the arbi pieces are well spread out and fry evenly.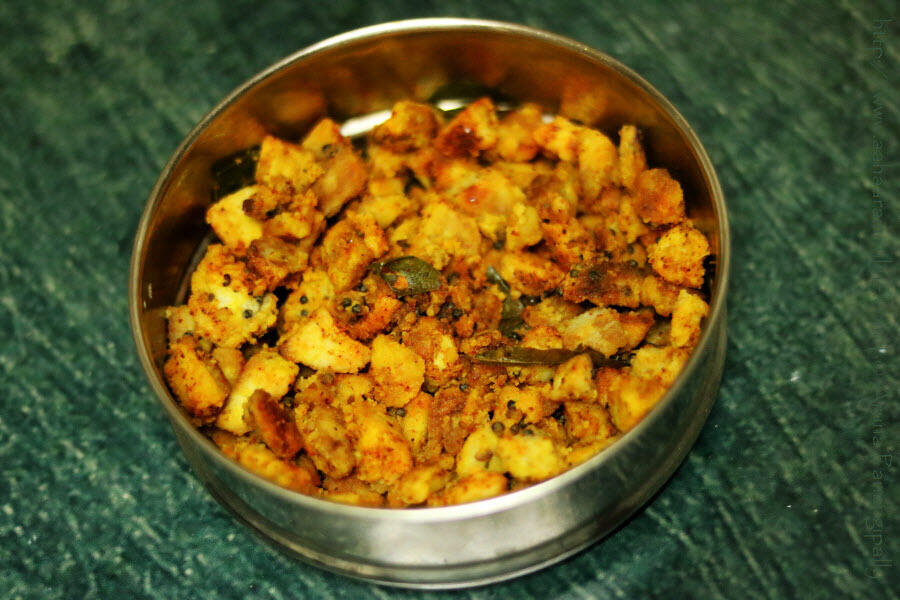 This recipe was first posted in March 2014 and has been updated with new pictures and better instructions. 🙂