Are you one of those people who absolutely relish the dough made for vadiyalu (vadam, kurdayi)? I am, and my mother and grandmother used to say I eat more of the batter raw than I make vadiyalu with. So this Gujarati Rice Khichu is absolutely THE dish for me to enjoy as a snack.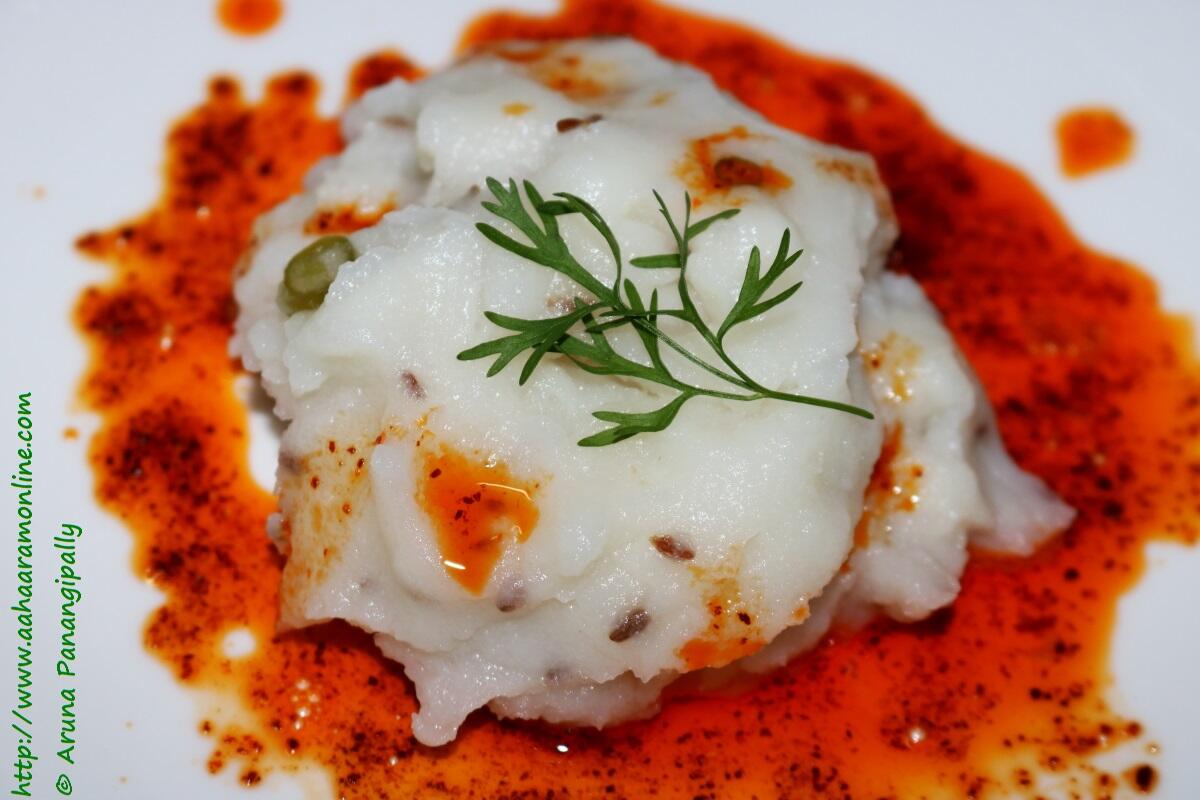 It is best described as rice flour cooked in water spiced with green chillies and cumin. That is it. For those of you used to making vadiyalu (vadi), this is exactly the dough for Biyyam Pindi Vadiyalu/Sun-dried Rice Flour Fritters. As a bonus, Rice Khichu is served with oil flavoured with chilli powder, which is just the perfect accompaniment for this mellow dish.
In Maharashtra, there is a very similar dish called Ukad while Tamil Nadu has a dish called Mor Kali or Mor Koozh. Both these use buttermilk instead of water.
I learnt of Rice Khichu last week, when my neighbour shared some with me. It was made by her sister-in-law Savita Malde who is also a neighbour. Since that day I have been waiting for an opportunity to make it, and one presented itself today. 🙂
Thank you, Savita Aunty, for this simple yet wonderful dish. It will now be a regular dish in my home! I am indeed blessed to learn so much from you, Hetal, and Isha.
Also try Hetal's recipes for Kela Methi ki Sabzi and a wonderful desert called Fusion Delight (hint: It has Gajar ka Halwa and Apple Cinnamon Sauce)
Without further ado, here is a detailed how-to for this wonderful Rice Khichu.
How to Make Gujarati Rice Khichu | A Step-by-Step Method
I added green chillies, salt, and cumin to 4 cups of water.

Next, I set this water to boil so that the salt dissolves and the flavours of the chilli and cumin are infused into the water.
After the water was boiling for about 3 minutes, I turned down the flame to low. You can even turn off the heat.
Then I added the rice flour to the boiling water and mixed immediately so that there are no lumps.

Stir continuously so that the rice flour is well incorporated and there are no lumps. A simpler way is to make a paste of the rice flour in 1/2 cup water and then add the paste to the boiling water while stirring constantly. This way you will not have the rice flour become lumpy.

Turn the flame down to medium.
Cover and cook for 3 to 5 minutes.
Mix occasionally.
When the Rice Khichu starts leaving the edges, and retains shape as you are stirring, it is ready to enjoy!
Divide the hot Rice Khichu into four equal portions and add each portion to a plate or a bowl.
In a ladle, heat the oil.
Turn off the heat and add the chilli powder.
Mix well.
Immediately drizzle the oil over each portion of the Rice Khichu.
Sprinkle some coriander over each portion.
Enjoy hot with some hot tea!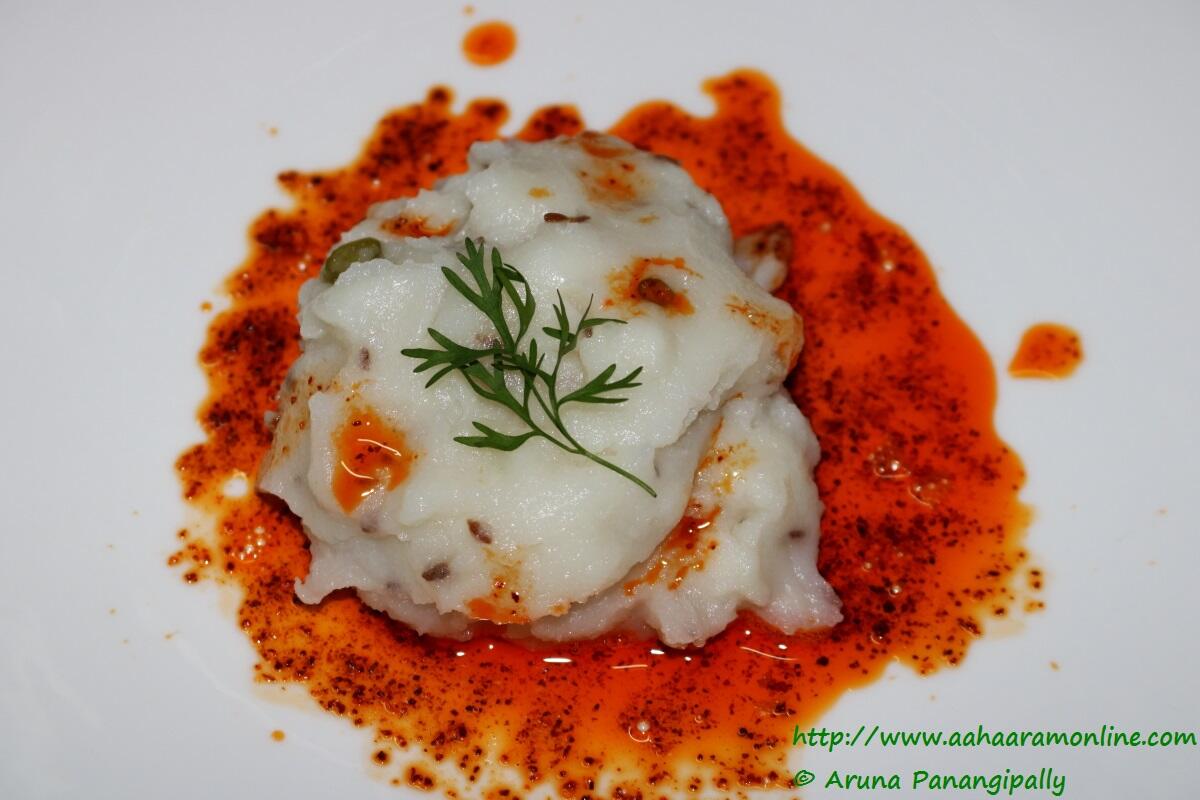 Recipe for Gujarati Rice Khichu
Gujarati Rice Khichu
Gujarati Rice Khichu is a simple dish made by cooking rice flour in spiced water. It is served with chilli oil on the side and makes for a great breakfast or snack!

Ingredients
For the Rice Khichu
1

Cup

Rice Flour

1

tbsp

Finely Chopped Green Chillies

1/2

tbsp

Cumin Seeds

4

Cups

Water
For the Chilli Oil
4

tbsp

Oil

Sesame or Groundnut, preferred

2

tsp

Red Chilli Powder

Spicy Preferred

Salt to Taste
For Garnish
1-2

tbsp

Finely Chopped Coriander
Instructions
Making the Rice Khichu
Add the green chillies, cumin, and salt to the water.

Boil the spiced water for 2-3 minutes.

Taste the water. It should be salty. Add salt, if required.

Turn the heat down to low.

Slowly add the rice flour to the simmering water while stirring continuously.

Mix well to ensure there are no lumps.

Turn the heat up to medium and cook covered for 3 to 5 minutes. Mix occasionally.

When all the water is absorbed and the Rice Khichu starts to leave the sides, turn off the heat.

Divide into 4 equal portions.

Drizzle some chilli oil and garnish with coriander.
Notes
Traditionally, Papad Khar is added to the Rice Khichu. I did not have any at home so did not add any. It did not affect the taste.
Many recipes I saw online use Soda Bicarb as a substitute for Papad Khar. I did not add any.
This is a dish best served hot. It is not as appetizing when served cold.
Nutrition
Calories:
277
kcal
Carbohydrates:
33
g
Protein:
3
g
Fat:
15
g
Saturated Fat:
1
g
Trans Fat:
1
g
Sodium:
42
mg
Potassium:
64
mg
Fiber:
2
g
Sugar:
1
g
Vitamin A:
313
IU
Vitamin C:
1
mg
Calcium:
21
mg
Iron:
1
mg