As I was planning a series of posts for Iftar and Sehri/Suhoor during Ramzan, I found that I was thinking a lot about sweet dishes. For some reason, I could not think beyond biryanis and pulaos in savoury dishes. It so happened that I was chatting with my friend Aparna (she of the Orange Blossom Water fame) at that time and asked to name a few dishes. She instantly mentioned Kebabs and I could have kicked myself for not thinking of them.
So came about the idea of Dahi ke Kebab (Kababs made of Yogurt that I blogged about recently) and Kale Chane ke Kebab (Kababs made with whole Bengal Gram).
I looked up the Internet for various recipes of Kale Chane ke Kebab and found a great deal of variety including this stuffed one from Chef Pankaj Bhadouria. However, because I intended this kebab as a vegetarian starter for Iftar, I made a simpler, shallow-fried version, which is quite tangy and spicy.
Makes: 10 to 12 x 2″ Kebabs
Soaking Time: 8 to 12 Hours
Cooking Time: 45 Minutes
Ingredients
Kale Chane or Whole Bengal Gram – 1.5 Cups
Besan or Gram Flour – 2 Tbsp
Green Chillies – 4
Fresh Coriander Leaves – 1/4 Cup
Fresh Mint Leaves – 2 tsp
Coriander Powder – 1/4 tsp
Roasted Cumin Powder – 1/4 tsp
Red Chilli Powder – 1/2 tsp (Optional)
Amchur Powder – 1/2 tsp
Lemon Juice – 1 tbsp
Salt to Taste
Oil – 2 to 3 tbsp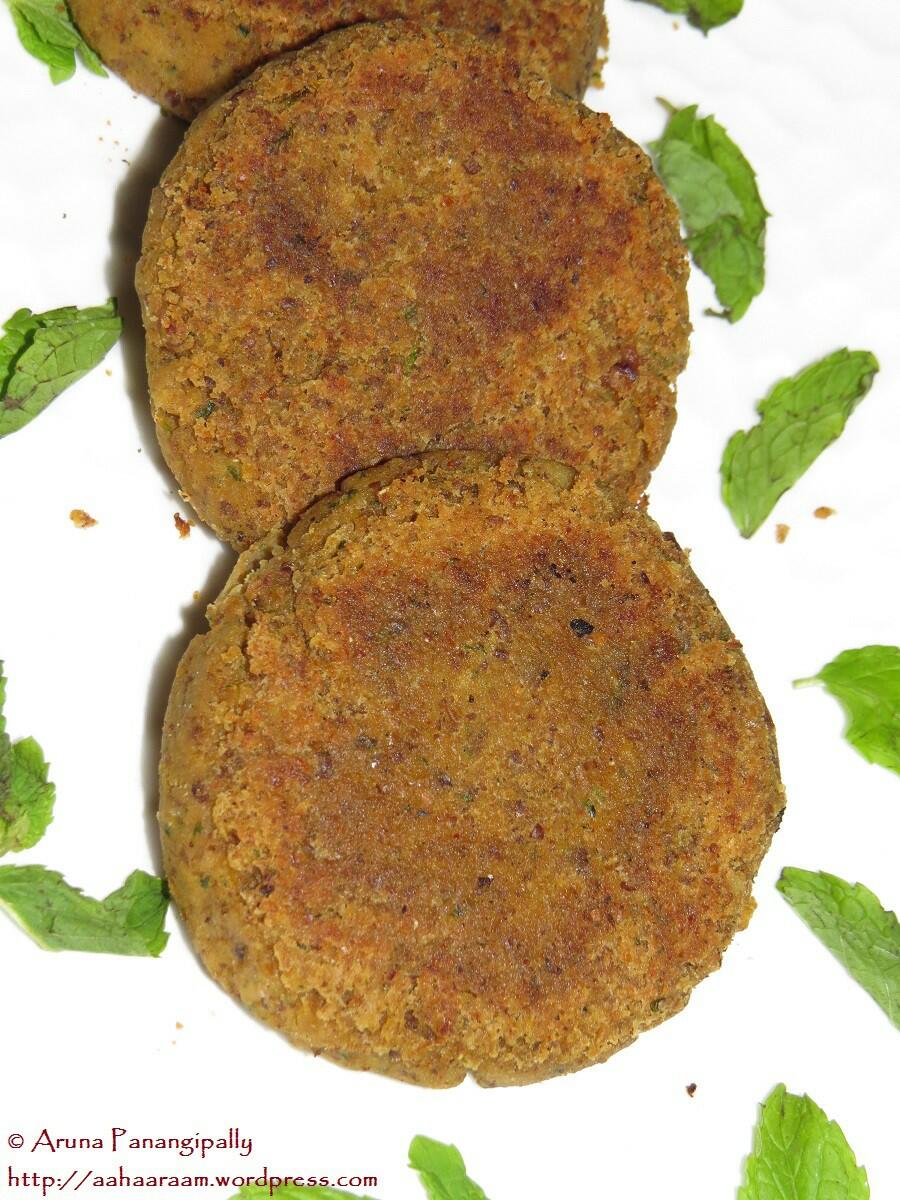 Pin
Method to Make the Dough for Kale Chane ke Kebab
Soak the Kala Chana in 3-4 Cups of water for at least 8 hours.
Drain the water completely.
Pressure cook the soaked chana in about 3 cups of water for 3 whistles or till they are soft.
Using a colander, drain the water completely.
Leave the boiled chana in a colander for at least 15 to 30 minutes.
Dry roast the besan till it starts to change colour.
Set aside.
Grind the green chillies, mint, and fresh coriander into a coarse paste.
Without using any water, grind the soaked kala chana to a coarse paste.
Place the ground kala chana in a large plate or bowl.
Add the coriander powder, roasted cumin powder, amchur powder, red chilli powder, lemon juice, and coriander-mint-green chillies paste.
Mix well.
Add salt and lemon juice. Mix well.
Add the besan a little at a time till the dough is soft but firm. If required, add a little water (1 tsp at a time).
Set aside for 5 minutes.
Method to Make the Kale Chane ke Kebab
Grease your palms.
Divide the dough into 10 to 12 equal portions.
Roll each portion into a ball.
Pat each ball into a 1/2″ thick circle.
Shape all the kebabs.
Heat a non-stick pan till it is just hot.
Turn the heat down to medium.
Add about 1/4 tsp of oil.
Place a few kebabs on the pan about 1″ apart.
Cook for about 2-3 minutes or till the side touching the pan is nicely browned and crisp.
Flip over and drizzle a few drops of oil along the edges of the kebabs.
Cook till the flip side is golden brown as well.
Serve the Kale Chane ke Kebab with Dahi Wali Pudina Chutney or Tomato Ketchup.
Tips
Drain the boiled chana well. I actually left it to drain for about 2 hrs.
Add just enough besan to make a firm yet soft dough.
The kebabs dry out quickly so do not fry them too long.
I have not tried deep-frying these kebabs.
Be careful about the amount of salt you use because of the amchur and lemon juice.
You can make the kebabs in advance and refrigerate them in ziploc bags. Leave them out for 10 minutes before shallow frying them.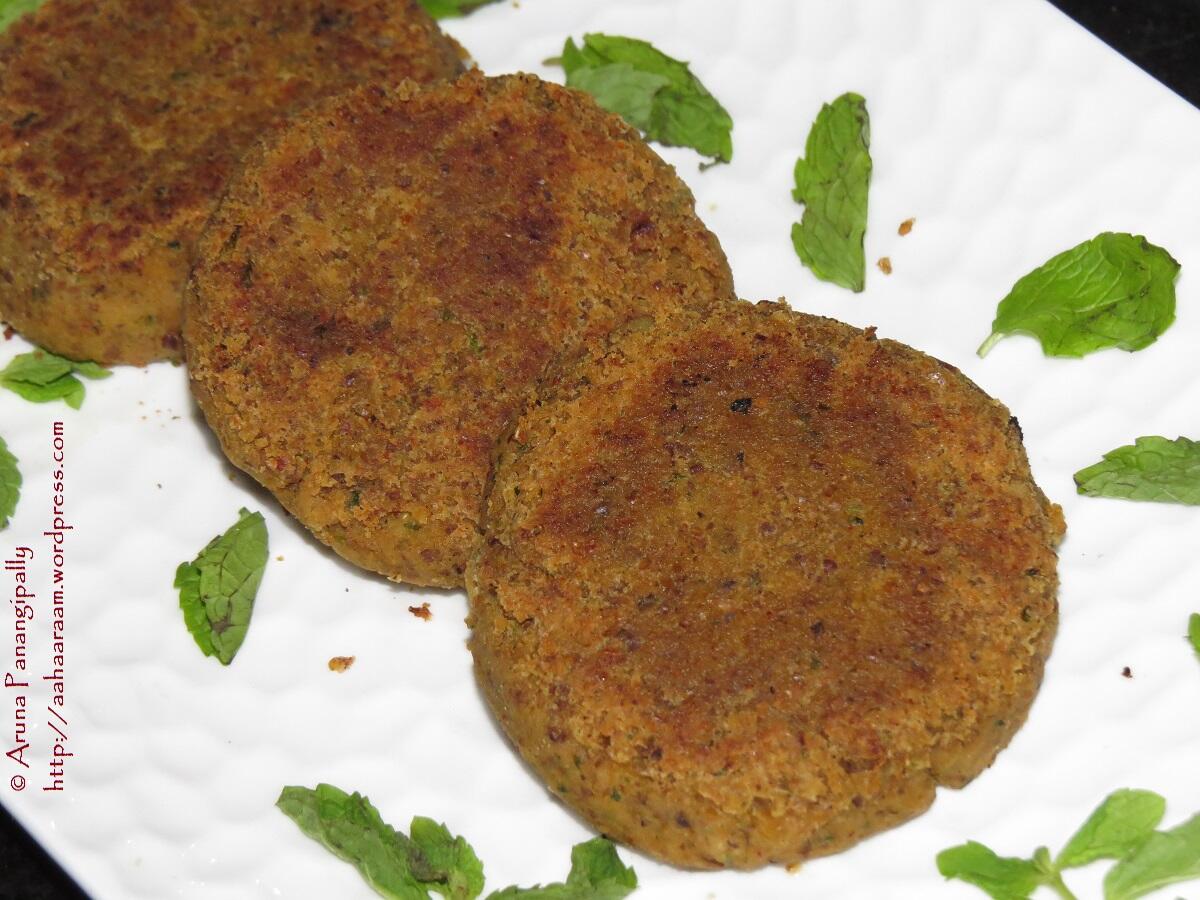 Pin