Ksheerannam is a rich, creamy, and solid version of the Chawal ki Kheer. Once you have tasted this rice and milk pudding from Andhra Pradesh, you won't find it easy to settled for the simple rice kheer. 🙂 It is also one of the must have naivedyams for Sharad Navratri.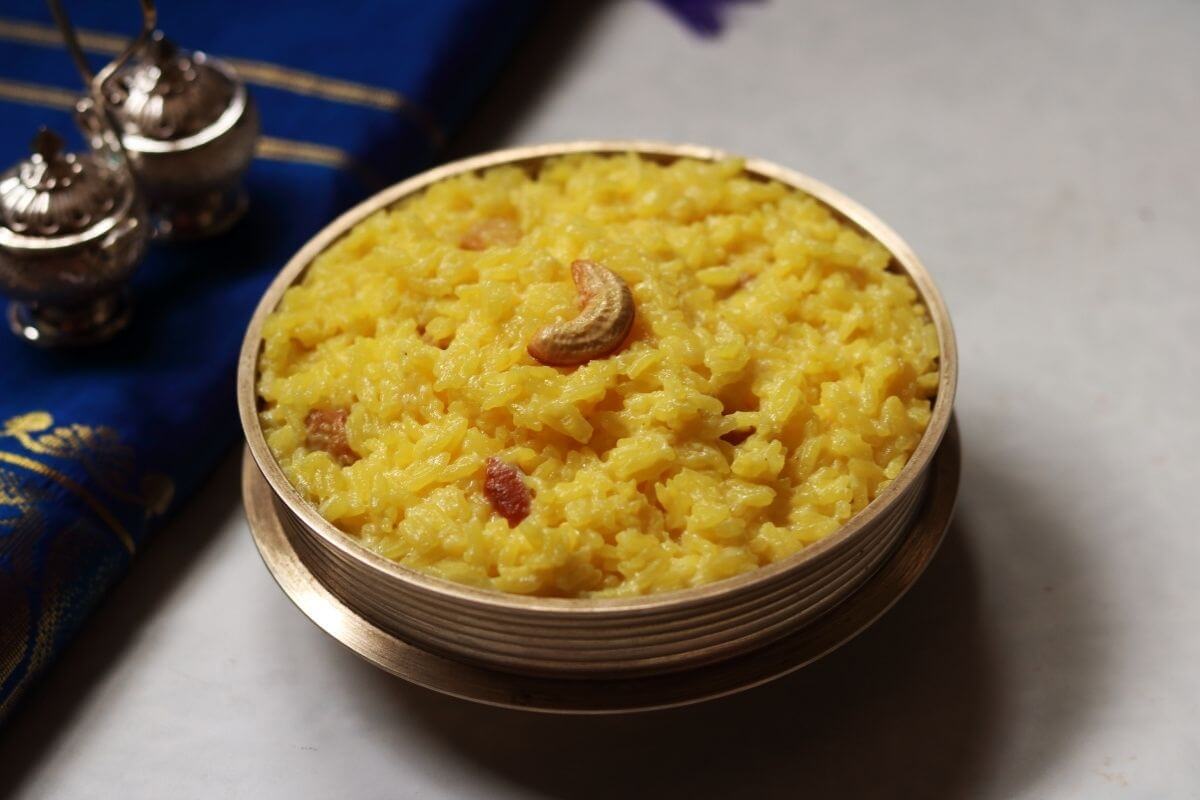 Today, I made Ksheerannam for naivedyam out of sheer nostalgia.
With the pandemic keeping temples closed, for the past 18 months (and counting), I have not been able to savour prasadam from temple. One temple that I very much miss visiting is the Venkateshwara Temple at Phanaswadi in Mumbai. An oasis of calm tucked away in a small lane of the busy old Mumbai, this temple serves the best Ksheerannam that I have ever tasted.
Ksheerannam is made by cooking rice in milk till all of the milk is absorbed. The result is a creamier, richer and solid version of Paramannam | Paravannam or the Rice Kheer from Andhra Pradesh. This rice and milk pudding needs just 4 commonplace ingredients—milk, rice, sugar and saffron—and slow cooking over 45 minutes. The slow cooking of the rice releases a lot of starch into the milk that gives the Ksheerannam its rich and creamy texture.
Tips to Make a Creamy Ksheerannam
Use relatively freshly harvested short-grained rice (less than 6 months old) to make this dish. Aged rice does not release starch easily. If you use aged rice, the Ksheerannam will not be very soft as it should be.
Use full fat milk for the best results. However, I have made Ksheerannam with low fat milk with very good results. You could also choose to use a mix of full fat and low fat milk.
The simple measurements for this dish are rice and sugar in equal amount, and 6 times as much milk as the amount of rice. So if you use 1 cup rice, use 1 cup sugar and 6 cups milk.
Cook the Ksheerannam in a heavy-bottomed vessel and on medium heat. If you use high heat, you will only succeed in burning it or then having half-cooked rice.
Add sugar at the end. If you add sugar at the start, it will cause this Chawal ka Kheer to char at the bottom.
Most important: Stir constantly! 🙂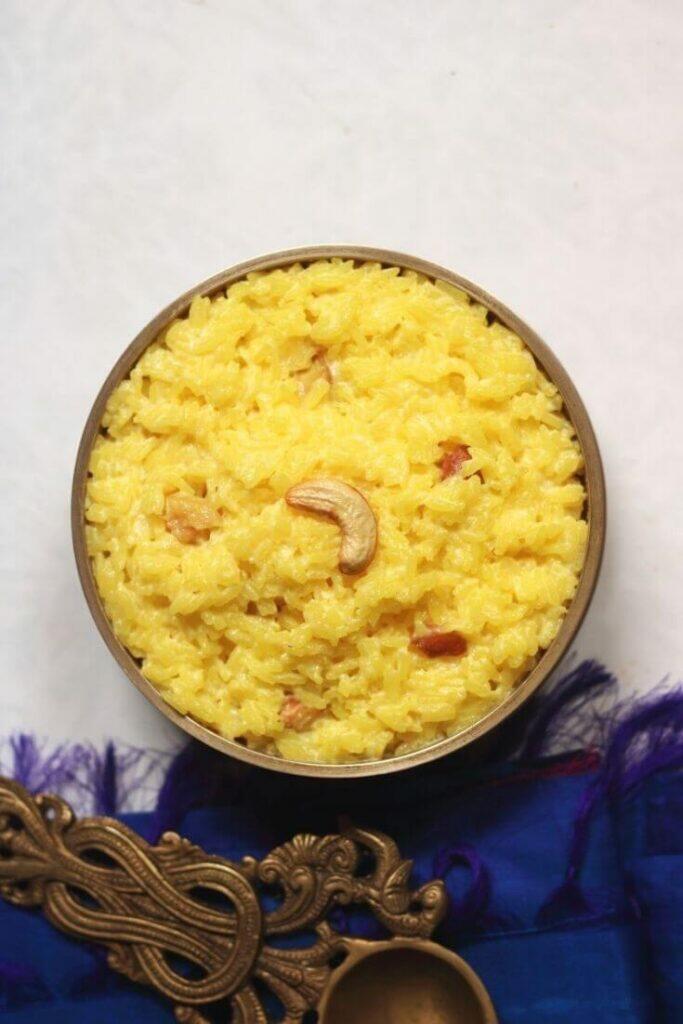 How to Make Ksheerannam, The Creamy Rice Pudding from Andhra Pradesh
Wash 1/2 cup rice well.
Drain all the water and set aside.

In a heavy-bottomed vessel, over medium heat, boil 1/2 litre milk along with 8 to 10 strands of saffron.

When the milk starts to boil, add the washed rice to it.

Over medium heat, cook the mix while stirring continuously till the rice is cooked and all the milk is absorbed. This will take about 40 minutes.

When the milk is absorbed and the rice is cooked, turn off the heat.

Add the sugar and mix well till the sugar is absorbed.

In a ladle, melt 1 tsp ghee.
Add 2 tbsp of split cashew pieces to the ghee and fry till light brown.
Add the fried cashew pieces to the Ksheerannam.

Mix well.

Offer as Naivedyam and enjoy as Prasadam. 🙂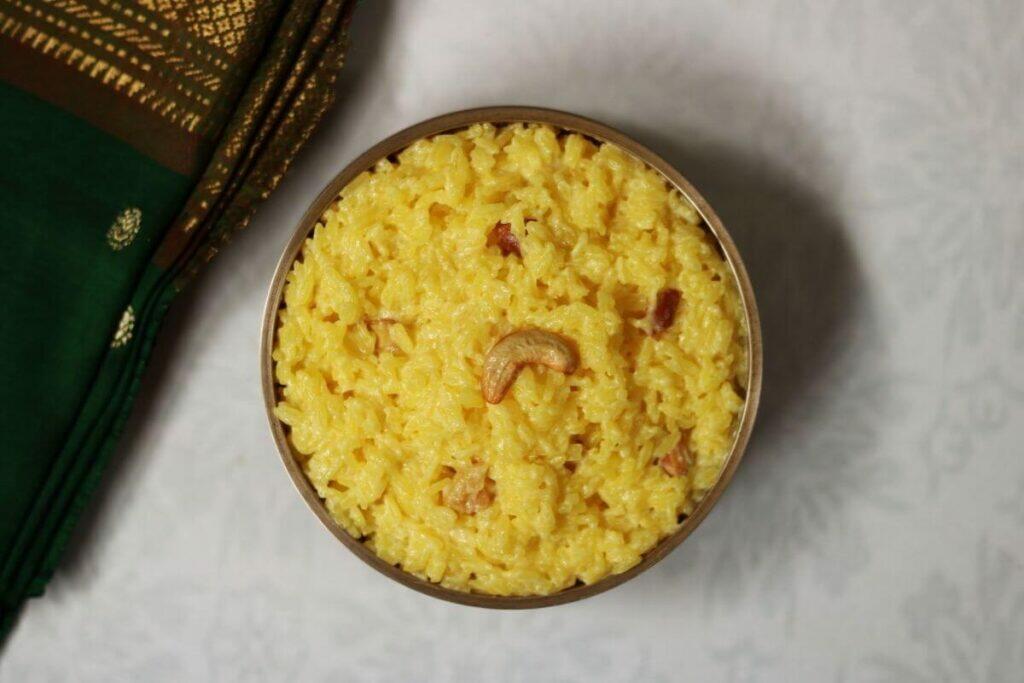 I first posted this recipe in October 2013 and am now updating it with new photos and a recipe card.
Recipe for Ksheerannam: The Creamy, Saffron-flavoured Rice Kheer (Chawal ka Kheer) from Andhra Pradesh
Ksheerannam: Thick, Rich and Creamy Rice Kheer
Think of Ksheerannam as thick rice kheer. It is made by cooking rice in saffron-flavoured milk till all the milk is absorbed. The starch that is released from the rice during the cooking and the thickening of the milk makes Ksheerannam really creamy and rich. This dish is a must have naivedyam during Navratri.
Equipment
Heavy-bottomed Vessel (1 litre capacity)

Spatula

Tempering Ladle
Ingredients
500

ml

Full-fat Milk

1/2

Cup

Rice

(125 gms)

1/2

Cup

Sugar

(125 gms)

8 to 10

Strands

Saffron

2

tbsp

Cashew

(Split into pieces)

1

tbsp

Ghee
Instructions
Wash 1/2 cup rice well.

Drain all the water and set aside.

In a heavy-bottomed vessel, over medium heat, boil 1/2 litre milk along with 8 to 10 strands of saffron.

When the milk starts to boil, add the washed rice to it.

Over medium heat, cook the mix while stirring continuously till the rice is cooked and all the milk is absorbed. This will take about 40 minutes.

When the milk is absorbed and the rice is cooked, turn off the heat.

Add the sugar and mix well till the sugar is absorbed.

In a ladle, melt 1 tsp ghee.

Add 2 tbsp of split cashew pieces to the ghee and fry till light brown.

Add the fried cashew pieces to the Ksheerannam.

Offer as Naivedyam and enjoy as Prasadam. 🙂
Nutrition
Calories:
324
kcal
Carbohydrates:
52
g
Protein:
7
g
Fat:
10
g
Saturated Fat:
5
g
Polyunsaturated Fat:
1
g
Monounsaturated Fat:
3
g
Cholesterol:
22
mg
Sodium:
59
mg
Potassium:
260
mg
Fiber:
1
g
Sugar:
32
g
Vitamin A:
213
IU
Vitamin C:
2
mg
Calcium:
152
mg
Iron:
1
mg