What a wonderful month December has been! Lots of travel, lots of learning, and lots of work; one cannot ask for more. One of the many learnings this month was the wonderful cuisine from the state of Bihar and here I am with one of the recipes I tried; the traditional Bihari Litti Chokha.
I have been meaning to try Litti Chokha for a while now and when the Shhhhh Cooking Secretly Challenge group chose Bihar as the state whose cuisine we explored, I was hoping for ingredients that I would help me try this wonderful dish. My partner for this month, Shobha Keswani who blogs at Shobha's Food Mazaa, gave me wheat flour and lemon juice, and here I am with the recipe I wanted to try.
Litti Chokha is actually a combination of two dishes:
Litti. Baked balls made of wheat flour and stuffed with Sattu spiced with ajwain (carom seeds), jeera (cumin), lemon juice, and more. Sattu is the flour made from roasted bengal gram and is known for its high nutrition content.
Chokha. This is a mash that can be made in different ways. I made mine with aloo, baingan, and tamatar (aka potatoes, brinjals, and tomatoes).
Sattu flour is fine-ground bhuna chana (roasted bengal gram), so you can make it at home very easily. 🙂

Chokha, when made with brinjal, is a variation of Baingan Bharta.
The end result was a spicy Litti that was crisp on the outside and soft on the inside. Paired with the mild aloo-baingan-tamatar Chokha, it was just a wonderful meld of flavours that made for a great main meal or just a party starter!
So without much ado, here is the recipe for Litti Chokha.
How to Make Litti Chokha | A Traditional Recipe from Bihar
Litti Chokha
Litti Chokha is a traditional recipe from Bihar, which has two parts. The Litti that are baked wheat flour balls stuffed with a spiced Sattu mix and Chokha, a type of spiced mash that I made with roasted brinjals, potato, and tomato.
Ingredients
For Making the Covering of the Littis (Makes 12 to 16 Small Litti)
1

Cup

Wheat Flour

1

tsp

Ajwain, Carom Seeds

2

tsp

Ghee

1/4

tsp

Baking Soda

Optional

Salt to Taste

Warm Water, As Required
For Making the Stuffing of the Littis
2/3

Cup

Sattu

1

tsp

Ajwain, Carom Seeds

1

tsp

Jeera, Cumin Seeds

1/2

tsp

Lemon Juice

1

tbsp

Finely Chopped Chillies

2

Bharwan Lal Mirch Achar

Or any other Pickle masala

1/3

Cup

Finely Chopped Fresh Coriander

Salt to Taste

Water, As Required

Ghee, As Required
For the Chokha
1

Large

Brinjal

1

Large

Potato

2

Medium

Tomatoes

1

Cup

Finely Chopped Onion

3

Spicy Green Chillies

1"

Piece

Ginger

1/2

Cup

Finely Chopped Coriander

2

tbsp

Mustard Oil

Salt to Taste
Instructions
Making the Litti Covering
Mix together the wheat flour, ajwain, and salt.

Add ghee and soda (if using); mix well.

Add a little water at a time and make a firm but pliable dough.
Making the Litti Stuffing
Grind together the bharwan lal mirch, green chillies and ginger to a fine paste.

In a large bowl, combine sattu, green chilly-ginger-lal-mirch paste, salt, lemon juice, coriander, ajwain, and jeera.

If the mix is dry, add just a little bit of water and mix till the dough starts to come together.
Making the Litti
Pre-heat the oven to 150°C.

Divide the dough for the covering into 12 portions and roll each portion into a ball. Set aside.

Divide the stuffing into 12 portions and roll each portion into a ball. Set aside.

Roll each covering portion into a 3" disc.

Place one portion of the stuffing into the centre of the disc.

Fold the edges of the covering over the filling and roll to form a ball.

Gently press the litti to form a slightly flattened ball.

Brush each litti with a generous portion of ghee.

Place all littis of a tray and bake for about 15 minutes till they turn golden brown. Turn them once or twice so that they are evenly baked.

Remove from the oven and let cool a bit.
Making the Chokha
Pre-heat the oven to 150°C.

Wash the potato and scrub it clean.

Dry the potato thoroughly and lightly coat it with oil.

Wipe the tomatoes clean and lightly coat it with oil.

Place the potato and tomatoes on a tray and place them in an oven.

Check the vegetables at regular intervals and rotate them a bit.

Remove the tomatoes from the tray as soon as the skin starts to split and the tomatoes turn mushy.

Let the potatoes bake some more till the skin is all wrinkly.

Remove the potato from the tray.

Let the tomato and potato cool a bit.

Peel and mash both the vegetables.

While the potato and tomatoes are baking, lightly oil the brinjal and roast on an open flame.

After the brinjal is roasted (the skin is totally charred and splits), let it cool a bit.

Peel the brinjal and mash it.

Combine the potato, tomato, and brinjal mash.

Add chopped onions, coriander, chopped green chillies, mustard oil and salt.

Mix well and your Chokha is ready.

Set aside for at least 15 minutes so that the flavours meld.
Serving the Litti Chokha
You could dip the warm baked Litti in some ghee or then (if you are a conservative like me) just brush them with some ghee.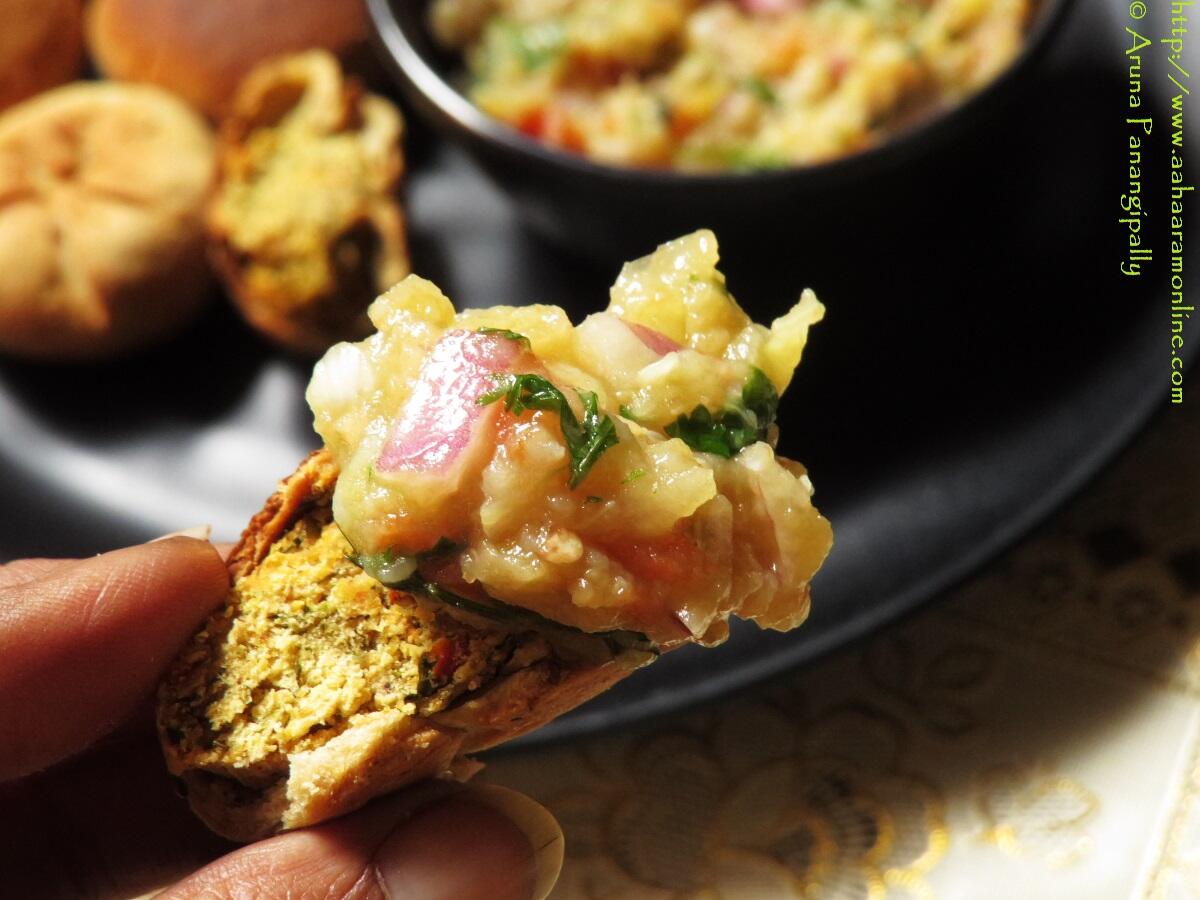 Pin
I am taking this delightful dish from Bihar to the party at the Shhhhh Cooking Secretly Challenge group.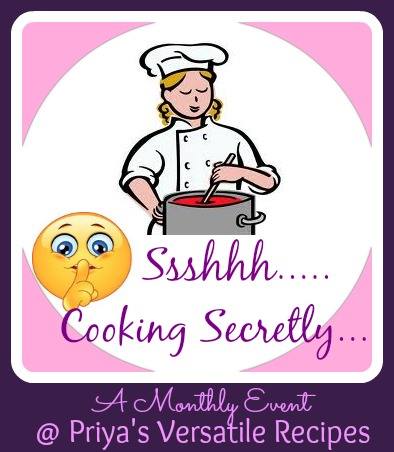 Pin